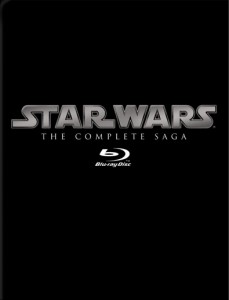 Amazon has a confirmed shipping date for the upcoming Blu-ray Disc releases of the Star Wars trilogies. That date is Sept. 27, 2011. Twentieth Century Fox Home Entertainment made the announcement of the scheduled September SW releases on BD at CES 2011, but the actual ship date remained a mystery.
The two Star Wars trilogies are now available separately for $44.99 each (from Amazon), reduced down from $69.99. Star Wars: The Complete Saga, containing all six Star Wars movies, is now available to pre-order for $89.99 (originally priced at $139.99).
The Star Wars trilogies on Blu-ray Disc will contain over 30 hours of extra content, according to Twentieth Century Fox. But are we stuck with the boring package art?
UPDATE: Star Wars on Blu-ray Disc will release on Sept. 17, 2011. The trilogies will be available separately, or in one box set called "The Complete Saga."