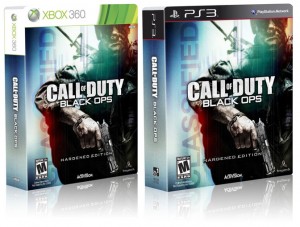 Activision's Call of Duty: Black Ops developed by Treyarch is now available in stores across the world. The game set a record for the most pre-orders at GameStop, and has been a flagship for the 3D gaming format. 'Black Ops' is playable in stereoscopic 3D using active shutter 3D glasses on compatible 3D TV televisions.
"From the beginning, we focused our entire studio on creating the most immersive Call of Duty experience ever," said Treyarch Studio Head Mark Lamia.
Call of Duty: Black Ops from Activision is available in three different editions for PlayStation 3 and Xbox 360 that include the Standard Edition for $59.99, the Hardened Edition for $79.99, and the Prestige Edition for $149.99.
'Black Ops' is also available for Windows PC, Nintendo Wii, and Nintendo DS but only in the Standard Edition. The PC version retails for $59,99, the Nintendo Wii version for $49.99, and the Nintendo DS version retails for $29.99.
Call of Duty: Black Ops is Rated "M" (Mature – Blood, Drug Reference, Intense Violence and Language) by the ESRB.
To order Call of Duty: Black Ops from Amazon.com click here
.