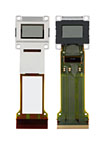 The resolution and image quality of visual image sources have been
greatly improved due to the proliferation of high definition
broadcasting. This has generated growing demand for products that offer
users a simple and easy way to enjoy high quality digital contents on a
large screen at home. In order to meet the demands of the consumer,
Epson began producing full high definition C2 Fine panels for home projectors last year. The new model is an improved version of these panels.
The new panels, which conform to newly developed design rules, use a
technology which boosts aperture ratios by 20% compared with the
previous model. By enhancing aperture ratios, this technology improves
luminance while using the same lamp as previous models. It also enables
the use of a lower-watt lamp to achieve the same levels of luminance.
Thus the technology makes it possible to manufacture brighter, more
environmentally friendly projectors that offer outstanding value for
money.

Features of the new panels

The new panels combine high contrast, smooth images, and jet black color reproduction of C2 Fine
panels with the advantages of the hybrid driving technology* used in
previous panels. The new panels also feature the following points:
A 20% improvement in aperture ratio compared to the previous model of the same size.
Improved color reproduction by using a 12-bit LCD driver.
Improved noise immunity by using a Mini-LVDS interface.

*Hybrid driving technology: Technology for driving LCD panels using
both internal and external drivers.
Source: Epson Press Release