Take me back to the 80s! Top Gun has been remastered for release on 4k Ultra HD Blu-ray and Digital 4k. We got an advance review copy of the disc and were excited to revisit the film that may have influenced generations of youth to pursue a career in flying, as well as wear bomber jackets and play beach volleyball in jeans! 
The upgraded 4k Blu-ray edition of Top Gun releases on May 19th, 2020 (following the Digital 4k release on May 13th). The home media upgrade of Top Gun was supposed to anticipate the premiere of its sequel, Top Gun Maverick, originally slated to open to theaters in June. But, because of the coronavirus pandemic, the new film that stars Tom Cruise once again as Maverick was pushed back to Dec. 23, 2020. 
Top Gun on 4k Ultra HD has also been packaged in a special SteelBook edition from Best Buy, but that edition has also been delayed until December. (See details on the SteelBook edition.) 
Top Gun in Digital 4k and on 4k Blu-ray arrives simultaneously with two other Tom Cruise films: Days of Thunder (1990) and The War of the Worlds (2005), celebrating 25-year and 15-year anniversaries, respectively.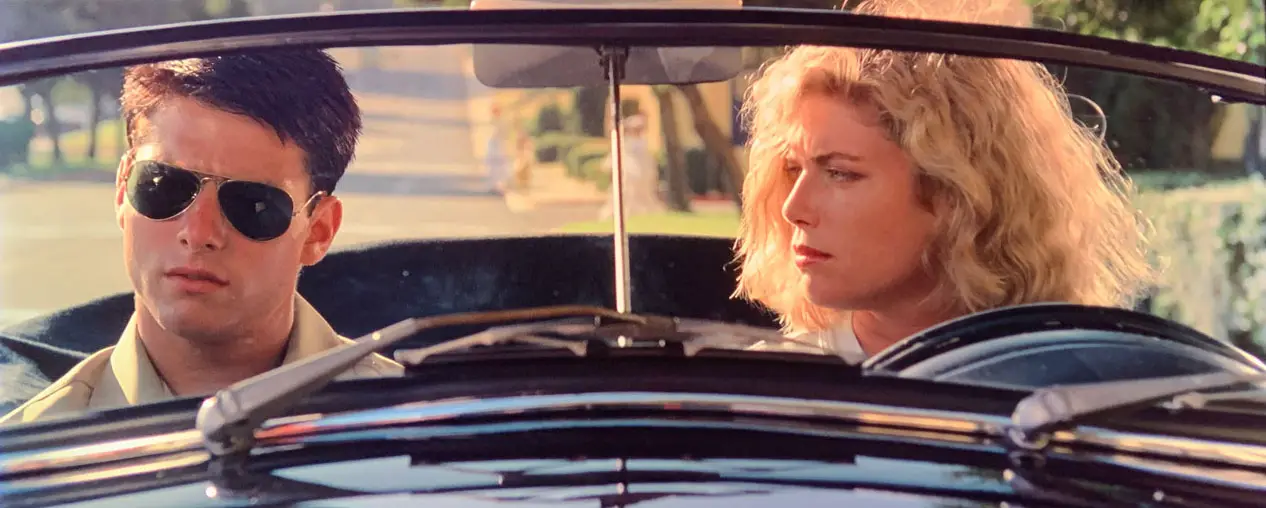 The Film
Top Gun was nominated for several Academy Awards including Best Sound, Best Film Editing, Best Effects/Sound Effects Editing, and won the Oscar for Best Music, Original Song for "Take My Breath Away" performed by Berlin. But although the movie is loaded with classic rock songs like Kenny Loggins's "Danger Zone" and R+B hits like "You've Lost That Lovin' Feeling," you can't escape the dated background music that was so prevalent at the time.  
When talking about Top Gun most of us immediately think of it as a Tom Cruise movie, and rightfully so. Cruise had already made his name playing the underwear dancing Joel in Risky Business but also in Francis Ford Coppola's The Outsider released the same year. However, Val Kilmer is convincing in one of his earliest roles as Cruise's adversary nicknamed "Iceman," while Tom Skerritt already had over 20 years of credits to his name including playing Dallas in Ridley Scott's Alien.
Kelly McGillis was actually the second name featured in the trailer and marketing materials for Top Gun. She plays Maverick's love interest Charlie who resists his advances at first. But then Maverick, who had his ego crushed by her, ends up playing hard to get. The back-and-forth between the two is a parallel plot that runs alongside the conflict between Iceman and Maverick, but also with Maverick's troublesome reputation with Naval officers. Anthony Edwards, Michael Ironside, Meg Ryan, and Tim Robbins are also among the exceptional cast put together by Margery Simkin.
Let's also not forget, Top Gun earned $356M worldwide on a $15M budget, and, was selected for preservation in the National Film Registry. It was a huge success for Paramount, and it's a wonder it took so long to produce a sequel. But we're not here to give a full review of the movie, but rather its video and audio quality.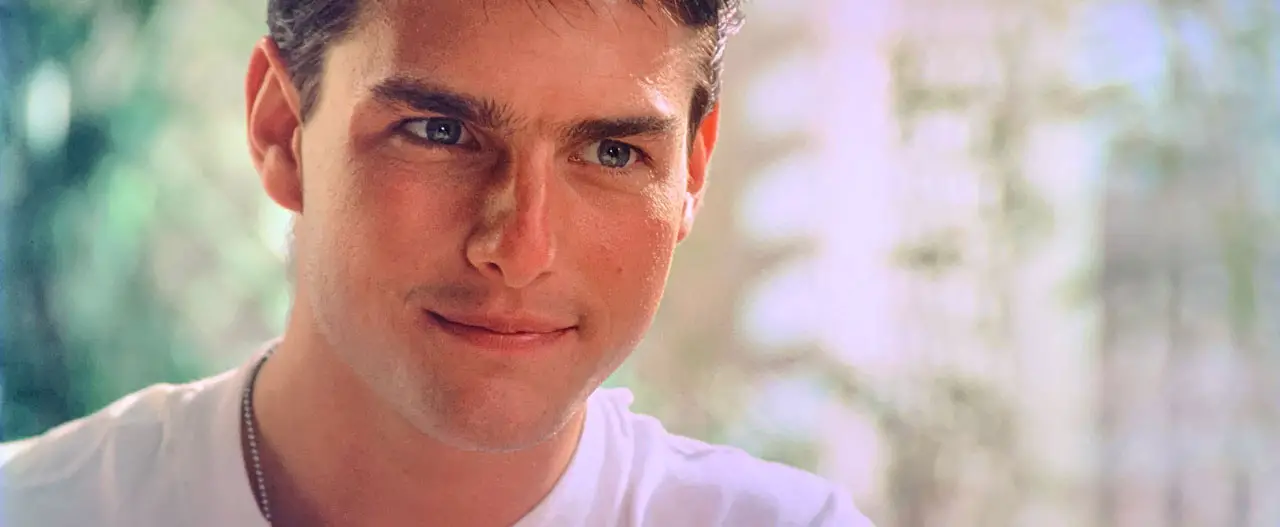 Video
The opening sequence of Top Gun got us a little scared about the quality of the video. It starts off with multiple shots from the deck of a Naval aircraft carrier and let's just say the video is not reference-quality for 4k or HDR. After the credits roll, however, and when movie takes us to the scene where Maverick and the other pilots are doing practice runs the image quality gets a boost. 
The interior shots of the aircraft and air-traffic-control are much cleaner than 1080p, with vibrant colors that were likely not that saturated in theaters when the film first released in '86. Nevertheless, the color palette and range of contrast does have a cinematic feel, and the color should be reigned in by setting your TV to cinema or film mode.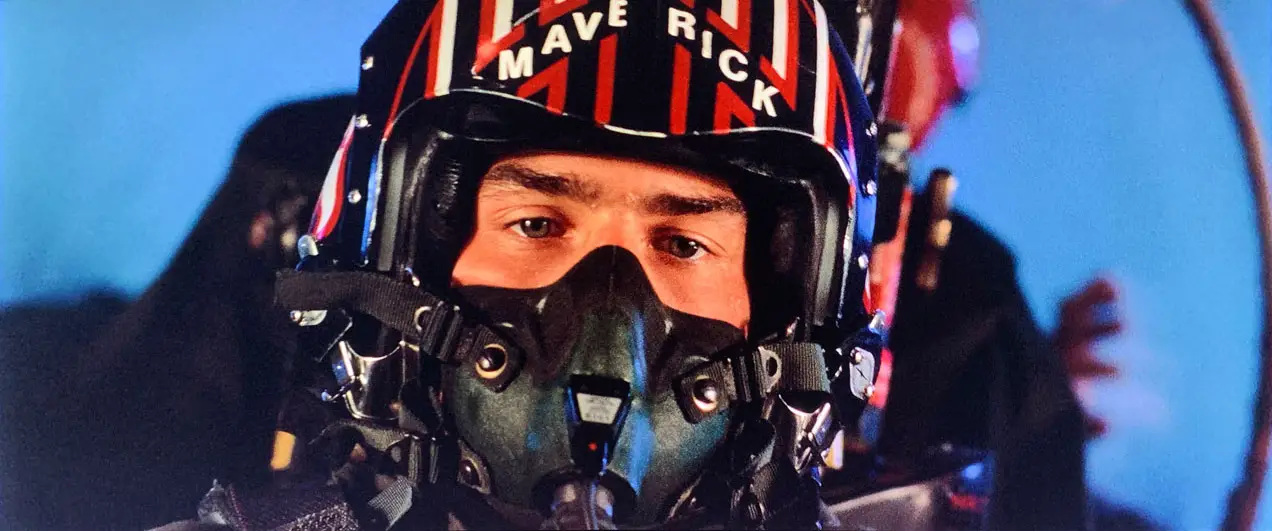 Director of Photography Jeffrey Kimball certainly had an eye for backlight, and uses it brilliantly in many shots like the one of Charlie below. With the range of values gained because of HDR there is more detail evident in bright spots where it would have been blown out on traditional Blu-ray and certainly in television broadcasts. 
Kimball also found some really nice balanced light that has translated beautifully in 4k/HDR. One of the shots of Maverick having lunch with Charlie at her house for the first time is a highlight in terms of even lighting (and sharpness) that renders really well in 4k/HDR. 
One thing that was noticeable about watching Top Gun in 4k is the amount of sweating that was going on. It's almost as if there was a stagehand in every scene with a spray mist bottle. Most of the movie takes place in Miramar in San Diego. It gets hot there, but it's not Pensacola! Anyway, it's something you will likely notice much more in 2160p.
If you pause any of the scenes in Top Gun you'll find a smaller grain structure than what you might find in other films from the period (for example in Fatal Attraction). But the grain is consistent and really only stands out in scenes at dusk. You also have to expect grain in the flight sequences as well, considering really fast film had to be used to capture the high-speed aircraft. 
For a film of this age, there are minimal occasions of soft focus and even less so when the camera was out of focus. But in 4k, slight imperfections from analog film are even more evident than before. That just comes with the territory. You would never expect a new motion picture, however, to reveal any focus imperfections in the digital age. 

Audio
The Dolby Atmos soundtrack to Top Gun pounds. When those MiG-28s and F-14s pass overhead it's really like fighter jets are flying overhead (especially in Atmos!). Be careful with how much you push your sub-woofer though because it will shake not only the room your home theater sits but also adjoining rooms. 
The dialogue in Top Gun is really clear and sharp with surround sound effects improved over previous Dolby 5.1 channel mixes. Take for instance some of the bar scenes where the pilots hang out after work (like at the Kansas City Barbeque, a real restaurant in San Diego). There are some immersive moments where you may feel like you are right there with them, especially with the right speaker setup. 
The only issue some may find when watching Top Gun is the volume difference between action scenes (mainly when the pilots are in flight) and on-ground scenes. The aircraft are really loud! In effect, it's almost as if you are experiencing the same noise levels one might find on Navy aircraft carriers or near a landing strip. But when the scene transitions away from aircraft the volume drops significantly. At least, that's what we found when reviewing the movie on a Samsung Dolby Atmos soundbar. 
Bonus Features
On the 4k Blu-ray there are two extras including the new featurette "On The Legacy of Top Gun" containing interviews with Tom Cruise, producer Jerry Bruckheimer, and cast/crew, as well as the previously-released featurette "On Your Six – Thirty Years of Top Gun" (both extras are also on the BD). In addition, the 4k Blu-ray includes commentary by filmmakers and Naval experts. On the Blu-ray Disc, there are also multi-angle storyboards, a behind-the-scenes featurette, a survival training featurette, a Tom Cruise interview, music videos, and more.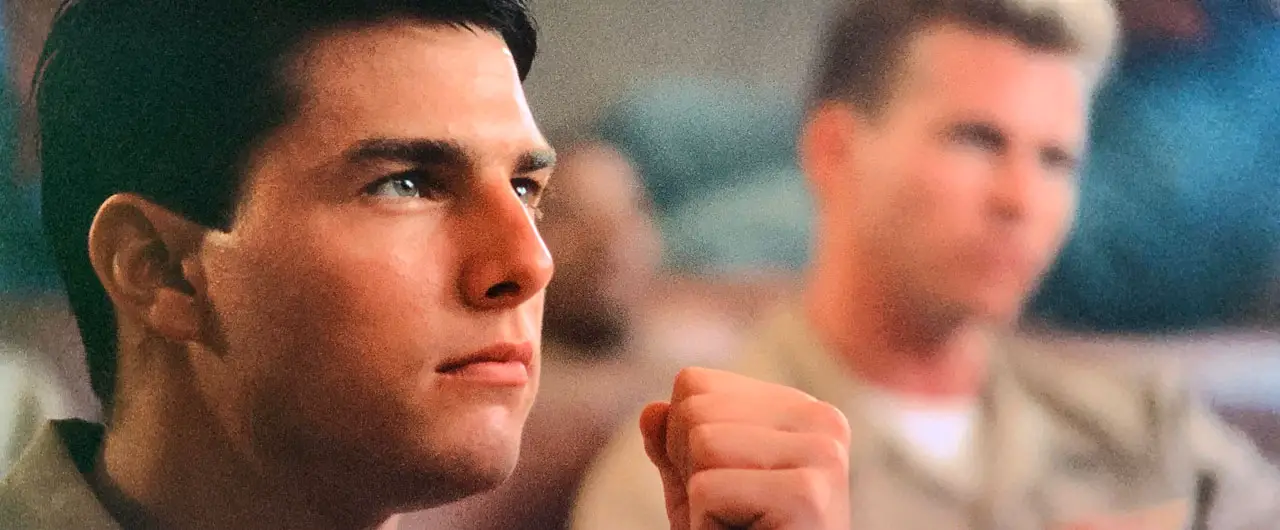 Conclusion
If you were already a fan of Top Gun this 4k Blu-ray release is a must-have. The new 4k print is a huge improvement over the last 1080p Blu-ray versions — both in color range and in sharpness. What's more, the audio in Dolby Atmos and 7.1 channels will rock your home audio system, so much so that you might find yourself reaching for the volume control every time a flight scene emerges.  
Top Gun 4k Blu-ray Scores
Movie
4/5
Video
4/5
Audio
4/5
Extras
4/5