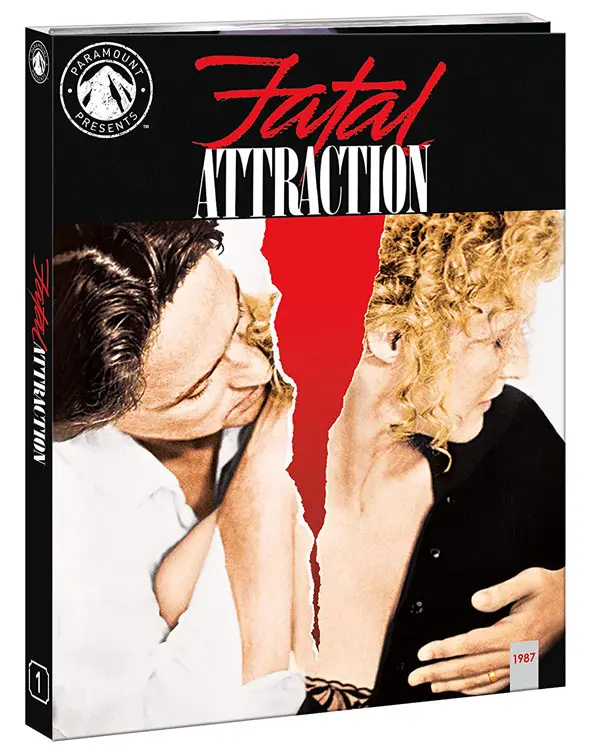 Title: Fatal Attraction (1987)
Format: Blu-ray Disc
Release Date: April 21, 2020
List Price: ($24.99) Buy on Amazon
The 2020 Blu-ray edition of Fatal Attraction (1987) is the first of Paramount Presents, a new series of classic films restored and released to Blu-ray Disc. The second and third titles are King Creole (1958) starring Elvis, and Alfred Hitchcock's To Catch a Thief (1955). Other Paramount movies releasing soon under the same nomenclature include Days of Thunder (1990), Flashdance (1983), and Airplane! (1980) to name a few.
Directed by Oscar-nominated Adrian Lyne, Fatal Attraction is the movie that made every man think twice about cheating on his partner. Glenn Close, poor Glenn Close, may have forever been stereotyped as the vengeful Alex Forrest who wouldn't stop torturing the man who she had a weekend affair with. Close would go on to receive three more Oscar nominations after Fatal Attraction for a total of seven nominations (unfortunately without one win). She is also recognized by many for her role as Patty Hewes in the TV drama Damages that ran for 5 seasons and 59 episodes.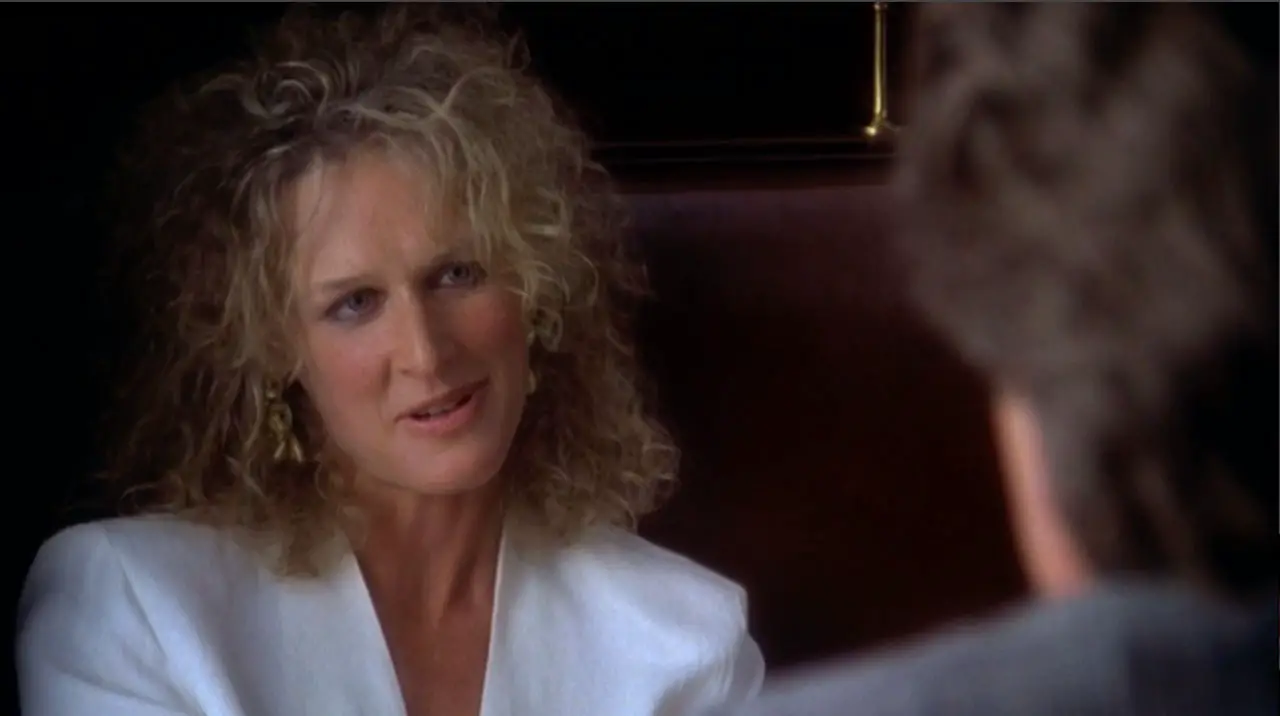 The performances by Close, Michael Douglas, and Anne Archer are unforgettable. Douglas stars as Dan Gallagher, the lawyer who decides to play with fire and cheat on his wife. Why he cheats on his beautiful wife Beth, played by Archer, is anyone's guess. But it's a mistake he lives to regret throughout the movie as his worst fears come to life when Alex invades his personal life and even threatens his wife and daughter. Archer was also nominated for an Academy Award for Best Actress in a Supporting Role. Her portrayal as Beth is transformative as she is essentially the axis on which the drama turns. 
Video
The new transfer to 1080p Blu-ray from a newly restored 4k scan of the film is impressive, so much so that you might not expect a 4k Blu-ray to look that much better in terms of sharpness. The color rendering also looks quite nice. It has a cinematic look that isn't overly saturated but rather subtle. If the film was improved to 4k with HDR there could be a bit more detail in the shadow areas (for example, Dan wears a black shirt is really compressed and lacking definition), but for 1080p the color range is better than many Blu-rays. In fact, we would score this transfer higher than the 4k presentation of Scarface which we found utterly disappointing.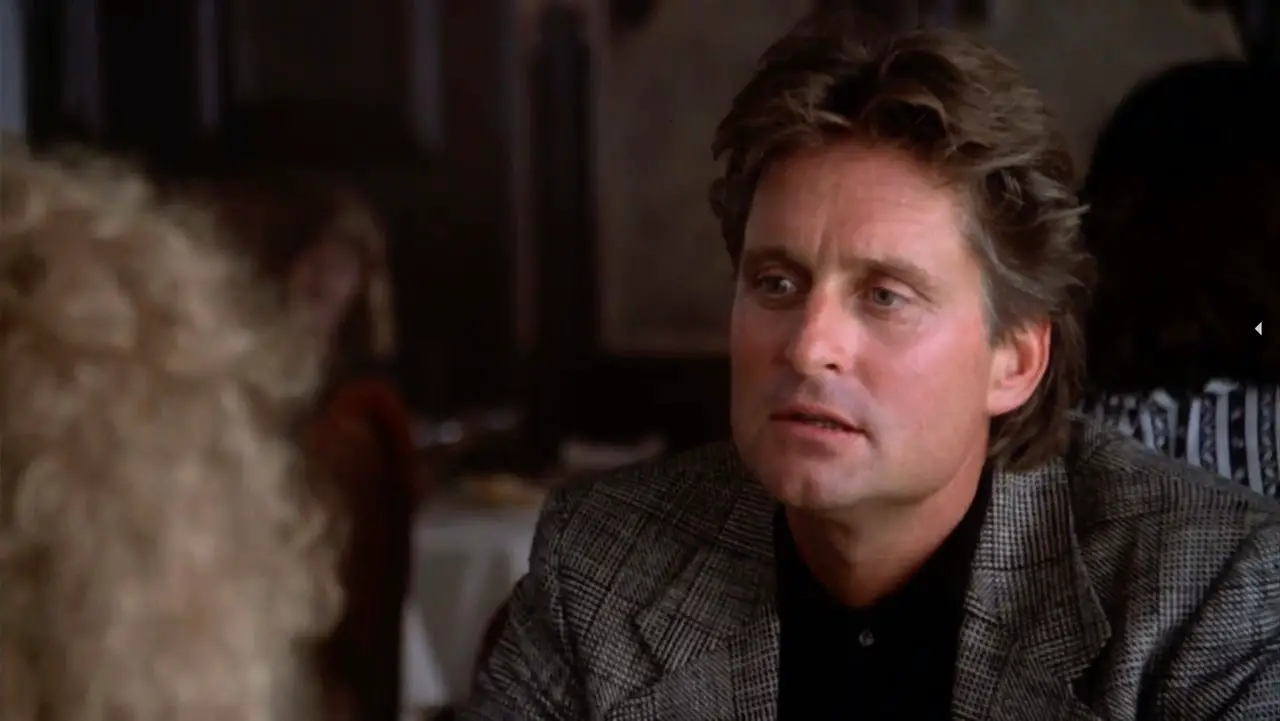 A good way to tell how sharp a transfer is (and how good the cinematographer's focus was) is to look at hair. Can you see individual strands? Are eyelashes and eyebrows noticeable? Can you count the whiskers on a man's chin? The scene where Dan and Alex have dinner for the first time is one example of how sharp this Blu-ray Disc can be. 
Another example of sharpness can be found in the scene where Dan is in bed with Alex at her apartment. There is a stack of books in the background and the spine titles are actually legible. Hats off to the video engineers and of course DP Howard Atherton for providing good source material.  
The video quality in Fatal Attraction is super grainy though. When pausing the film in several scenes the grain, albeit consistent, looks as noisy as old 3200 ISO 35mm black-and-white film. However, the grain doesn't take away from the overall look and is really only bothersome in the darker scenes. 
Audio
This is a great soundtrack by composer Maurice Jarre provided in Dolby TrueHD 5.1 surround sound. The composition moves through the scenes effortlessly with instruments such as flute, piano, and synthesizer that eventually haunt you. It's a great soundtrack to listen to even if not watching the video. French audio is offered in Dolby Digital 2.0. The film features English Audio Description. And, subtitles are provided in English SDH and French. This is not an upgrade though, as you'll find the same audio format on previous Blu-ray editions.
Bonus Material
Included with the Paramount Presents edition of Fatal Attraction is the new special feature Filmmaker Focus — a discussion of the film with Director Adrian Lyne. Previously released special features include director commentary, rehearsal footage (well worth the watch if you have never seen before), and the incredible alternate ending with an introduction by Lyne. The Blu-ray slipcover also unfolds to a mini-poster of the film used in 1987. 
Conclusion
This is a great film that really holds its own even after over 30 years since its debut. And, watching it in restored video quality only affirms its staying power. Sure, a 4k edition with HDR would have been nice. And, it would have been wonderful to have at least a Digital Copy included. Nevertheless, Fatal Attaction (1987) restored and transferred from 4k is one Blu-ray Disc that you'll be glad to have in your collection.
Scores
Movie
5/5
Video
4/5
Audio
3/5
Extras
3/5