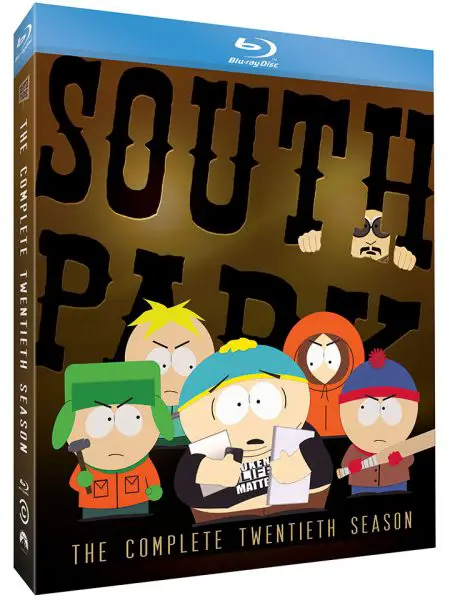 Paramount has announced the 20th season of South Park will release to Blu-ray Disc and DVD on June 13th. What's more, Best Buy will carry a special Blu-ray/DVD Combo Pack that's vinyl record-sized with four sleeved discs on the inside fold (see the photo below).
The Best Buy exclusive is a lot different from previous, more standard Blu-ray and DVD releases from previous seasons, but Paramount and Best Buy clearly wanted to do something special for the 20th anniversary of the show.
All disc editions include the bonus featurettes "By The Numbers," "We've Been There," a Comic Con 2016 Extended Panel, "The Fractured But Whole – E3 2016 Game Trailer," season commentary, and deleted scenes. The Blu-ray edition will also feature an exclusive bonus titled "#Social Commentary."
The vinyl-sized edition from Best Buy is selling for $34.99, and includes all ten episodes plus extras on four BDs. We don't have pricing yet for the standard Blu-ray or DVD.
South Park: The Complete Twentieth Season
Audio & Subtitles:
English 5.1 Dolby Digital & English Dolby Digital Stereo
English SDH Subtitles
Special features:
South Park: By The Numbers
South Park: The Fractured But Whole – E3 2016 Game Trailer
South Park: We've Been There
Comic Con 2016 – Extended Panel with Matt & Trey
Deleted Scenes
Season Commentary
#Social Commentary (Blu-ray exclusive)