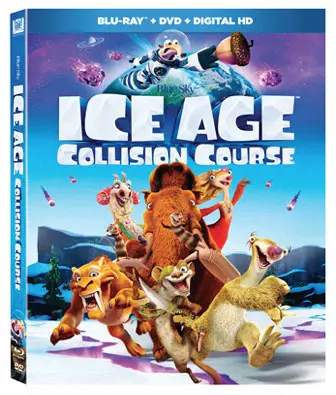 20th Century Fox Home Entertainment has announced the release date for Ice Age: Collision Course on Blu-ray Disc and Ultra HD Blu-ray will be Tuesday, October 11. But if you can't wait around for the disc editions (which include bonus materials) the Digital HD format of Ice Age: Collision Course has been released early on Friday, September 30th.
Video on the 2-disc Blu-ray edition is presented in 1080p at 16:9 widescreen (2.40:1). The 2-disc UHD BD shares the same aspect ratio but improves the Full HD resolution to 4k 2160p.
Audio on the Blu-ray Disc will be available in English DTS-HD-MA 7.1, while the Ultra HD Blu-ray edition will include English audio in Dolby Atmos. On both editions Spanish 5.1 Dolby Digital with French 5.1 in DTS.
Bonus material on the Blu-ray with DVD include seven featurettes and a gallery of 12 images. The UHD BD release includes an additional piece of content called "Scrat: Spaced Out Mini-Movie."
ICE AGE: COLLISION COURSE Blu-ray™ & DVD Special Features Include:
Featurettes

"Scrat: Spaced Out Mini-Movie"
"Ice Age: The Story So Far"
"Scratasia: Scrat's Solo Adventures"
"Mysteries of the Scratazons"
"Star Signs of the Animal Kingdom"
"The Science of It All: deGrasse Tyson deBunks"
"Figaro Sing-along"
ICE AGE: COLLISION COURSE 4K Ultra HD Disc Special Feature Includes:
Featurette

"Scrat: Spaced Out Mini-Movie"
Description: Your favorite ICE AGE heroes are back and cooler than ever in this all-new adventure! Scrat's epic pursuit of the elusive acorn accidentally triggers cosmic events that threaten the ICE AGE world. Now Buck, Manny, Ellie, Sid, Diego and the rest of the herd must work together on a hilarious journey filled with nonstop action and colorful new characters in order to survive the global Scrat-tastrophe!