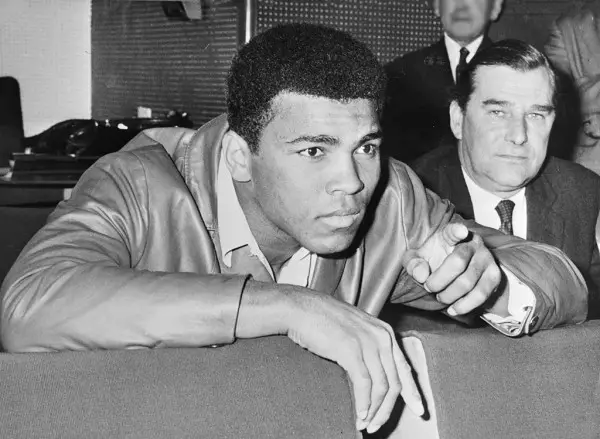 Today, the world will be saying a final goodbye to Muhammad Ali, "The Greatest," an American Olympic boxer, world-renowned professional boxer, and lifetime activist.
The day begins at 9 a.m. Eastern Time (6:00 a.m. PT) with a procession through the streets of Louisville, Kentucky where Muhammad Ali grew up.
At 11 00 a.m. Eastern (8:00 a.m. PT), the procession makes its way to Cave Hill Cemetery for a private burial.
Then, at 2 p.m. ET (11:00 a.m. PT) there will be a public memorial service at the KFC Yum! Center.
Tickets to the event sold out quickly though on Wednesday. Thousands also attended a Muslim prayer service on Thursday in Louisville.
Those who will speak at the event include former President Bill Clinton, actor Billy Crystal, journalist Bryant Gumbel, and representatives of multiple faiths, including Islam, Christianity,Mormonism, Judaism, and Buddhism. (Scroll down for full schedule of speakers.)
CBS will live-stream the events on CBS News Live. NBC will stream the event on NBC News. ABC has live coverage and raw feeds on ABC7 Los Angeles. And, several local FOX affiliates will be live-streaming the event.
Muhammad Ali Memorial Service
QURANIC RECITATION
Hamzah Abdul Malik
ENGLISH TRANSLATION
Ayah Kutmah
INTRODUCTION OF SPEAKERS
Imam Zaid Shakir
SPEAKERS
Dr. Kevin Cosby
Senator Orrin Hatch
Rev. Msgr. Henry Kriegel
Dr. Timothy Gianotti
Rabbi Michael Lerner
Chief Sidney Hill and Chief Oren Lyons
Rabbi Joe Rapport
Venerable Utsumi and Sister Denise
READING
Ambassador Shabazz
VALERIE JARRETT – STATEMENT FROM PRESIDENT OBAMA
EULOGISTS
Lonnie Ali
Maryum Ali
Rasheda Ali-Walsh
Alessandra "Ali" DiNicola
Natasha Mundkur
John Ramsey
Billy Crystal
Bryant Gumbel
President William J. Clinton
ISLAMIC PRAYER, POEM AND CLOSING OF SERVICE
Imam Zaid Shakir
NOTABLE ATTENDEES
– Former President Bill Clinton
– Valerie Jarrett, senior adviser to President Barack Obama
– Turkish President Tayyip Erdogan
– King Abdullah II of Jordan
– Rev. Jesse Jackson
– Comedian/actor Billy Crystal
– Actor Will Smith
– Television journalist Bryant Gumbel
– Boxing promoter Don King
– Former boxing champion Sugar Ray Leonard
– Former boxing champion Lennox Lewis
– Former boxing champion George Foreman
– Former boxing champion Larry Holmes
– Former boxing champion Bernard Hopkins
– Former NBA player Hedo Turkoglu
– International Olympic Committee president Thomas Bach
– Kentucky Gov. Matt Bevin
– Former Kentucky Gov. John Y. Brown Jr.
– Imam Zaid Shakir, Muslim scholar
– Sherman Jackson, Muslim scholar
– Louis Farrakhan, leader of the Nation of Islam
– Boxing promoter and CEO of Top Rank Boxing Bob Arum
– Louisville Mayor Greg Fischer
– Former Louisville Mayor Harvey Sloane