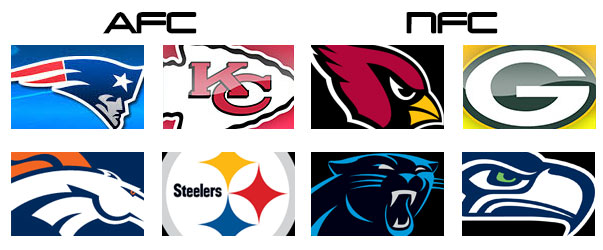 It's another great weekend for NFL football, with four Divisional Playoffs scheduled. The games kick off at 4:35 p.m. Eastern Time with Kansas City heading to Foxboro to visit the New England Patriots in the first AFC Divisional Playoff. At 8:15 p.m. ET, Arizona hosts Green Bay to start the NFC Divisional Playoffs.
On Sunday, Seattle heads to Carolina to face the Panthers at 1:05 p.m. ET in the second NFC Divisional Playoff. Then, Denver hosts Pittsburgh at Mile High Stadium in the second AFC Playoff starting at 4:40 p.m. Eastern Time.
CBS, FOX, and NBC will share broadcasts of the NFL Divisional Playoffs this weekend. Check your local guides to be sure you're tuning in to the HD broadcasts of the games.
Saturday, Jan. 16, 2016
Kansas City @ New England 4:35 PM ET on CBS
Green Bay 2 Arizona 8:15 PM ET on NBC
Sunday, Jan. 17, 2016
Seattle @ Carolina 1:05 PM ET on FOX
Pittsburgh Denver 4:40 PM ET on CBS