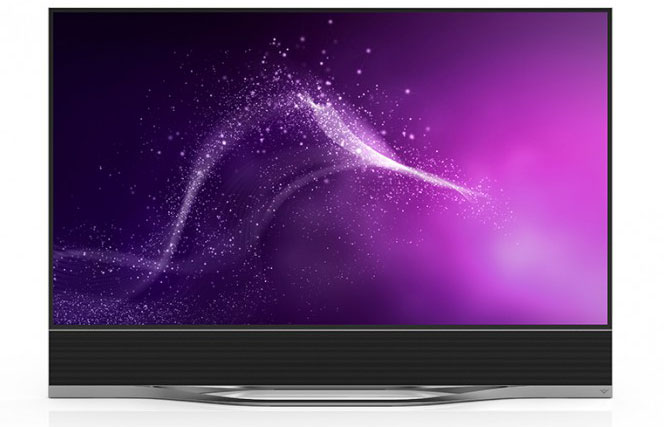 We've been waiting anxiously to find out how much Vizio's new Reference Series 4k Ultra HD TVs will cost, and today the company came through with pricing on the premium series. The TVs will be available in both a 65″ class and 120″ class size, but for now are "Special Order" only. Before we mention prices, let's look at what makes these TVs "premium."
Both sets feature HDR (High Dynamic Range) support with Dolby Vision playback, allowing a wider range of color, brightness and detail in light and dark areas. While HDR video content is currently limited, Vudu is soon launching select HDR titles — more on that below.
In addition, Vizio's proprietary panel technology also features a wider color gamut than conventional TVs with Ultra Color Spectrum, 800-nit brightness (most TVs display 300 nits), and 384 Active LED Zones.
Although not yet launched on Vudu, Vizios' Reference Series TVs will be able to play select Warner Bros. Home Entertainment titles in 4K Ultra HD Dolby Vision including The Lego Movie, Man of Steel, and Edge of Tomorrow. Additional titles in Dolby Vision include San Andreas, Mad Max: Fury Road, and Magic Mike XXL. Those titles will stream through VIZIO's Internet Apps Plus platform.
What will the Vizio Reference Series TVs cost? We weren't taken aback by the 65″ model that will carry an MSRP of $5,999. That's a reasonable price for a 4k TV with these kinds of specs. But we were a bit shocked at the $130k price tag of the 120″ model.
Vizio still hasn't announced when the TVs will ship, but the special order items will apparently be delivered with "white-glove setup service" by a local installer. The company didn't indicate whether or not the installation is complimentary or not.
VIZIO Reference Series Lineup
VIZIO Reference Series 65" (RS65-B2) Ultra HD Full‑Array LED Smart TV – $5,999 MSRP
VIZIO Reference Series 120" (RS120-B3) Ultra HD Full‑Array LED Smart TV – $129,999 MSRP
VIZIO Reference Series Features
Blazing fast 802.11ac dual-band WiFi for a fast, efficient streaming experience.
VIZIO Internet Apps Plus® for access to High Dynamic Range playback through VUDU and Ultra HD content through apps including Netflix, Amazon Instant Video, UltraFlix, and Toon Goggles.1
Seamless discovery and organization of apps with support from the HEVC H.265 codec and the VIZIO V6 six-core processor.
Clear Action™ 1800 and a blazing fast 240 Hz effective refresh rate achieved with backlight scanning for superior motion clarity and a VM50 Engine for dedicated Ultra HD motion and picture-processing.
A powerful Spatial Scaling Engine™ beautifully transforms ordinary 1080p pixels to finer, more accurate Ultra HD pixels.
Future-ready HDMI ports to help ensure usability of next generation cable and satellite receivers, Blu-ray™ players and game consoles.
A breakthrough achievement for integrated home theater audio in the 65″ class model supplemented by a powerful 10″ wireless subwoofer and two rear satellite speakers.
Top-of-the-line audio technologies from Dolby and DTS™, including over 101 dB of crystal-clear sound with less than 1% harmonic distortion.