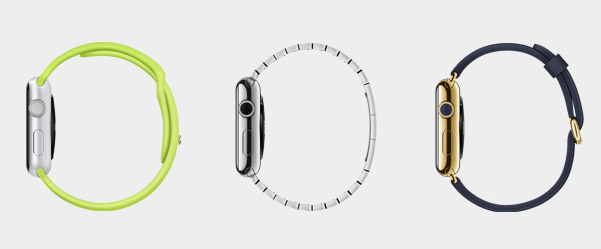 At Apple's Keynote address today the company revealed the Apple Watch will be available in nine countries upon launch on April 24, 2015. The countries include Australia, Canada, China, France, Germany, Hong Kong, Japan, United Kingdom, and the United States. However, Apple will be making the Apple Watch available to pre-order, view, and try on at Apple Retail stores on April 10th. Apple says the Apple Watch will be released in more countries following the initial release date and locations.
Apple confirmed here are three Apple Watch designs to choose from: Apple Watch, Apple Watch Sport, and Apple Watch Edition.
The material construction of the Apple Watch is made of stainless steel that Apple claims is 80% harder through a specialized cold-forging process. Finishes will available in either traditional silver or space black, and start at US $549.
The Apple Watch Sport, on the other hand, is made from anodized aluminum that is 60% stronger than standard alloys but just as light. The Sport will be available in either silver or space gray, and start at $349 for the smaller, 38-mm model.
The third type of Apple Watch is the Apple Watch Edition that is crafted from 18-karat solid yellow or rose gold. The high end models will be priced from $10,000.
Apple also announced two new MacBook models priced at $1299 and $1599.