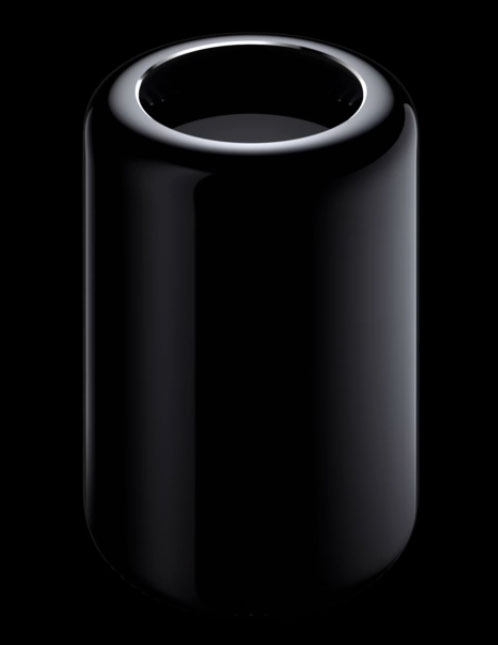 Among the many announcements Apple made at WWDC today in San Francisco was the reveal of the new Mac Pro desktop computer that will support multiple 4k Ultra HD displays. How many 4k displays exactly? Apple says up to three (that's 4k mind you, 3840×2160 pixels). The new MacBook Pro won't look anything like previous Macs. It's futuristic cylinder shape looks more like a sub-woofer than a desktop computer. But the graphics power of the Mac Pro boasts up to 7 teraflops, with standard Dual GPUs and up to 6GB dedicated VRAM. To compare, the current Mac Pro can handle up to 2.7 teraflops.
What other enhancements can we look forward to? For memory the Mac Pro includes a 4-channel DDR3 memory controller running at 1866MHz, delivering up to 60Gbps of memory bandwidth (the current Mac Pro caps at 30Gbps).
The processor offers up to 12 cores at max configuration and 40Gbps PCIe bandwidth, using the new Intel Xeon E5 chipset.
For connectivity the Mac Pro will come with four USB 3 ports, and six 20Gbps Thunderbolt 2 ports, two ethernet connections, and one HDMI.  And, for storage, the Mac Pro packs next-gen PCIe Flash storage at 1250Mbps (up to 2.5-times faster than SATA flash drives).
Apple did not reveal pricing or release date for the new Mac Pro, only that it would be out later this year.
Other announcements from Apple today included a new MacBook Air with longer battery life, iOS 7 for iPhones, iPads and iPod Touch, iTunes Radio, and OS X 10.9 Mavericks (named after the giant waves off the coast of Northern California).