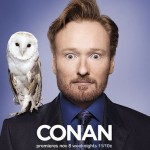 After a quick stint hosting The Tonight Show with Conan O'Brien on NBC from June, 2009 through January, 2010, Conan will return with a vengeance tonight on basic cable network TBS, joining comedian George Lopez and his show Lopez Tonight forming a new TBS late night lineup.
As part of his $45 million exit deal with NBC, Conan was restricted from working for another network until Sept. 2010. Over the year, the comedian built up a large Twitter audience of about 1.8 million followers and used social media such as his blog/website Team Coco to stay connected with fans.
Conan's Twitter message today: "I feel like I have something to do tonight that I keep forgetting."
Conan's new show will be simply be called Conan, and will air at 11:00 PM with Lopez Tonight following at 12:00 midnight.
Conan will be broadcast in both standard-definition (480i) and high-definition (1080i) on DirecTV (Ch. 247), Dish Network (Ch. 139), FiOS TV (Ch. 552), U-verse (1112 HD), and most cable systems. Please check your guides for channel number as regions may vary.
NOTE: TBS has Conan scheduled to start at 11:00 PM on their website, but it seems the new lineup started at 10:00 PM! We've contacted TBS for clarification but have not heard back yet.