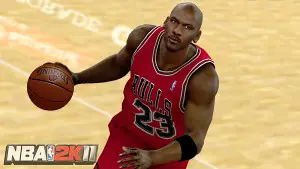 2K Sports will release The Jordan Challenge, a new game mode for NBA 2K11 which will release on October 5, 2010. The new game mode will let players relive 10 historic games from Michael Jordan's career — giving sports gamers the chance to do what Jordan did on the court. Is the likeness close enough for ya?
"Fans of the series are going to be thrilled to know that in NBA 2K11 Michael Jordan is much, much more than just a cover athlete," said Jason Argent, vice president of marketing for 2K Sports. "We're excited to start talking about the ways that Michael will be used in the game and there's still a lot more to come."
As Michael Jordan, you be able to score 69 points against the Cleveland Cavaliers as he did in March of 1990. You'll also be able to defeat the Utah Jazz in Game 6 of the 1997 finals, even while suffering from the flu. And, you'll be able to play Jordan's last game as a Bull on June 14, 1998.
The Jordan Challenge mode will allow gamers to play as the Chicago Bulls from several different years, including '85-'86, '89-'90, '90-'91, '94-'95, '95-'96, '96-'97, and '97-'98.