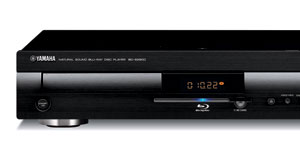 Yamaha is certain there is a market for a real high-end Blu-ray Disc player. The BD-S2900 features 12-bit Deep Color, Audio Bitstream, BonusView functions (including Picture-in-Picture), and of course 1080p/24fps. The new player, announced on Monday, will retail for $1,199.95.
Additional specs to mention are 68.7 billion colors with the 12-bit color. This gives you 4,096 shades of each of the three primary colors and also increases contrast ratio by giving you more shades of grey. Also in the specs are high quality video processing with Chroma Upscaling and 16-step motion detection.
The frame rate on the BD-S2900 can vary from 60fps to 24fps, which gives a sharper picture  and clearer motion than 60fps.
The design of the BD-S2900 Blu-ray player matches Yamaha's high-end receiver line, and this may be some of what you are paying for. The BD player will look stylin' next to your Yamaha receivers and speakers.
News of the new high-end player from Yamaha leaked a couple weeks ago.