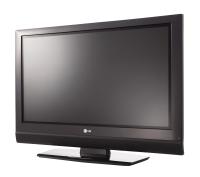 LG announces "the world's smallest plasma" TV, the LG 32PC5RV. I'm sure other electronics developers have experimented with the 32″ format, but just never marketed them or distributed them heavily. LG is taking advantage of the fact that there are not many out there by what you could call a "little white marketing lie."
I do think there is a use for this size plasma though. There are many of us who live in small apartments or houses in large cities. We just don't have the room to hang up a 42″. Believe me, if I had the room, I'd max it out.
But for a small bedroom, a 32″ plasma would be a great way to get a theatre experience. It won't take up too much room, you won't go blind from the brightness of the set, and if you are 6 feet from the screen you can imagine you are in front of a 42″.
I'd have to check out the quality though. At 852×480 resolution and 550 lumen brightness there may be better options out there. The 8000:1 contrast ratio seems a bit low for a new model. And, when I looked on the LG Web site the 42″ plasma is just $100 bucks more. Retail price for the LG 32PC5RV is rumored to vary from $1,000 to $1,100.
The model will be available in 27 nations by this November. LG hopes to find a niche in the growing plasma TV market by offering this smaller size.