Visteon shows off their new transportable HD radio at the iBiquity Digital booth at CES 2007. This dockable radio boasts an ergonomic design, six preset buttons for 18 stored stations, a large mono display(do we really need color to look at song titles?), and a mini jack to plug in your mp3 player.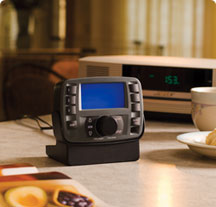 In your car, the Jump connects to your antenna to receive digital broadcasts. FM stations sound crystal clear like CDs, HD Radio promoters claim that AM will sound as good as FM. But this hasn't been proven 100%.
The best thing about HD radio is that there is no subscription fee. HD radio, in contrast to satellite, is absolutely free and in the year 2006 hi def radio broadcasts doubled to more than 1100 stations.