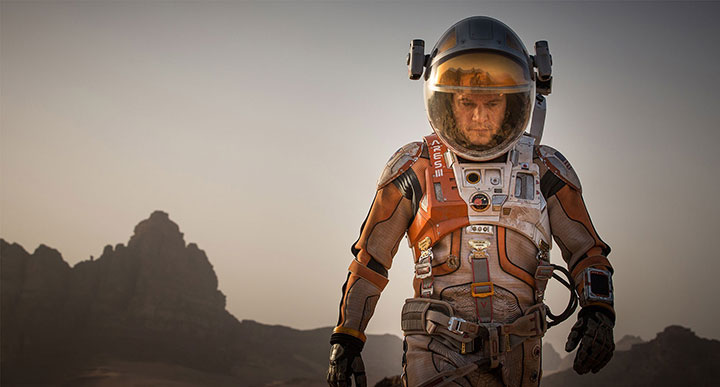 This Tuesday, Dec. 22, Ridley's Scott's blockbuster sci-fi film The Martian releases to home media in Digital HD format, three weeks ahead of the Blu-ray Disc, DVD, and rental options are available on January 12, 2016. The film will be sold on several digital movie platforms including iTunes, Amazon Video, Google Play, M-Go, and Xfinity On Demand.
Along with the 144-minute feature film, the Digital HD release also includes extra bonus material (with select services*) such as the story of the Ares program 7 years after the events took place, gag reels, and several featurettes including Mark Watney's training video, "Occupy Mars: Cast and Costumes," "Signal Acquired: Writing and Direction," and others.
On Digital HD, The Martian costs between $14.99 and $19.99 (currently available to pre-order for $14.99), while the Blu-ray combo edition with Digital HD copy will sell for about $22.99 (MSRP: $39.99) when released next year.
The Martian was directed Ridley Scott (Alien, Prometheus) and stars Matt Damon (The Bourne Identity, Good Will Hunting) as American astronaut Mark Watney who is presumed dead and left on planet Mars. Supporting cast members include Jessica Chastain (Zero Dark Thirty), Kristen Wiig (Bridesmaids), and Jeff Daniels (Gettysburg).
The film is Ridley Scott's highest grossing film to date, earning over $570M worlwide to date.
20th Century Home Entertainment:
"The Martian provides a realistic glimpse into life in outer-space that will have you on the edge of your seat! In addition to wowing audiences around the world, the film is one of best reviewed of the year and has been named one of the best movies of the year by such groups as National Board of Review, which also awarded top honors to Ridley Scott for Best Director, Matt Damon for Best Actor and Drew Goddard for Best Adapted Screenplay."
*Updated because not all services offer the bonus material mentioned. Apple iTunes, Microsoft Video, and Vudu are confirmed to include extra bonus material.