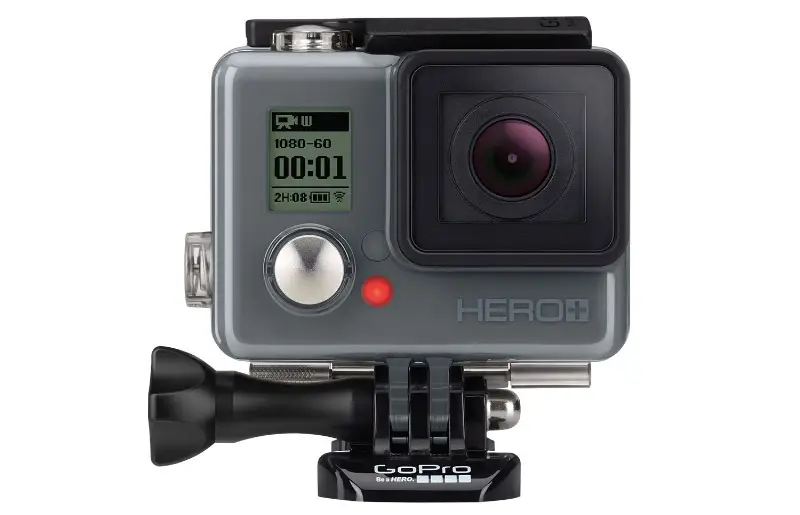 GoPro officially announced plans for a new entry-level model in their lineup of action cams. Appropriately named HERO+, the camera adds some much needed features to the HERO model including 1080p video at 60fps, built-in Wi-Fi, and Bluetooth. Those are luxuries most HERO owners would love to have, but the "plus" will cost an extra $70 more than the $129 basic model.
Releasing on October 4th, the $199 HERO+ is pretty much the same as the $299 HERO+LCD except without a touch display — a feature that's extremely practical but not in everyone's budget. In addition to the features above, the HERO+ can also be connected to GoPro's mobile app to use tools such as Trim & Share to edit and share clips on social media platforms.
The HERO+ also includes ultra wide field-of-view, time lapse and 5 photos-per-second Burst modes, and an 8 megapixel camera for still images (an improvement over the HERO with only a 5MP camera).
But is $199 still too expensive for an "entry level action cam?" Not if you consider the $299 HERO+LCD is also classified by GoPro as entry level. One thing is certain though, if the basic $129 HERO had all the features of the HERO+ retailers wouldn't be able to keep them on the shelves. Read on for GoPro's featured specs.
Here are the features of the HERO+:
Stunning and immersive 1080p60 and 720p60 video
8MP photos with Single, Time Lapse and 5 Photos-per-Second Burst modes
Built-in Wi-Fi and Bluetooth® connect to GoPro App and Smart Remote
Rugged, durable and waterproof to 131′ (40m)
Integrated camera + housing design
QuikCapture enables power-up and recording start with the press of a single button
HiLight Tag lets you mark key moments while recording
SuperView™ captures the world's most immersive wide-angle field of view
Auto Low Light mode intelligently adjusts frame rates for optimal low-light performance
Built-in microphone
 Wearable and Mountable, Compatible with GoPro's vast array of mounts and accessories
GoPro current lineup of cameras:
HERO4 Black: Pro-quality capture. Simply the best.    $499.99
HERO4 Silver: High-performance capture. Touch-display convenience.  

$399.99

HERO4 Session: GoPro Performance, Simplified. 

$299.99

HERO+LCD: The perfect entry-level GoPro + Wi-Fi + touch-display convenience.   

$299.99

HERO+: The perfect entry-level GoPro + Wi-Fi.   

$199.99

HERO: The perfect entry-level GoPro.

$129.99