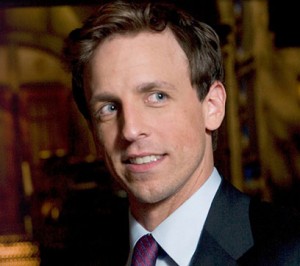 NBC announced Saturday Night Live's Seth Meyers will take over for Jimmy Fallon on Late Night in 2014. Fallon, who has hosted the the show since 2009, will move up next year to take over The Tonight Show currently hosted by Jay Leno. Lorne Michaels will executive produce Late Night with Seth Meyers, while Michael Shoemaker will remain as producer.
"His years at SNL's 'Weekend Update' desk, not to mention being head writer of the show for many seasons, helped him hone a topical brand of comedy that is perfect for the Late Night franchise," said Bob Greenblatt, Chairman, NBC Entertainment.
Meyers is in his twelfth season as a cast member of Saturday Night Live, in his eighth season as head writer, and seventh season as 'Weekend Update' anchor. Meyers won an Emmy in 2011 for Outstanding Original Music and Lyrics when he wrote Justin Timberlake's musical monologue introduction.
"We couldn't be happier that Seth and Jimmy Fallon will be continuing their careers at NBC after growing up in this network's late night legacy." added Greenblatt.