The Frighteners: Director's Cut (Universal) [HD DVD]
Featuring: Michael J. Fox, Trini Alvarado, Jake Busey, Jeffrey "Dr. Herbert West" Combs, John "Gomez Addams" Astin, Chi McBride and the incomparable Dee Wallace Stone.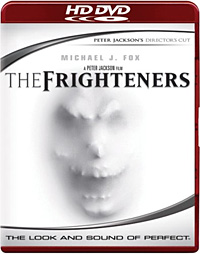 In the mid-90's, based on his Kiwi horror films and the brilliant and tragic Heavenly Creatures, Universal Studios and producer Robert Zemeckis hired Peter Jackson to direct The Frighteners, a convoluted ghost story with a darkly humorous edge. Although the film didn't fare well financially and had mixed critical reviews, this is a film that, despite its occasionally hyper whiz-bang action, actually holds up rather well. You can see where Jackson would hone certain aspects of his filmmaking and effects mastery in that future series of little films called Lord of the Rings. The Director's Cut restores some deleted scenes, cutting them into the original theatrical version (just a few extra gags and effects scenes that simply add bloat to the already jam-packed film), but the overall story is still whacky and sometimes a bit hard to follow. All-in-all it's a treat for fans of Jackson's gorier and sillier efforts and a nice transition from his homemade films to those with a more substantial budget (not always a good thing as Jackson's King Kong proved).
The VC-1 encoded transfer is sharp and rich… dark where it should be, the black levels are nice and the overall eerie glow of the ghost stands out nicely (on prior standard-def releases some of the effects shots look downright muddy). The widescreen 2.35 ratio image is a nice compliment to Jackson's CGI work… and this film is dominated by CGI, in one of the first films to showcase such wall-to-wall digital effects. The audio is in 1.5mbps Dolby Digital Plus and my only caveat is that you should warn the neighbors before playing this one at 11 on the volume scale. It's ass-kicking audio, plain and simple (but English only). The subtitles are in English, French and Spanish.
Now the meat and potatoes of this disc are the extras including a special introduction to the film by Peter Jackson and an in-depth feature commentary by Peter Jackson (pulled over from the standard-def release it was, at the time, his only audio commentary). During Jackson's audio commentary, he points out the deleted scenes that have been incorporated back into the movie. But waits, there's more! You also get The Making Of The Frighteners, a full-length documentary on the making of the film (featuring interviews with Michael J. Fox, Trini Alvarado, Dee Wallace Stone, Jake Busey and Chi McBride). I'd recommend this HD DVD release as a cool addition to your horror library… even then, it's a cut above standard horror fare and really in a league of its own.