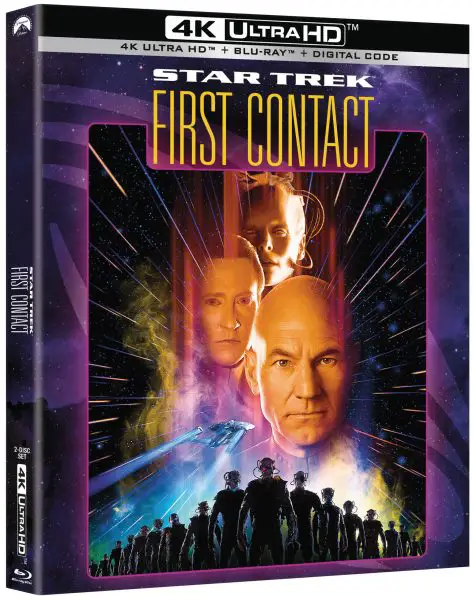 Resistance is futile.
Paramount has restored the four Star Trek 'Next Generation' movies in 4K for release on Ultra HD Blu-ray, Blu-ray, and Digital 4K. The films arrive in a 4-Movie Collection as well as single-movie editions on April 4, 2023. Each combo edition from Paramount Home Media includes a 4k disc, a 2k (1080p) disc, and a code to redeem a Digital Copy with either Apple iTunes or Vudu. Here's a review of Star Trek: First Contact on 4k Ultra HD Blu-ray.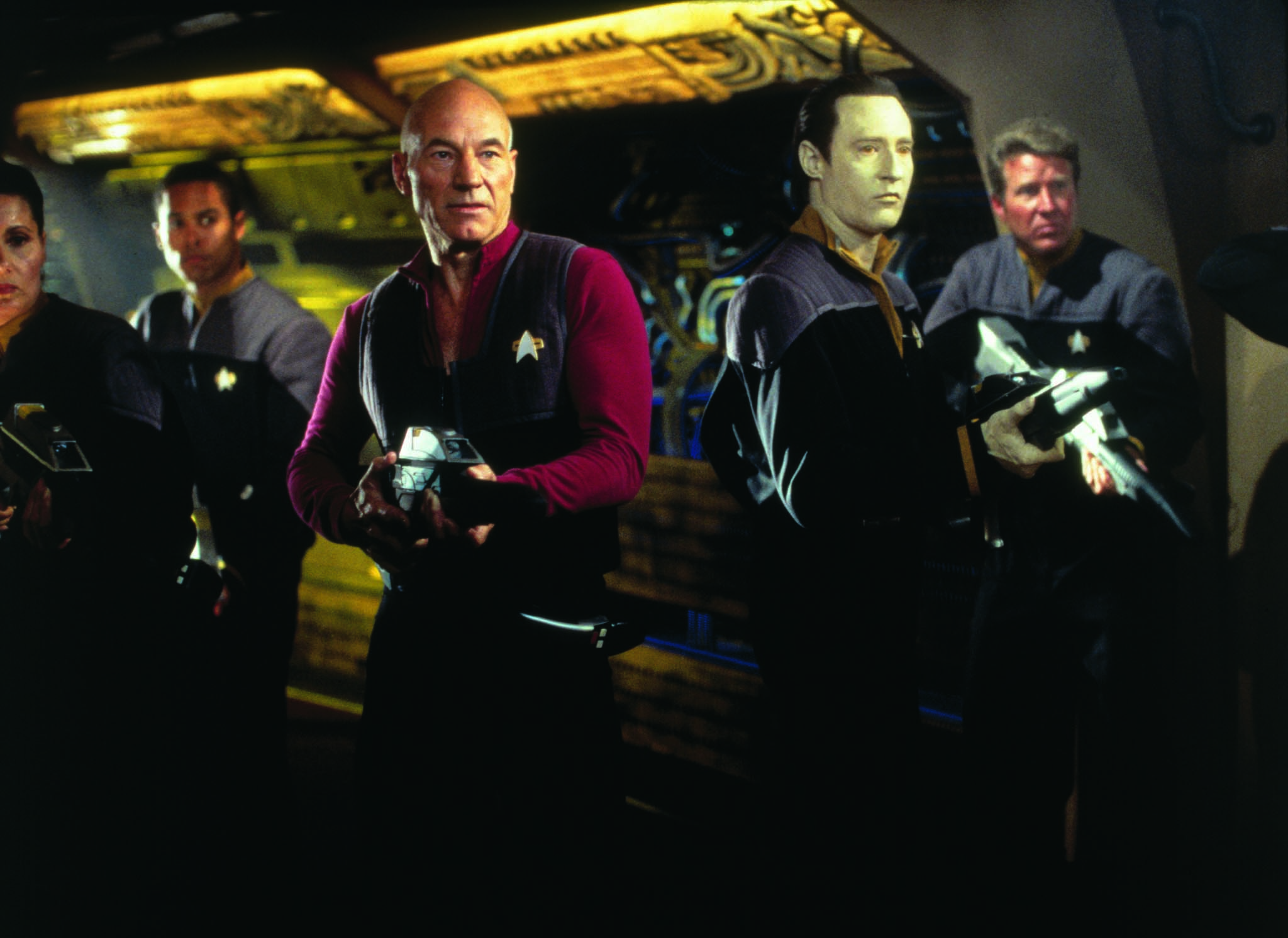 Movie
Directed by Jonathan Frakes, Star Trek: First Contact (1996) is a significant stage in the Star Trek franchise because it represents the first time the Borg have been shown in a motion picture. Captain Picard, who had been captured by the Borg five years prior, is told to stand down when Federation ships engage a Borg ship. But when he hears that things are not going so well for Starfleet, he employs the crew of the USS Enterprise to rescue them. 
The story is really about Picard's personal connection with the Borg (an ongoing thread throughout 'The Next Generation' TV series), but also about saving Earth from the Borg who devastate the home planet by traveling through a temporal vortex. The movie spends quite a bit of time on Earth in the year 2063 when warp drive was first invented by the fictional character Zefram Cochrane. 
In First Contact, we get a convincing performance by Alfre Woodard as Lily Sloane who is the first human from the past to be introduced to Starfleet. Brent Spiner is multi-dimensional (as always) in his role as Data. And, let's not forget a memorable (and creepy) Borg Queen played by Alice Krige who digs deep into Data's emotional circuitry.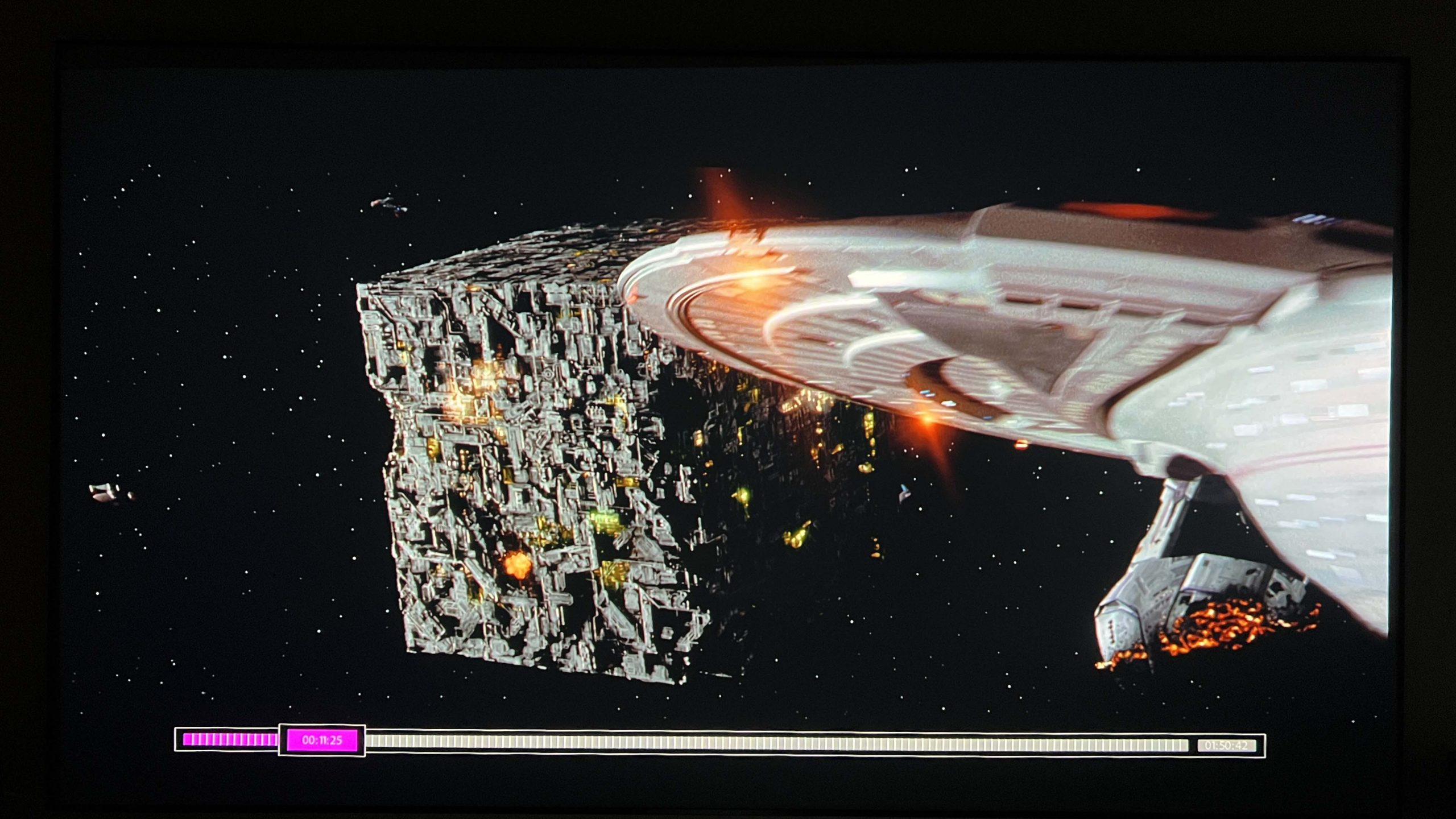 Video
Video is presented in 4K at 2.35:1 aspect ratio, leaving a bit of letterboxing on a 16 x 9 screen. High Dynamic Range is provided via both Dolby Vision and HDR10. 
In its best scenes the 4K video played between 50 and 58 Mbps with the highest peak noticed at 78.70 Mbps. At other times the bitrate was down in the mid-40s.
The Borg cube renders nicely in 4K, revealing all the details of the ship and the explosions within when the Enterprise and other Starfleet ships attack with specific coordinates provided by Captain Picard. 
Like other Star Trek TNG movies, the color is rich and realistic. Color grading is especially good in First Contact, with flesh colors and white balance rendered much better than previous Blu-rays and DVDs. The skin grafts on the cyborg Borg units and Data look very realistic in 4k with HDR. Space is rendered in rich black levels with no degradation whatsoever.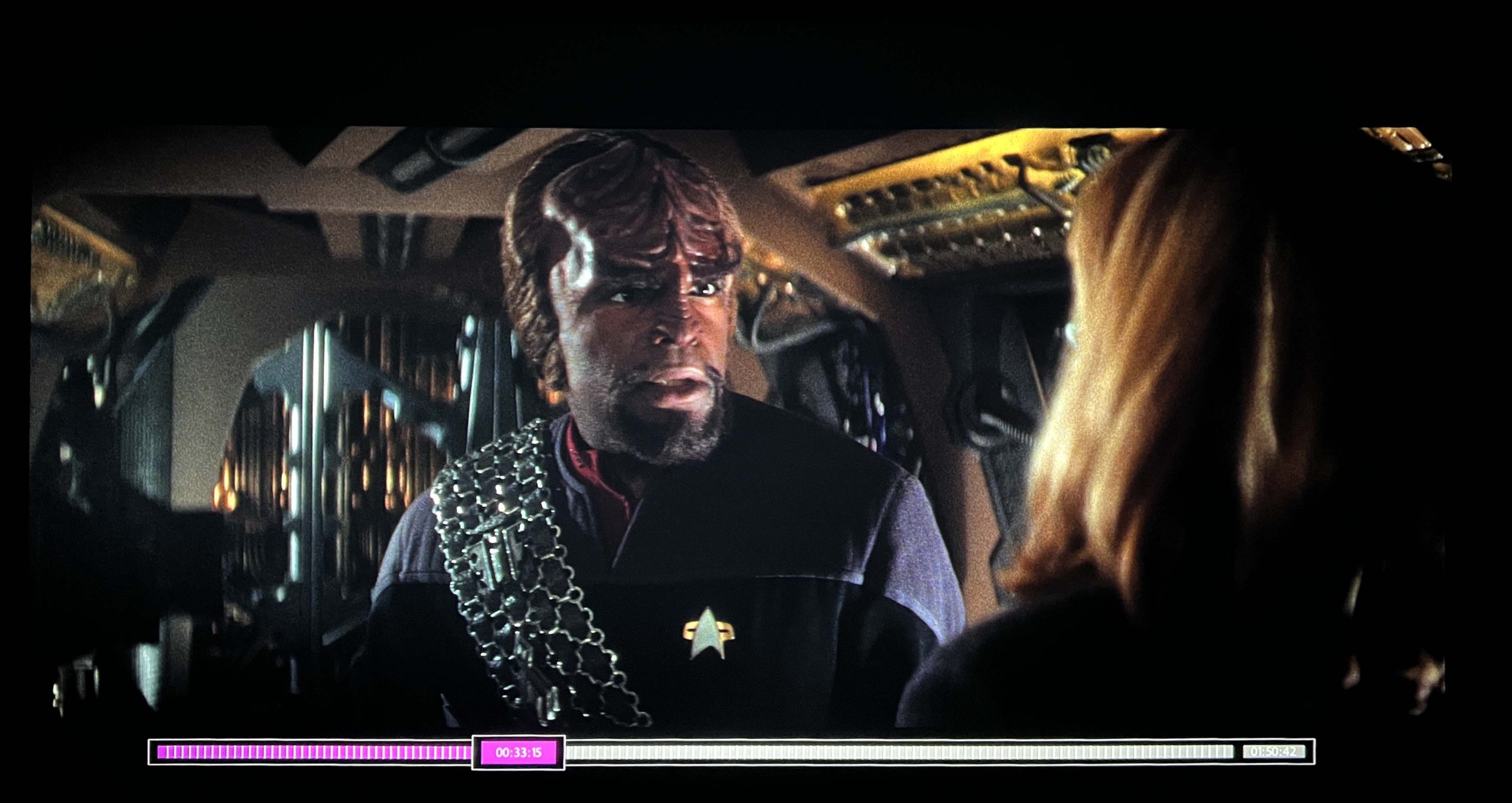 Audio
The English Dolby TrueHD 7.1 channel (48 kHz) audio streams between 2 and 2.5 Mbps depending on the audio mixes and depth of the range of audio sources.
When the Borg ship explodes at 11 minutes, there are some side and rear channels that are activated in the 7.1 mix, and we hear further side and rear channels activated during other battle scenes and interactions with the Borg.
The scene at 1 hr (Chap. 20) when Picard, Worf, and Lt. Hawk walk on the exterior of the Enterprise is one the best scenes in the film. The cinematography, sound effects, and fight with Borg units make this one of the more immersive moments in the movie.    
Bonus Features
The 4k Blu-ray features text commentary from Michael and Denise Okuda, while the included Blu-ray disc packs loads of legacy features in HD.
Special Features (4k Blu-ray)
Text Commentary: Michael and Denise Okuda
Legacy Features (HD Blu-ray)
Industrial Light & Magic – The Next Generation HD 
Greetings from the International Space Station HD 
SpaceShipOne's Historic Flight HD
Brent Spiner: Data and Beyond Part 2 HD
Trek Roundtable: First Contact HD
Starfleet Academy: Temporal Vortex HD
Library Computer 
Plus over 3 hours of additional special features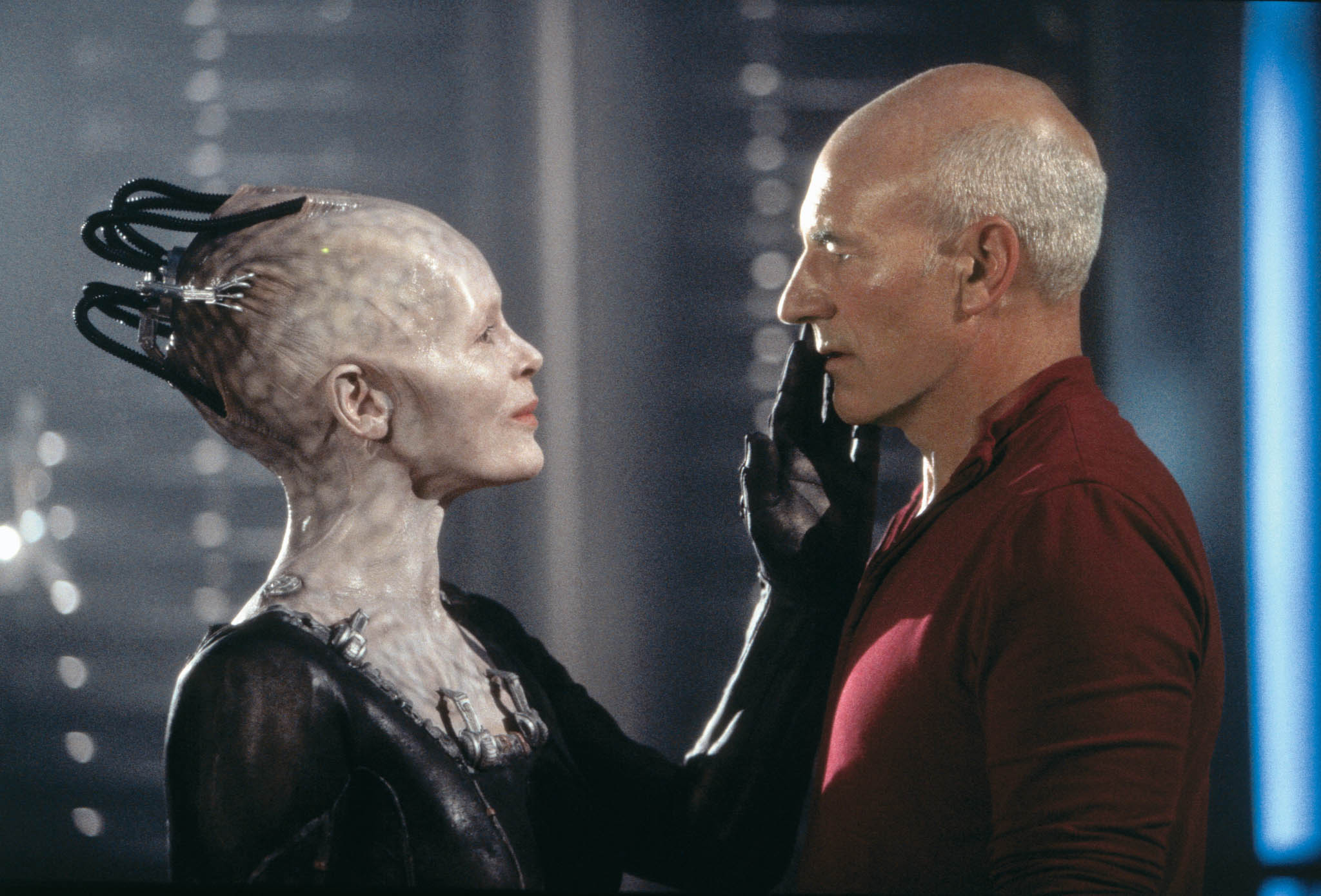 Summary
Star Trek: First Contact is quintessential TNG material, taking viewers into the layered world of the Borg who can alter history with time travel. It's a bit hard to compare 'First Contact' with 'Generations' because they are two very different films, but are both equally entertaining. First Contact, however, holds its own without original Star Trek cast members providing historical support. But if we are here to comment on its home theater experience, we can say that Star Trek: First Contact offers a high-quality presentation with state-of-the-art video and audio specs, albeit the absence of Dolby Atmos and discreet height channels. We recommend adding all four of these TNG movies to your 4k collection.
Scores
Movie
4/5
Video
4/5
Audio
4/5
Bonus Material
4/5
Star Trek: The Next Generation 4-Movie Collection
Star Trek VII: Generations is also available in Star Trek: The Next Generation 4-Movie Collection on 4k Ultra HD Blu-ray. The collection includes Star Trek: Generations (1994), Star Trek: First Contact (1996), Star Trek: Insurrection (1998), and Star Trek: Nemesis (2002) on 4k Blu-ray, Blu-ray, and Digital 4k.