Michael Mann's Heat (1995) has been long overdue for a 4k upgrade. It's been on our radar for at least a year after having been listed as an upcoming Ultra HD Blu-ray release, albeit with no street date or package art. The 2-disc "Ultimate Collector's Edition" from 20th Century Studios (owned by Disney) includes a 4k Blu-ray, Blu-ray, and code to redeem a Digital Copy via Movies Anywhere. Best Buy also released a 4k SteelBook edition. 
The Movie
Heat stars Al Pacino and Robert De Niro as loners on opposite sides of the law, with supporting roles played by Diane Venora and Ashley Judd. Val Kilmer, Tom Sizemore, Mykelti Williamson, and Danny Trejo were cast as the main members of the bank-robbing crew, along with Amy Brenneman, Wes Studi, Natalie Portman, William Fichtner, and Jon Voight who all play important and memorable characters in the film.
Surprisingly, Heat was never nominated for any Academy Awards – it was going up against some big titles that year including Braveheart, Apollo 13, Babe, Il Postino, and Sense and Sensibility (all nominated for Best Picture). Nevertheless, there are many aspects of Heat that are at least nomination-worthy. And, who cares about awards? The film has been a favorite of many film watchers over the years and remains one of those movies that is hard to stop watching once started.
Video
Heat is presented in 2160p video resolution with HDR10 High Dynamic Range that expands the color depth to 10-bits (there is no Dolby Atmos spec on this title, so with some players like the Sony X800M2 you might turn off DV conversion to get native HDR10). This new 4k burn on Ultra HD Blu-ray was derived from the 4k master used for the 2017 release of Director's Definitive Edition of Heat which was supervised by Director Michael Mann.
The video played at average around 40Mbps with some footage in the 30-35Mbps range. We never noticed any peaks above 46Mbps.
For the most part, we can say there is more good 4k video than bad in this UHD BD presentation. Some of the skylines of Los Angeles would have been better left in SD (that's meant to be sarcastic), as the newly remastered video in 4k really makes some of the poorer images stand out. There are some shots where the black levels are somewhat crunched and there is a lack of detail (see the shot below of Neil and Nate and the night sky). A good portion of this movie is filmed indoors or at night, and that is where the quality often differs from daylight shots. 
Still though, 4k and HDR10 has added a good amount of detail to the shadow areas which wouldn't have been possible without 10-bit depth and four times the resolution. Take for example the shot of Lieutenant Hanna (Pacino) and Lieutenant Casals (Wes Studi) in the surveillance van. The sharpness of details in this dark shot were not possible in previous discs, and especially broadcast version of the film. Most of the closeups are exceptional in the 4k image. 
Putting sharpness aside one might not care for the color grading in this 4k presentation that has certainly pushed most of the image levels towards the darker side. The film definitely has its own color palette that isn't exactly "color correct" — but this has always been the case with Heat (would anyone tell Steven Soderbergh his film Traffic isn't color corrected?). It's a cooler film that lives in the cyan range for much of the color grading.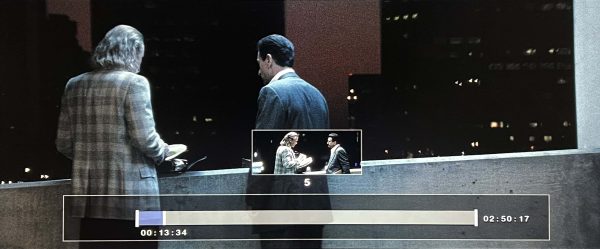 Audio
The audio was not upgraded from the previous Blu-ray release of the Director's Definitive Edition of Heat released in 2017 which offers DTS-HD Master Audio 5.1. But, we can still comment on some of the memorable moments in surround sound. 
In the opening credits there is a low-end barrage of sound when the subway train fills your home theater speakers. Then, when Robert De Niro's character Neil is walking through the hospital ER you can clearly hear his footsteps in a good surround audio effect. The sounds of footsteps are mirrored when Val Kilmer's character Chris is walking to purchase items to construct explosives.
When Al Pacino's character Vince is taking a first look at the crime scene (where Vince's crew robbed an armored truck) you can hear the sounds of police radio and chatter in the left side and right side speakers. And, in the diner scene at 25 minutes there is a really good surround sound as if you're sitting in the café.
Of course, the main shootout at the bank robbery is one of the most memorable in history, and the reason why it's easy to watch the entirety of the film leading up to it. The loud gunshots reverberate in a home theater setting where you may feel as if immersed in the streets of LA. 
Bonus Features
Bonus features from previous Blu-ray editions are available on the Blu-ray Disc including Q&A with Michael Mann, Q&A with Christoper Nolan, 3-part making-of documentary, deleted scenes, Pacino and De Niro: The Conversation, and Return to the Scene of the Crime. 
Summary
Heat was already remastered in 4k over 5 years ago for the release of the Director's Definitive Edition on Blu-ray Disc, and since 4k Blu-ray has been around since 2016 it's surprising it took this long to release on the higher-quality disc format. We're not sure if any new enhancements were made to the sharpness of the video for this Ultra HD Blu-ray edition (meaning, on the 4k master), but there was definitely some new color grading that seemed to create an overall darker image. The sound has stayed the same with DTS-HD Master Audio 5.1. And, there are no additional bonus features. Regardless, the 4k Blu-ray with HDR10 is a worthy update to the 1080p presentation that brings more color depth and detail to the imagery of this iconic film.
Scores
Movie:
5/5 (no need for explanation here)
Video:
3.5/5 (some of the color grading is dark)
Audio:
3.5/5 (just because there was no upgrade)
Bonus:
3/5 (good material but nothing new)
The Equipment
Reviewed on a 75″ Sony Bravia LED with HDR10 from a Sony X800M2 (that converts to Dolby Vision on the Bravia). Audio system is driven by an Arcam AV5 7-channel receiver and 7 KEF speakers.