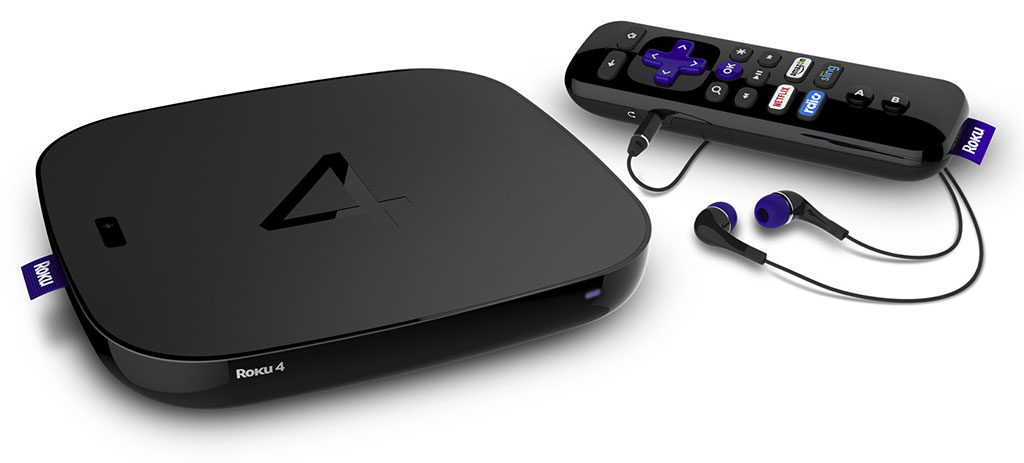 Here are the specs for the Roku 4 streaming media player that supports 4k Ultra HD content.
Roku 4 Video Ouput:
Up to 4K UHD (3840 × 2160) on 4K UHD TVs
Up to 1080p HD (1920 x 1080) on HD TVs
Up-scales 720p to 1080p HD on 1080p HD and 4K UHD TVs
Up-scales 1080p HD to 4K UHD on 4K UHD TVs
USB Supported Media:
4K UHD 60 fps HEVC Playback
4K UHD 30 fps VP9 Playback (YouTube)
Networking
802.11ac MIMO dual-band wireless
10/100 Base-T Ethernet
Audio Output
Dolby Digital Plus 7.1 surround sound passed through via HDMI® or optical output
Storage Expansion
microSD card port for additional game and channel storage
USB port for personal media expansion
Remote Control
Enhanced remote with voice search, point anywhere use, headphone jack, and motion-control for gaming.
Player includes IR receiver, compatible with various universal remotes.
Speaker for Remote Finder alerts
Power Consumption
12.4W (typical) when streaming 4K UHD video
Power Input
12V – 2A power adapter
USB Media Formats
Video: MP4 (H.264), MKV (H.264), HEVC (H.265)
Audio: MP3, Apple Lossless, WMA, AAC
Image: JPG, PNG, up to 4K UHD resolution
Size
6.5 x 6.5 x 0.8 inches