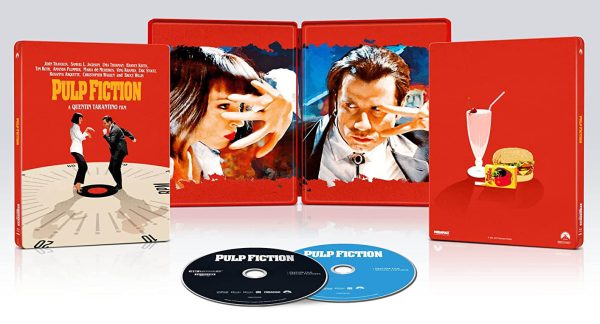 Paramount Home Media releases Quentin Tarantino's Pulp Fiction (1994) on 4k Ultra HD Blu-ray on Dec. 6, 2022. The upgraded film is available in both a standard plastic edition and Limited Edition SteelBook, each with a second copy on 1080p Blu-ray and a code to redeem a Digital Copy. Each disc contains legacy special features, but the Blu-ray houses much more bonus content than the 4k Blu-ray.    
This is only the fourth Tarantino-directed film to be released on 4k Blu-ray. We were lucky enough to get two Tarantino movies on 4K Blu-ray within a month, the other being his debut film Reservoir Dogs (1992) which hit stores on Nov. 15. 8-time Oscar-nominated Inglourious Basterds (2009) was previously upgraded to 4k and released on Ultra HD Blu-ray in Oct. 2021. And, Once Upon a Time in Hollywood (2019) arrived day-and-date with inferior disc formats in Dec. 2019.  
There are many Tarantino fans who consider Pulp Fiction to be his greatest accomplishment. It's hard to argue that point. The character development, script, acting, and cinematography are all exceptional. The movie was nominated for a total of seven Academy Awards including Best Picture and won the Oscar for Best Original Screenplay. Here's a review of Quentin Tarantino's iconic film Pulp Fiction on 4k Blu-ray Disc. 
Video
Pulp Fiction on 4k Blu-ray is presented in 2160p with Dolby Vision and HDR10 High Dynamic Range formats. Video streamed in the high 60Mbps range although we found momentary peaks to hit up to 103Mbps. The presentation showed good bit rates overall that are comparable with most high-quality, reference 4k Blu-ray discs. 
Bitrates are bitrates, but how is the picture? This is a very high-quality video image from Paramount. The sharpness and color grading are impressive. And, black levels are not crushed or greyed out just for the sake of revealing shadow details. The second scene at about 17 minutes when Juels (Samuel L. Jackson) is interrogating some young gangsters is a gorgeous image with beautiful colors from the natural daylight and warm interior light in which Juels glows. It's one of the most impressive shots in the film, but there's more to come.
One of the most memorable scenes in film history takes place at 35 minutes when Vincent (John Travolta) and Uma Thurman (Mia) dine at Jack Rabbit Slims. The colors of the restaurant are vibrant (even in SDR) and details in the shadow areas are more visible than ever before on 1080p Blu-ray. The final diner scene (which actually takes place earlier in the story's timeline) is another impressive 4k HDR moment. The discussion between Juels and Ringo (Tim Roth) has so much detail and color that it's like watching the movie for the first time. 
Audio
The soundtrack is provided in lossless 24-bit DTS-HD Master Audio 5.1 channel at 48 kHz. This isn't an upgrade from the previous Blu-ray editions (released at least 4 times in the US since 2011) and given the quality probably didn't have to be. The audio streamed at 4Mbps on average with some peaks and valleys depending on the scene and depth of the audio mix.
The DTS-HD Master Audio track is mostly a frontal approach in terms of the dialogue from the main actors. But, there are some surround sound moments such as Mia and Vincent's night at Jack Rabbit Slims where you can hear chatter from other tables and guitar music in the back and side speakers. Turn up the volume and you can almost feel like you are there with them. 
The audio quality back at Mia's home (after their night at Jack Rabbit Slims) was a bit odd in that it almost sounded like a hollow tunnel at points (like when Vincent is talking to himself in the loo). It's sort of an awkward mix that really stands out and for that this movie drops in our audio score. Environmental sounds (part of the original recordings) are abundant in this film and we wonder if there will ever be an audio mix that cleans up distractions and levels off the tracks.   
The soundtrack could have used a makeover, not necessarily an Atmos mix, but a revisit of things like background noises and room effects, as well as some inconsistencies in levels. Let's not lose the dynamics in the dialogue though, or lose any other characteristics to poor compression.
Bonus Material
The bonus material is all legacy content, but it's nice the 4k Blu-ray has a few extras included such as the "Not the Usual Mindless Boring Getting to Know You Chit Chat" and "Here are Some Facts on the Fiction" (both in HD) as well as an enhanced trivia track on the subtitles. Additional special features on the Blu-ray include Pulp Fiction: The Facts – Documentary, Deleted Scenes, Behind the Scenes Montages, Production Design, Siskel & Ebert "At the Movies"- The Tarantino Generation, Independent Spirit Awards, Cannes Film Festival – Palme d'Or Acceptance Speech, Charlie Rose Show, Marketing Gallery, and Still Galleries.
Summary
Any Quentin Tarantino movie in 4k is a must for most cinephiles, and Pulp Fiction on 4k Blu-ray is right at the top of the list. As alluded to earlier, watching Pulp Fiction in 4k with HDR is like experiencing the film for the first time. If you've got a home theater and projection environment the quality is probably as good, if not better than you could experience in theaters. Pulp Fiction may not provide the best sound experience from beginning to end (at least in our opinion), but the visuals kind of supersede any flaws in audio. This is a must 4k disc for any home theater enthusiast. 
Scores
Movie
5/5
Video
5/5
Audio
3/5

Bonus Material
3/5 (all legacy)