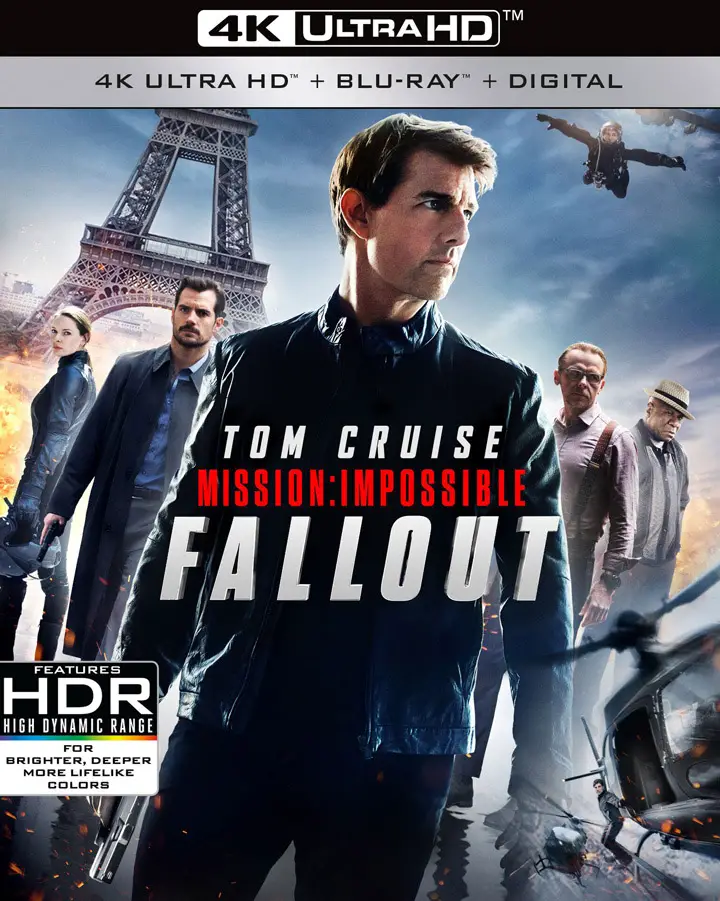 Title: Mission: Impossible – Fallout (2018)
Format: 4k Ultra HD Blu-ray
Release Date: Dec. 4, 2018
List: $25.99 | Price: $13.99 Buy on Amazon
Mission: Impossible – Fallout (2018) released to 4k Ultra HD Blu-ray on Dec. 4, 2018. The 3-disc combo edition from Paramount Home Media includes a UHD BD, BD, BD with bonus features, and code to redeem a digital copy. Here's a review of the film on the highest quality disc available at this time, presented in 4k 2160p with Dolby Vision HDR and Dolby Atmos soundtrack.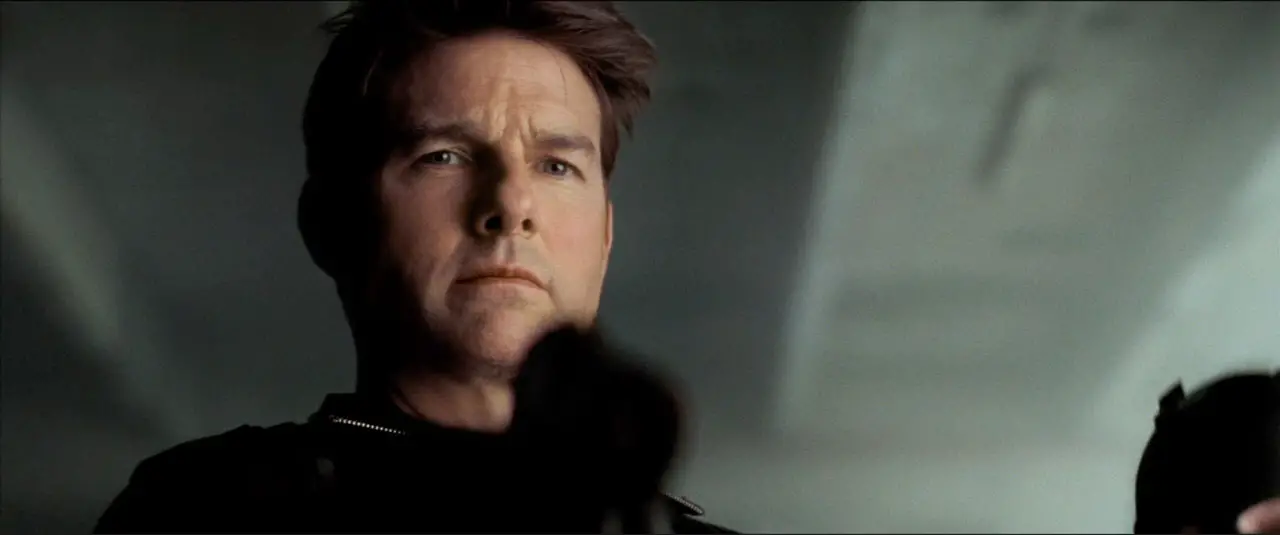 The Movie
Some have called Mission: Impossible Fallout the best MI film to date, and it very well might be. 'Fallout' has all the ingredients of what made its predecessors great, only in a faster-paced 147-minute spectacle that features incredible stunts (most by Cruise himself), a complex plot (for MI standards), popular returning cast members, and riveting action scenes that made the film a memorable theatrical experience.
What's more, some action movies including those from the MI franchise start off with a bang but fizzle out or amble along until the climax. MI6 brings great action from the start but just keeps building up the excitement and suspense until the very end.
The MI6 credit intro is certainly faster than any other MI intro before, (viewing at home makes you even more aware of the almost hyper-editing), but sets the pace for what's to come.
Also Read: Mission: Impossible (1996) 4k Blu-ray Review
Ethan Hunt (Tom Cruise) and the Mission: Impossible team are tasked with yet another goal of saving the world, this time from a terrorist organization known as The Apostles who are intent on using nuclear weapons to set the world according to their values.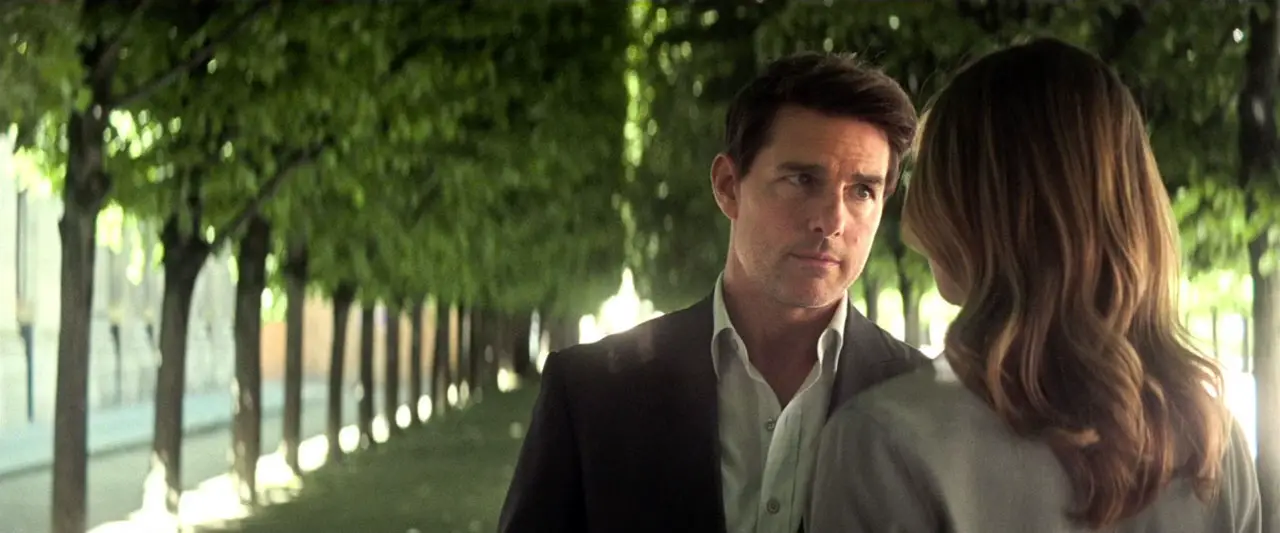 One of Hunt's archenemies, Solomon Lane (played by Sean Harris) is a fulcrum point of the narrative, as several different parties are after him for different reasons. One of the biggest conflicts is between Hunt and his former love interest Ilsa Faust (Rebecca Ferguson) whose mission is to assassinate Lane, while Cruise is forced to keep him alive.
There's also a mole, and from the start we get the feeling CIA agent August Walker (played by Henry Cavill) is the double agent, but somehow writers Christopher McQuarrie and Bruce Geller manage to get viewers to give Walker the benefit of the doubt. His personality varies throughout the film ranging from dumb brute to loyal and intelligent terrorist agent.
Without giving too much away, let's move on to the technical aspects of this film and determine whether or not the Ultra HD Blu-ray edition is worth the extra money.
The Equipment
MI6 was viewed on a 65" 8 Series Samsung SUHD 4k/HDR TV sourced from a Samsung Ultra HD Blu-ray UBD-8500 disc player. Dynamic contrast was set to medium, colors natural, and Picture Mode on "Film" as we always suggest. Audio system is Dolby Atmos-supporting Samsung HW-K850 3.1.2 sound bar with 11 speakers (2 upward-firing) and wireless subwoofer.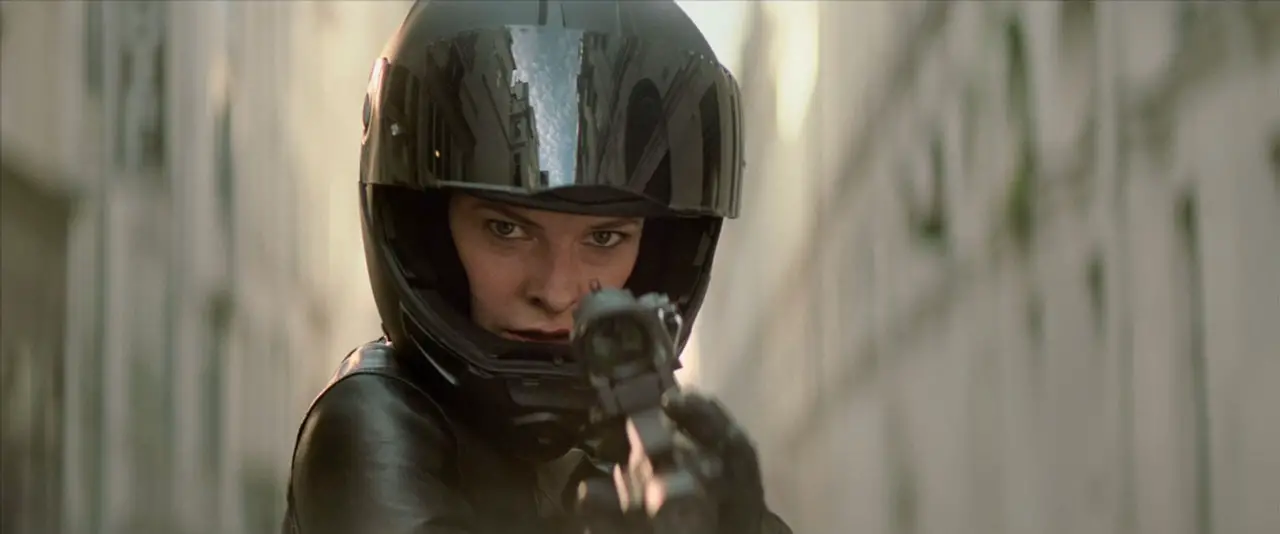 The Picture
Mission: Impossible Fallout on Ultra HD Blu-ray is presented in 2160p with HDR provided by Dolby Vision. In the opening scene in Belfast, you can see the extent of dynamic range in a shot of the book Homer's Osyssey that Ethan Hunt receives at the start of the film. The text on the cover of the book and inside mechanisms display excellent detail in a short range of focus, at the same time providing excellent bit depth in the blurred background.
Another time where you'll be able to see a huge difference in dynamic range is in the underground canal scene in Paris when Hunt, Luther (Ving Rhames) and Benji (Simon Pegg) rescue Lane from a sinking armored truck. This is a very dramatic, low-key scene that shows off the abilities of HDR to display details even in the darkest areas of an image.
Compare those shots to the Blu-ray presentation at 1080p with no HDR and you'll understand why this film is worth the extra money for UHD BD.
The final scenes in Kashmir (actually shot in New Zealand) contain some of the most visually spectacular images in the movie, only, the quick edits leave you wanting more. Other franchise films like James Bond and even the Peter Jackson 'Hobbit' films give you a few more seconds to take in the majestic views. One gripe with MI6 is that the scenery is so gorgeous but plays second fiddle to the action.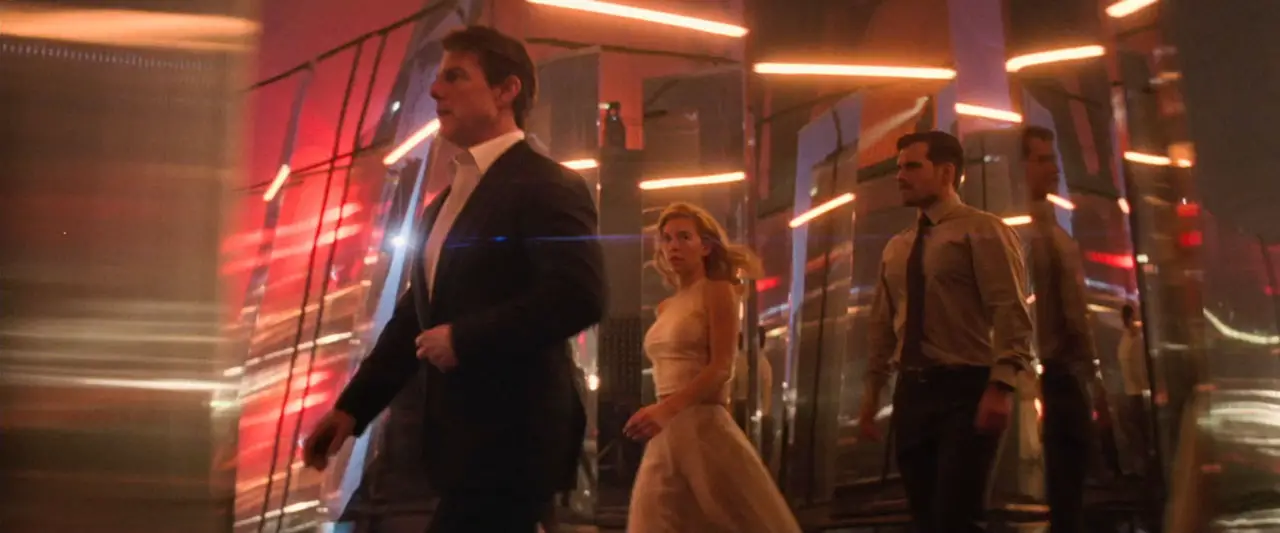 The Audio
'Fallout' offers a soundtrack in Dolby Atmos that you need to be sure to turn on in the disc settings otherwise it will default to Dolby TrueHD 7.1 or whatever the highest quality your audio system supports.
If you've got a subwoofer there is plenty of bass in the soundtrack music and theme song variations to rock the house. Be prepared for some wide range in volume — all of it clear mind you, but such a difference that you might find yourself grabbing the volume control quite often even during daylight hours when everyone is awake.
Dolby Atmos enables immersive audio effects like audio that can bounce off a ceiling giving the effect of sound above your head or even behind you. But this soundtrack, at least on our system, didn't really show off many of the capabilities of object-based surround sound. If you experienced otherwise please let us know!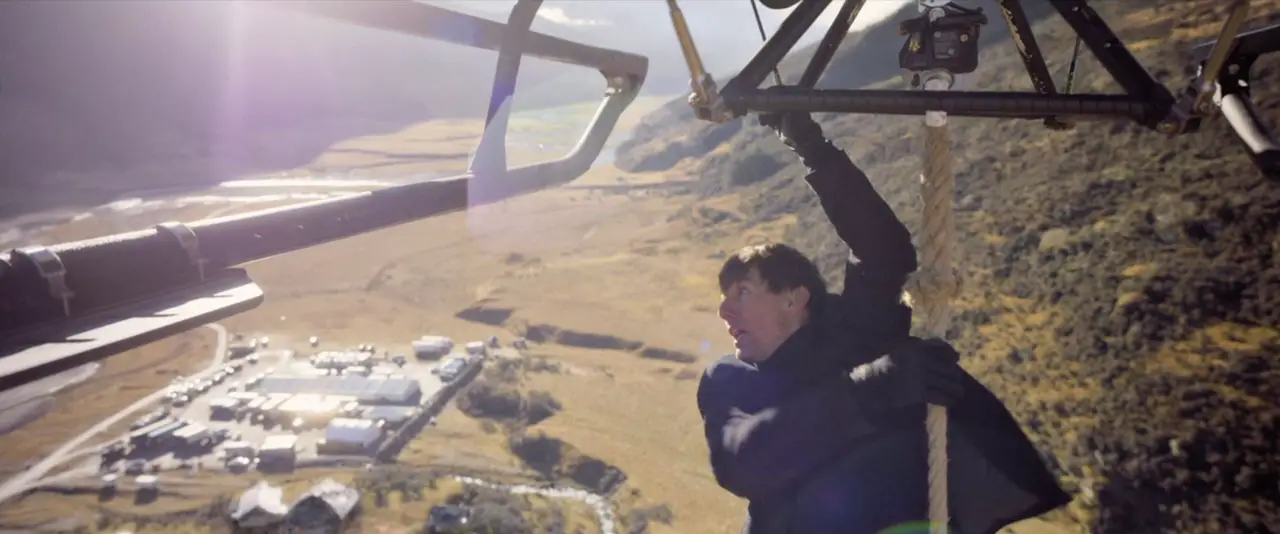 The Extras
Mission: Impossible Fallout on Blu-ray is actually a 3-disc collection — one disc contains special features such as "The Making of Mission: Impossible Fallout," storyboards, foot chase musical breakdown, and deleted scenes montage with audio commentaries.
In addition to the extras on Disc 3, the Blu-ray and 4k Blu-ray discs contain audio commentary from Director Christopher McQuarrie and Tom Cruise. The standard Blu-ray disc includes an isolated score track.
There's also a small "collectible booklet" that's hard to believe Paramount fit into this 3-disc edition. Ours was a bit damaged in the corner from the way it was inserted, sort of taking away the "collectibility" of this item. But nevertheless cool to look at.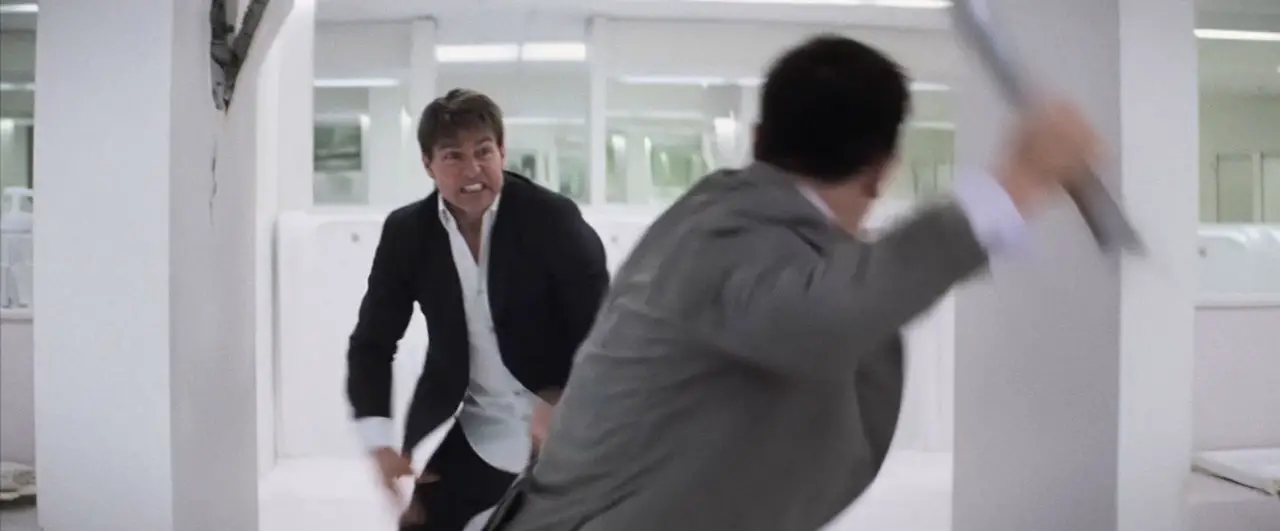 The Digs
Can we just take one dig at this film? There's a pretty harsh battle in the bathroom scene in which Hunt and Walker are attempting to capture the likeness of the Lark Decoy (Liang Yang). The two take quite a beating from an obviously more skilled fighter, but when they come out of it (after being saved by Ilsa Faust) they look more like they just got out of a salon. From the hits they took their faces should have been a swollen bloody mess!
The Interface
Why can't interactive designers create buttons that actually look like they are selected? The buttons highlight in a light grey that is hard to distinguish from the yellow. Navigation through the Scenes, Settings, and Extras could be a lot easier if the selected buttons contrasted the non-selected buttons. It would also be nice to see a checkmark when selecting options like Dolby Atmos and Closed Captioning.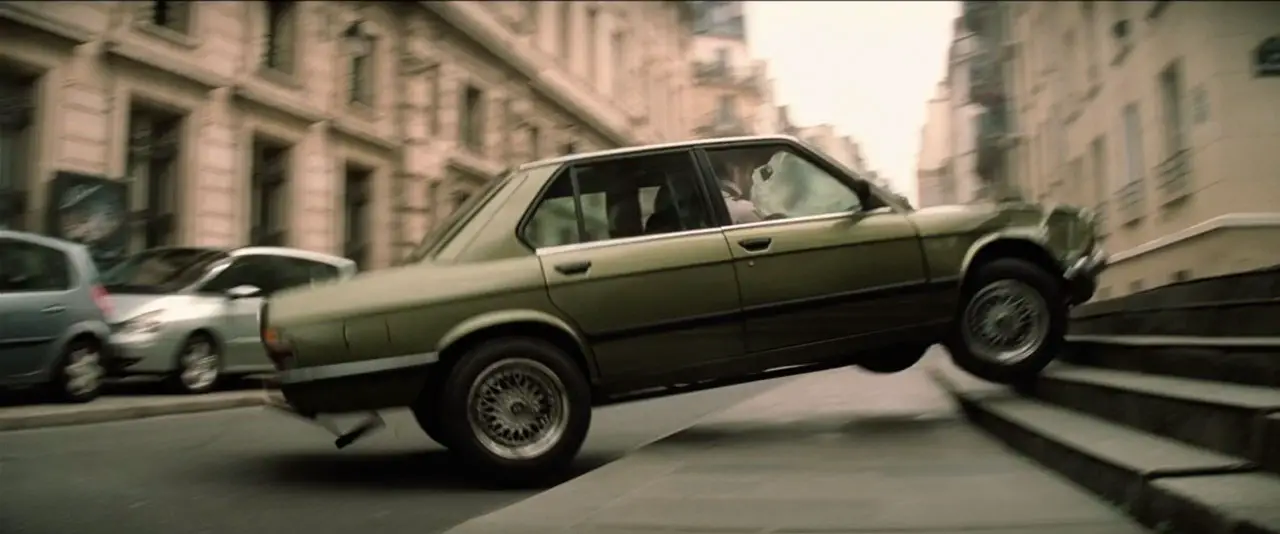 Summary
Mission: Impossible Fallout is loaded with uncharted stunts and effects, which might be its strongest characteristic. One of the best moments is during the car chase in Paris when Hunt pulls the emergency break to spin a vintage BMW backwards down a flight of stairs. That's what we like to see! Innovation in stunts action sequences!
Cruise is just as daring as in Rogue Nation, and his authenticity only adds to the excitement of 'Fallout'. Hunt's seemingly insane attempt to hijack a helicopter while in flight is just one of those moments where you wonder why Cruise does it. There was also plenty of hype about him breaking his ankle while jumping from a building — you can't get more authentic than that.
Should you buy this film in 4k? Absolutely. Whether you purchase the Ultra HD Blu-ray or Digital 4k UHD edition of 'Fallout' you won't be disappointed with your choice. The imagery in the film benefits greatly from 4k and Dolby Vision on HDR TVs. Remember, even if you don't have a 4k TV or 4k Blu-ray player yet the 3-disc combo does include a standard Blu-ray disc. It's only a matter of time before 4k becomes the norm in every household.
"Mission: Impossible – Fallout" is list-priced $22.99 for the Blu-ray and $29.99 for 4k Blu-ray. Order from Amazon