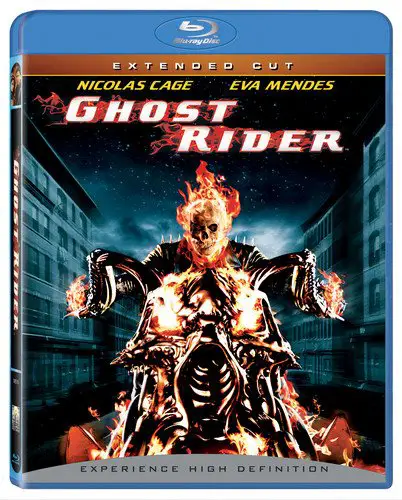 Title: Ghost Rider (2007) – Extended Cut
Studio: Sony
Format: Blu-ray
Price: $14.99 Buy on Amazon
Directed by: Mark Johnson
Featuring: Nicolas Cage, Eva Mendes, Peter Fonda, Donal Logue and Wes Bentley
Pop culture loves to go to hell and back again, for a variety of reasons, sometimes as morality play, sometimes as pure entertainment. Ghost Rider has a lot in common with other films (as well as comics and graphic novels) that offer a look at Hell on Earth, such as Constantine, Last Days, Hellboy, etc. Ghost Rider follows its source material, the Marvel Comic of the same name, very closely and presents us with the story of one Johnny Blaze (wouldn't you know it… a fiery name for a flamin' superhero of sorts) who unwittingly makes a deal with Mephistopheles (Satan with a capital M, played by the always reliable Peter Fonda) that leads him into having his soul merged with that of a demon, thus becoming "Ghost Rider" the Devil's personal bounty hunter.
Nicholas Cage plays Johnny Blaze, a motorcycle stunt rider who, as a youth (played by Matt Long as the younger Johnny) attempts to save his father from cancer and ends up sealing his fate by accident in exchange for saving dear old dad. Cage is not quite as over-the-top as he's been in other outings, but this one won't lend his Oscar®-winning skills any further credibility. Still, in terms of campy comic book fare, this isn't nearly as lame as the misfired Elektra movie or other attempts at creating a comic book feel and look. The setup is interesting, the premise gleefully absurd, but it's the special effects that salvage an overall weak effort— in the end it's an endurance test for those that aren't already fans of the Marvel comic (who will probably love it).
The single disc Blu-ray offering features an extended cut of the film (15 minutes overall) that fills in backstory regarding Johnny and his father and scenes of dialog between Johnny and Mephistopheles, as well as an strong action sequence between the Caretaker (played by the wonderful Sam Elliot) and the evil villain, Blackheart (played by Wes Bentley).
The transfer is gorgeous in widescreen 2.40 ratio (1080p) showing clarity and sharpness with lovely color saturation throughout (nice to see flames so vivid that they could melt your TV screen). The audio is similarly extraordinary with a nicely mixed and uncompressed PCM 5.1 selection or a DD 5.1 mix (English/French). Action sequence sound is nicely rendered and the dialog never suffers for the utterly boom-bastic sound. Subtitles are offered in English, Spanish, French, Portuguese, Chinese, Korean and Thai. The features are similar to the standard-def DVD release and include:
• Audio commentary with producer Gary Foster
• Audio commentary with writer/director Mark Steven Johnson and visual effects supervisor Kevin Mack
• Three Making of Documentaries: Spirit of Vengeance, Spirit of Adventure, Spirit of Execution
• Sin & Salvation: Featurettes Chronicling 40 years of Ghost Rider comic book history
• Animatics (animated story sequences)