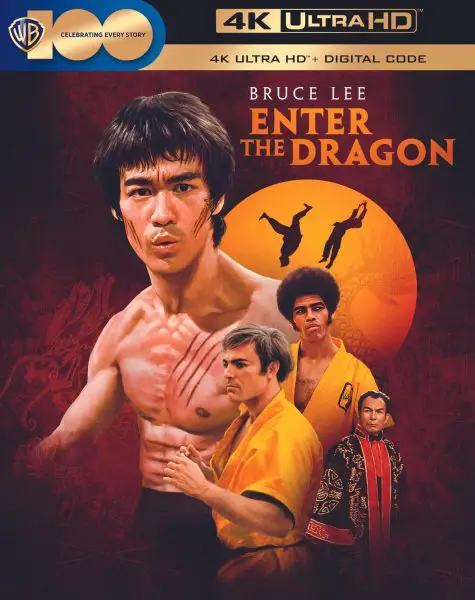 Warner Bros. is celebrating its 100th anniversary this year by releasing newly-remastered films on disc and digital. One film that has been restored is the classic martial arts feature Enter the Dragon. The movie, starring Bruce Lee, helped propel the Chinese/American actor to legendary status as both a film star and martial arts icon. Warner Bros. restored the movie for release on 4K Ultra HD Blu-ray, arriving in stores on August 8, 2023. There is also a limited collector's edition in SteelBook packaging that is scheduled for release on August 18, 2023. Here's a review of the 4K Blu-ray presentation of Enter the Dragon from Warner Bros. Pictures.
The Movie
Some films simply move beyond classic status, beyond the mere masterpiece of any one director to transcend the cinema itself… Rebel Without A Cause comes to mind, as does Star Wars, two films very different in subject matter and approach that have achieved legendary status and rank as two of the most influential movies ever made.
Bruce Lee's Enter The Dragon (directed by Robert Clouse) ranks in that legendary realm where cinema, reality, and myth combine, over time, to mystify those who may view the actual quality of the film, as a whole, with a more critical eye. For millions of folks (I kid you not) this martial arts masterpiece was a life-changing event that altered the course of their physical or mental being.
Read a full movie review of Enter the Dragon from the first Blu-ray release in 2007.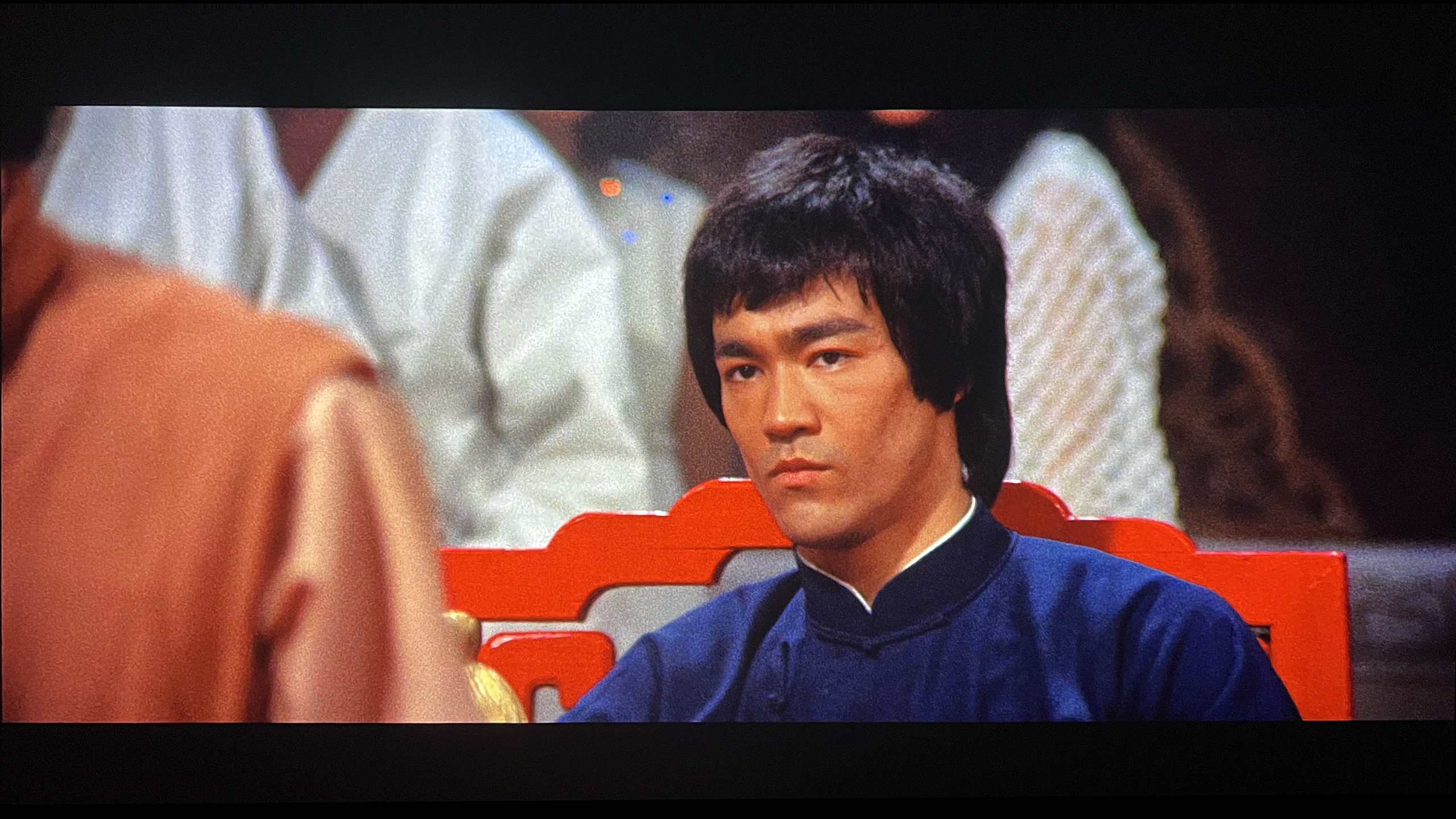 Video
On 4K Blu-ray, Enter the Dragon is presented in 4K 2160p at 2.4:1 "Cinemascope" aspect ratio. The HEVC video played at average bitrates between 45 Mbps and 50 Mbps. Peak bitrates hit about 86.9 Mbps and lows got down into the teens (the lowest bitrates occurring during credits).
For a film that is over 50 years old the remastering is commendable. Shot on 35mm film with Arriflex cameras equipped with Panavision and Angenieux lenses, the digital remastering still holds the look of 70s cinema but in a quality never-before-seen at home or in cinemas until now. Not all shots are razor sharp like you find in more contemporary movies, but that's to be expected from of this age and budget. However, some of the close-ups and establishing shots are exceptional. 
One of the true tests of how well this film stands up to today's standards is the praying mantis scene on the boat ride to Han's private island. The insects look fairly sharp at some depths but not nearly as focused as one would hope when viewed on a big screen TV or projector. 
But, how about that color? The HDR10 using the BT.2020 spec on this 4K Blu-ray renders excellent color, saturation, and depth, making Enter the Dragon, look much younger than its 50+ years. There are still true black levels and often crushed, but compared to the previous Blu-rays and HD versions. The movie does add more detail in the darker values. On the bright side, skies and whites have more detail than previously seen before. This helps to add contrast without giving up detail and dark and light areas.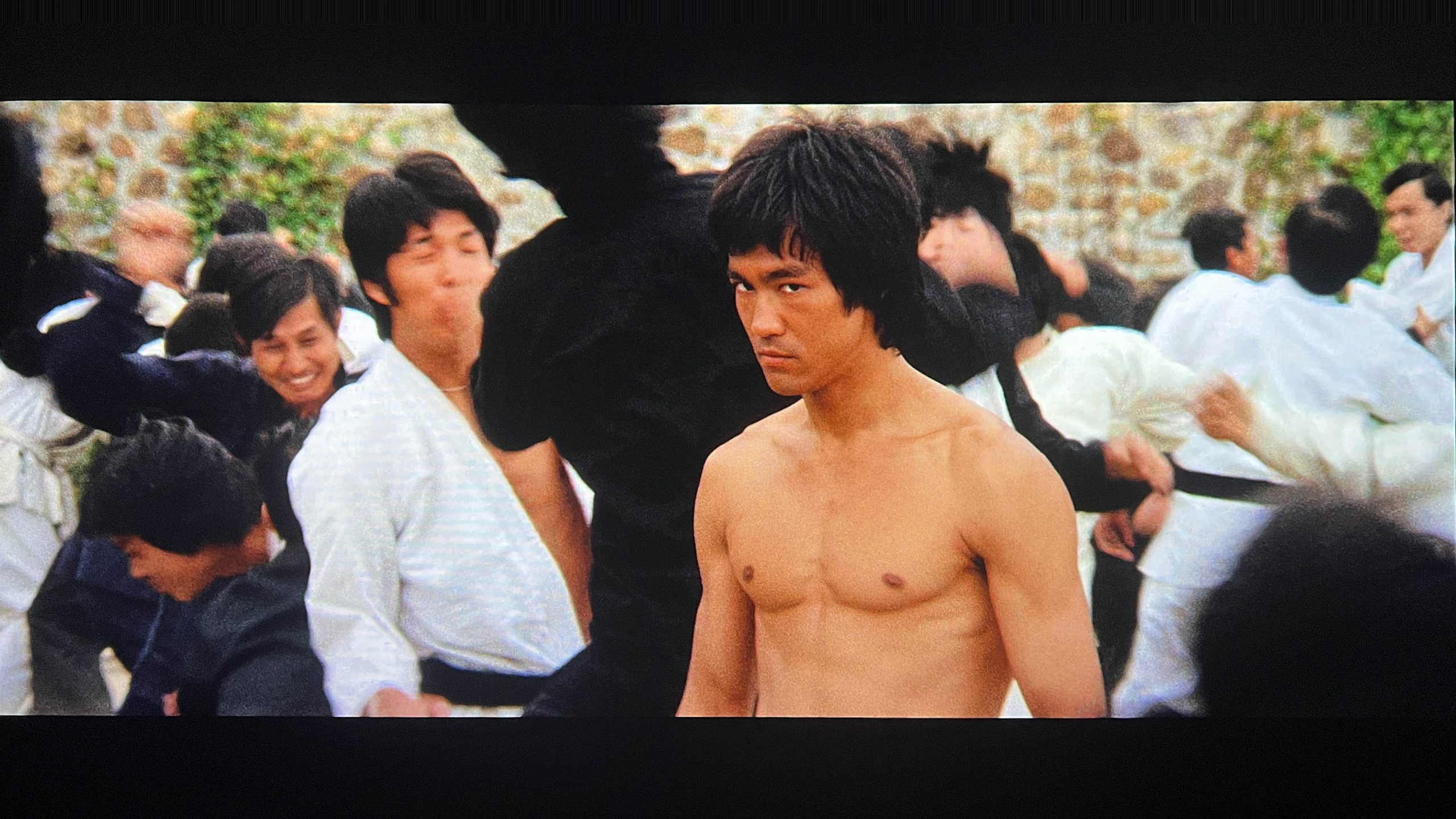 Audio
On 4k Blu-ray (and in Digital 4k from select services) Enter the Dragon offers Dolby Atmos audio for the best experience. The audio is also offered in several formats including Dolby Digital 2.0, Dolby Digital 5.1,  and Dolby Digital 1.0 (depending on the language). Voice dubs include French, German, Italian, Spanish, native (Mandarin) Chinese, and Czech.
The Dolby Atmos mix certainly takes this movie to another level, with excellent sound that is still mainly central with the dialogue but music surrounds the viewing space. There may not have been a need for height elements, as a film of this age could seem unnatural with those type of effects. Granted, a straight-up TrueHD 7.1 mix may have been just as effective (that's what your audio system should default to anyway if Atmos is not available). As reviewed in previous Blu-rays the Dolby Digital 5.1 mix (available only in Czech language on this disc) is like night and day compared to the 2.0 and 1.0 options, unless the older stereo and mono mixes are your thing.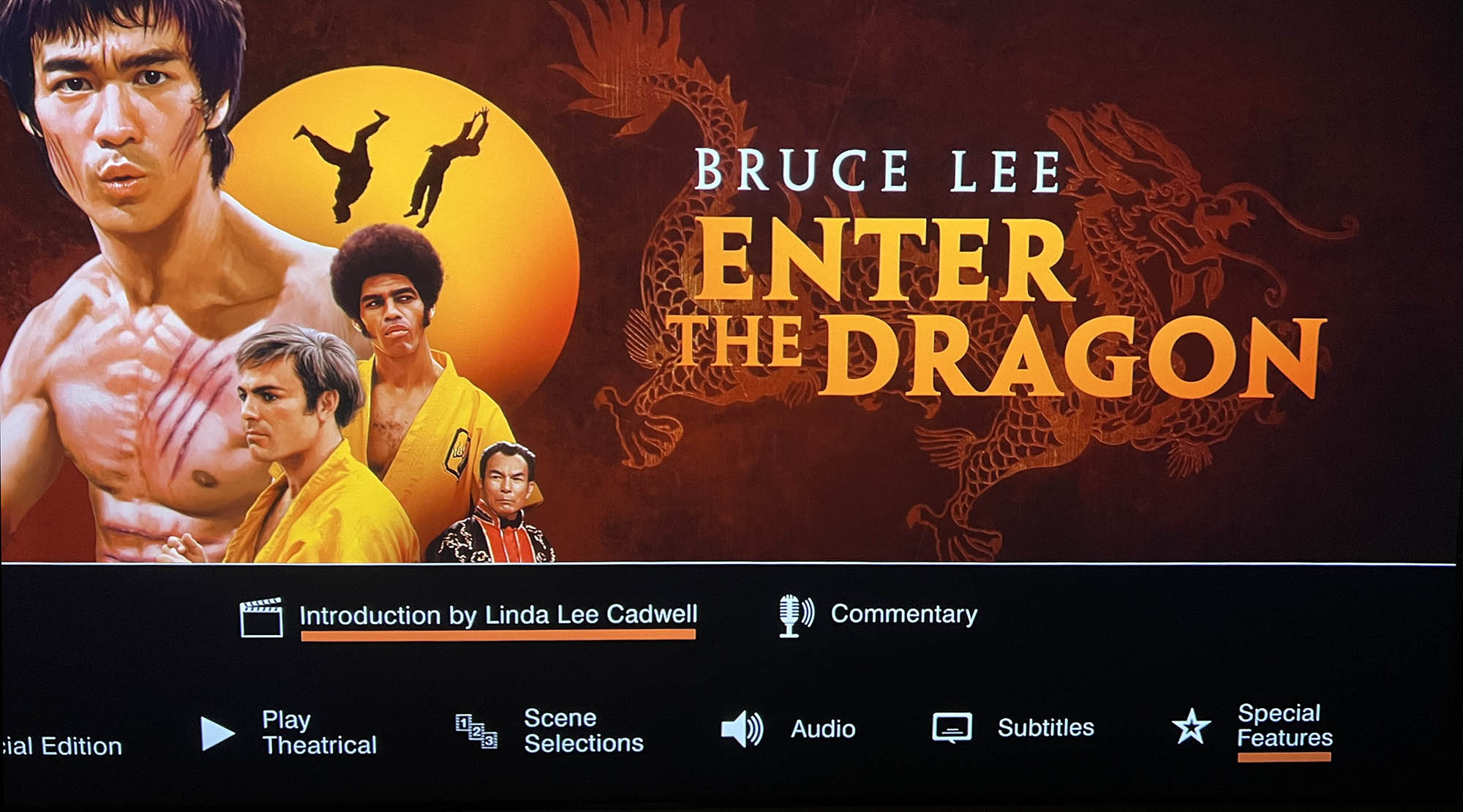 Bonus Features
The only thing that is lacking on this 4K Blu-ray edition are the bonus features previously included on Blu-ray releases. The limited collector's edition does have a second Blu-ray disc with extras, but unfortunately, Warner Bros. did not include that BD-50 disc in this standard 4k BD-100 edition. What you do get with the 4K disc is an introduction by Linda Lee Cadwell, as well as audio commentary from Paul Heller and Michael Allin as Special Feature options. Let's also not forget the 4K Blu-ray Disc includes both the 99-minute Theatrical version and 102-minute Special Edition version.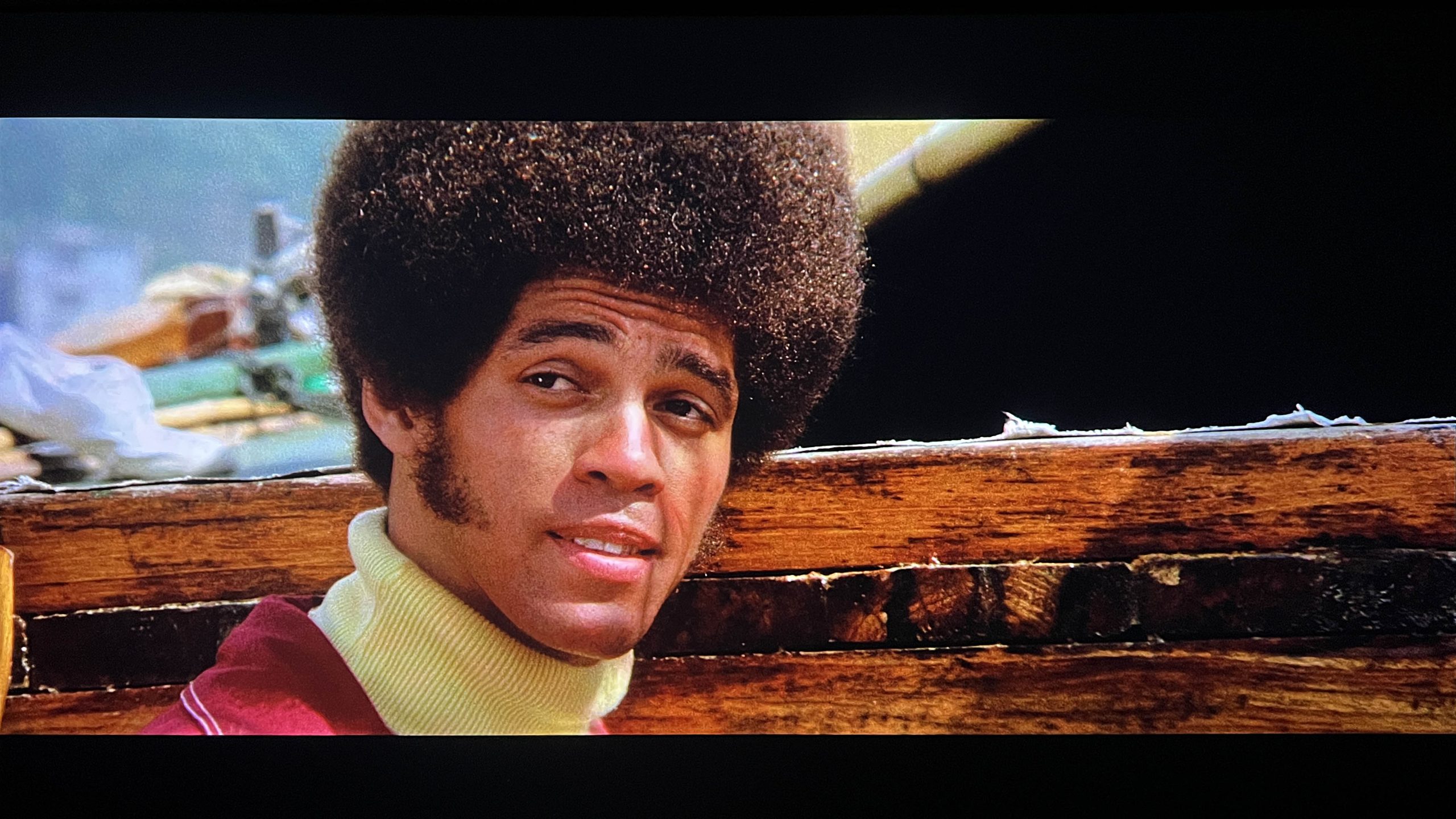 Scores 
Movie
4/5
Video
3.5/5
Audio
4/5
Bonus Features
2/5