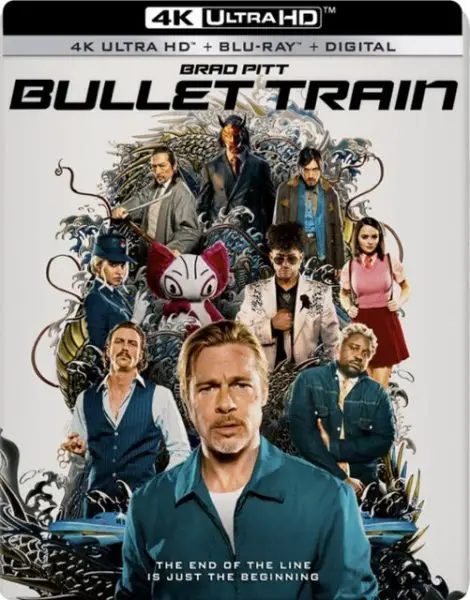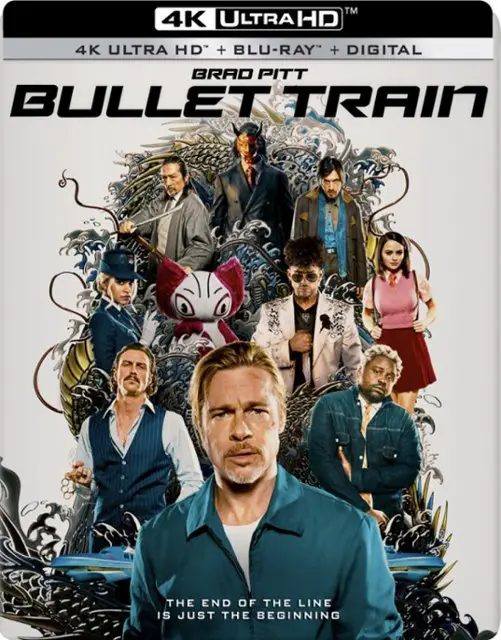 Sony Pictures Home Entertainment released David Leitch's Bullet Train (2022) in disc formats including 4k Blu-ray, Blu-ray, and DVD on October 16, 2022. The film is available on 4k Blu-ray Disc in both a standard plastic case edition and Limited Edition SteelBook, as well as an exclusive 4k Blu-ray edition from Walmart. Each 4k Blu-ray edition includes Blu-ray and Digital copies. 
Bullet Train stars Brad Pitt, Joey King, Aaron Taylor-Johnson, Brian Tyree Henry, Andrew Koji, Hiroyuki Sanada, Michael Shannon, Benito A. Martínez Ocasio, and Sandra Bullock. The film made $103M at the domestic box office and $239M worldwide.
The Movie
A much better experience in the theaters, Bullet Train is also a fun ride at home. With a well-developed cast of characters led by Brad Pitt who goes by the nickname Ladybug, the storyline progresses as background stories are filled in along the way. You might call Bullet Train a mock gangster film, with outrageous characters that could only exist in musical theater. [Spoilers Ahead] Channing Tatum's cameo in the movie is one of the funnier moments, as well as Ryan Reynolds appearance as the assassin Carver (both were uncredited). Sandra Bullock plays the role of Ladybug's dispatcher Maria Beetle, but for most of the film is only a voice on the other side of a phone. 
There are many trinkets in this film that pop up here and there, making a second watch worthwhile. For example, an escaped deadly poisonous snake on the local news later ends up on the train and actually becomes an interesting thread in the plot. And, a costumed train mascot (played by Zazie Beetz) that gets bullied early on by passengers turns out to be a lethal assassin named The Hornet. What's also fun is the references to Thomas the Tank Engine made by the assassin Lemon, the "twin" brother of Tangerine played by Brian Tyree Henry. 
Video
The video presentation of Bullet Train is excellent, with vivid colors and good overall contrast. The color is enhanced with Dolby Vision HDR, allowing up to 10-bit color depth. The HEVC video streamed between 55 and 70 megabytes per second for most of the movie. Some of the close-ups are extremely sharp and about the best you can get right now in home theater. In fact, there may not be a bad shot in the entire film. 
Audio
Audio streamed at about 4-5 Mbps in Dolby True HD 7.1 channels that also plays in Dolby Atmos on supporting systems. The real good surround sound doesn't start until about 58 minutes when Ladybug and Tangerine (Aaron Taylor-Johnson) are fighting outside the train have an outside-train excursion, as the sound of speeding trains blast through surround sound setups. 
The soundtrack to Bullet Train isn't exactly the onslaught of sound you may find in sci-fi and other types of action films, rather, it offers a clean mix that puts you on the train with the characters while infused with some excellent music choices such as the Japanese cover of "Stayin' Alive" by the Bee Gees. The sounds of the train and ambient noise that may happen behind you as you're walking through a train are some of the highlights of the Atmos experience.
Bonus Material
There is a good amount of bonus material on the Blu-ray Disc such as outtakes and bloopers, easter eggs, stunts, cast introductions, and "Mission Accomplished: Making of Bullet Train." And, audio commentary is available on both the 4k Blu-ray and Blu-ray discs. There are optional English, English SDH, French, and Spanish subtitles for the main feature.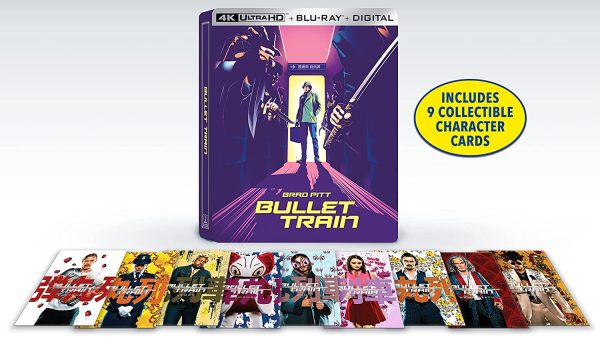 A limited edition 4k Blu-ray SteelBook edition of Bullet Train is also available (pictured above). The edition features unique artwork on a matte-finish metal case with nine collectible character cards of the main faces in the movie.
Special Features
Catch What You Missed: Easter Eggs
Trained Professionals: The Cast
All Aboard the Pain Train: Stunts
Mission Accomplished: Making of Bullet Train
Filmmaker Commentary with David Leitch, Kelly McCormick & Zak Olkewicz
Select Stunt Previs
Scores
Movie
3.5
Video
4/5
Audio
4/5
Extras
4/5