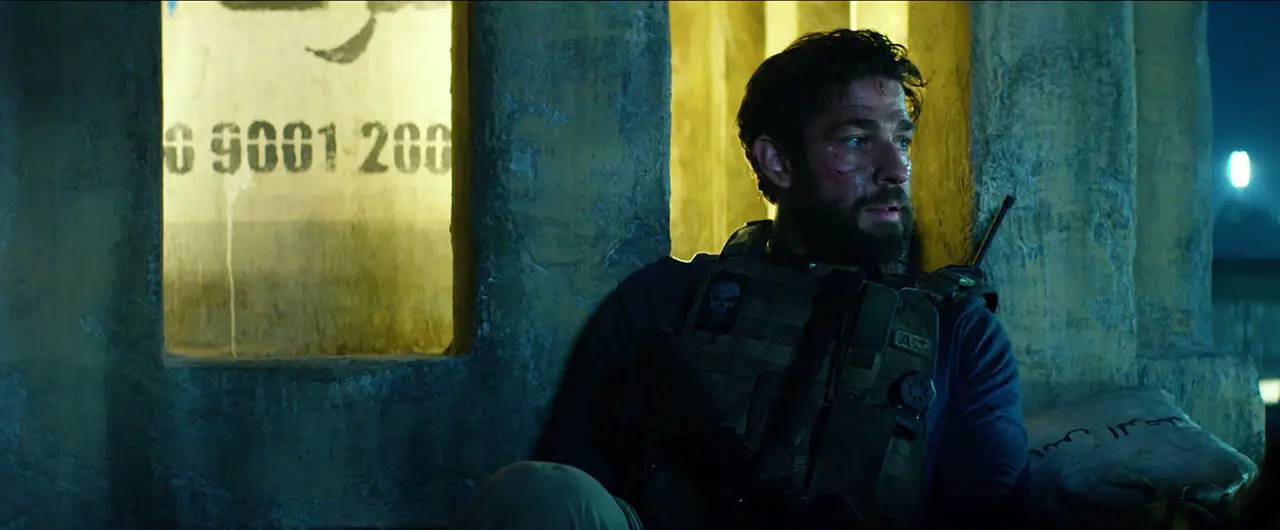 Michael Bay's 13 Hours (also known as 13 Hours: The Secret Soldiers of Benghazi) was released on Blu-ray and DVD back in 2016. But three years later Paramount Home Media has upgraded the movie to Ultra HD Blu-ray with Dolby Vision HDR, plus Dolby Atmos carried over from previous 2k Blu-ray editions. Here's a review of that upgrade and why you should add it to your 4k collection.
The Movie
Directed by Michael Bay, 13 Hours tells the story of ex-military security forces in Benghazi, Libya who fought to protect a U.S. diplomatic compound where U.S. Ambassador Christopher Stevens was stationed.
John Krasinski stars as the protagonist Jack Silva in the movie adaptation of the historical events that took place in Benghazi. The action role was a breakthrough for the actor who mainly starred and produced in comedies, first making his name as Jim from the American version of the BBC sitcom The Office.
Subsequently, 13 Hours likely served as an audition for Krasinski's role in the Amazon Original Series Tom Clancy's Jack Ryan which would start production not long after 13 Hours premiered in theaters. 
The other heroes among the six portrayed in the film include Dave 'Boon' Benton (David Denman), Tyrone 'Rone' Woods (James Badge Dale), John 'Tig' Tiegen (Dominic Fumusa), Kris 'Tanto' Paronto (Pablo Schreiber), and Mark 'Oz' Geist (Max Martini). Sona Jillani, David Costabile, and Demetrius Grosse also have key roles in the film.


13 Hours has several layers of conflict contributing to its suspense. For one, they are in Benghazi where there were tense relationships not only between US forces and local residents but within the local factions themselves. Another layer of conflict can be found with the Chief of the CIA annex in Benghazi who doesn't get along with the hired hands, mainly because he doesn't want any friction around his forthcoming retirement. Then there is Silva (Krasinski), who is already conflicted about being away from his family in the US but while in Benghazi also finds out his wife is pregnant.
With the exception of a few dramatic scenes that build empathy for the families of the heroes, and other moments where we get to know the personal sides of Silva, Boon, Tig, Rone, Tonto, and Oz, this film is all action. The opening scene takes a turn for the dramatic to set the stage for suspense, and once the diplomatic compound is attacked the action never slows down. Besides the Americans and others stationed at the CIA annex and compound, it's hard to tell who is "good" and who is "bad" in this movie. Perhaps that is the point Michael Bay wanted to get across though, that the soldiers, US officials, and employees living in Benghazi never really had a clear view of who to trust.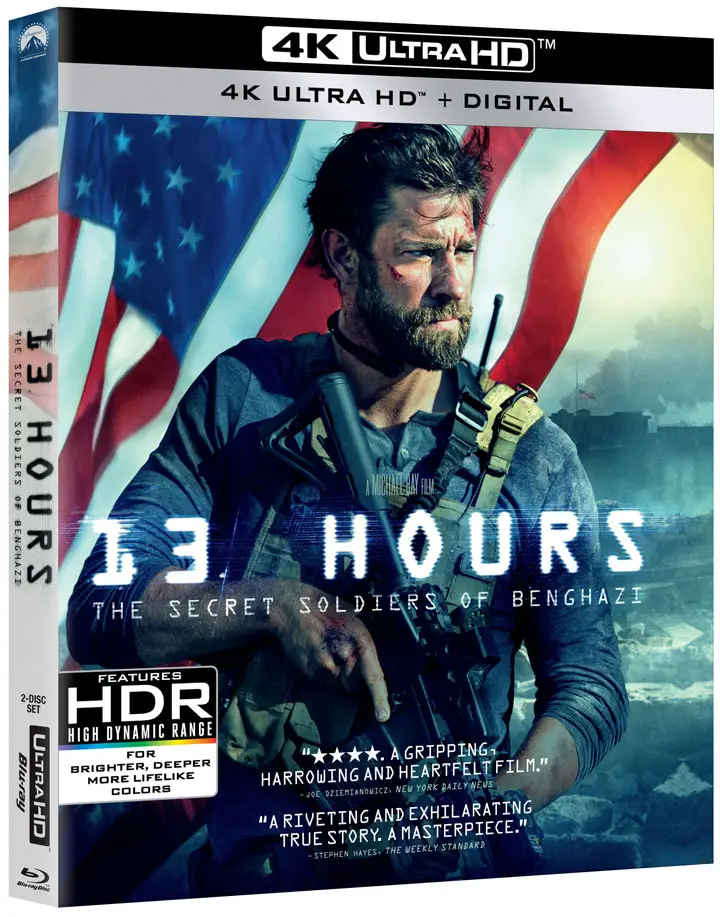 What You Get
You should know this isn't the usual 4k Blu-ray combo as it doesn't contain a second copy of the film on Blu-ray Disc, but it does include a 1080p BD with previously-released Extras and a code to redeem a Digital Copy with ParamountMovies (either through FandangoNow, iTunes or Vudu). However, you should also be aware the movie is not available in 4k UHD through any digital retailers at this time. This includes Amazon Prime, Apple TV 4k, Google Play, and Vudu where the highest digital format available is 1080p. Although, some services do offer the soundtrack in Dolby Atmos. Update: Select digital retailers are selling 13 Hours in 4k UHD.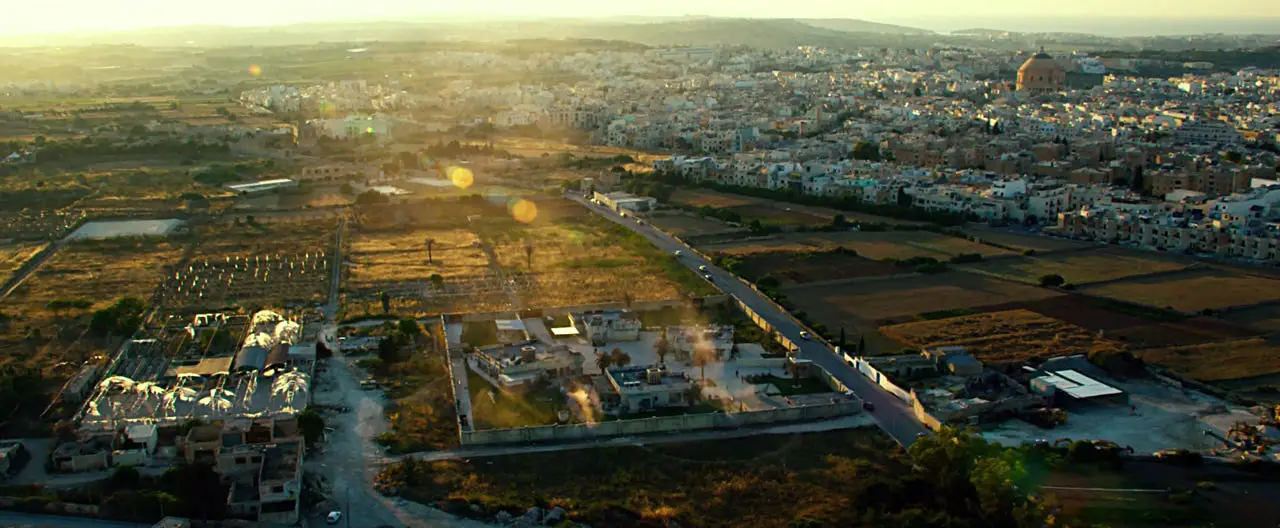 Video
13 Hours on UHD BD looks substantially better than the 1080p Blu-ray. Using the new Sony UBP-X800M2 4k BD player the video streamed in 2160p resolution at 24p frames-per-second in HDR (BT.2020 spec) at up to 87.4 Mbps using HEVC compression.
Before this 4k version, you may well have said the 1080p Blu-ray looks pretty good. But playing back the Blu-ray after viewing the UHD BD affirms a mushy quality to the video that is more noticeable than before and an overall lack of sharpness that is now disappointing. Some of the sharpest images in the movie are closeups of Dave Benton and his impressive beard. This is true for the Blu-ray Disc as well but when comparing to 2160p each whisker is even more distinct and sharp as a needle. And, looking closer into the actor's eyes (one of the best ways to measure video resolution and sharpness) reveals more detail than previously seen in 1080p.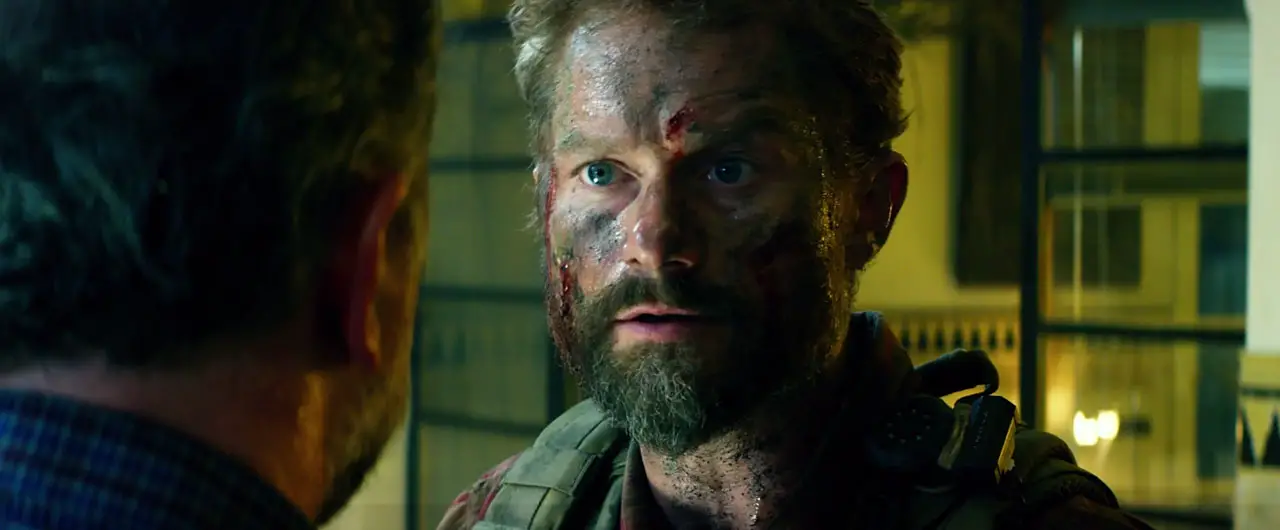 There are other super crisp shots to look for like when the team first visits the compound to set up security. Some of the interior scenes with strong light from the natural daylight are well-balanced and sharp. And, there are some beautiful aerial shots both during the daylight and nighttime. There's an incredible slow-motion scene at 1:59:40 that you should take a look at. It doesn't last long but there's a detail you may have missed. In the aftermath of an explosion, there's a quick glimpse of a family photo of one of the fallen (not to spoil anything for those of you who haven't seen it).   
The black levels in the 4k version of 13 Hours have also been greatly expanded with Dolby Vision HDR. The older Blu-ray print is really jammed up in the shadow areas, meaning, the range of values is compressed. But not in this new 4k/HDR edition. The dark and shadow areas have been opened up to reveal more detail and to widen the brightness overall. That's because Dolby Vision on the UHD BD improves the bit depth from 8-bit to 10-bit (technically 12-bit, but not in practical use). This may not seem substantial but when the two are compared side-by-side there is a huge difference.
Keep in mind most of this movie was shot at night. So, the range of focus was destined to be limited just given the fact the filmmakers had to work with a more shallow range of focus by having to use wider aperture settings. But even though the movie was shot at night the lighting director did an amazing job of making the scenes come alive with a mix of ambient lights and added artificial lights that were made to look natural.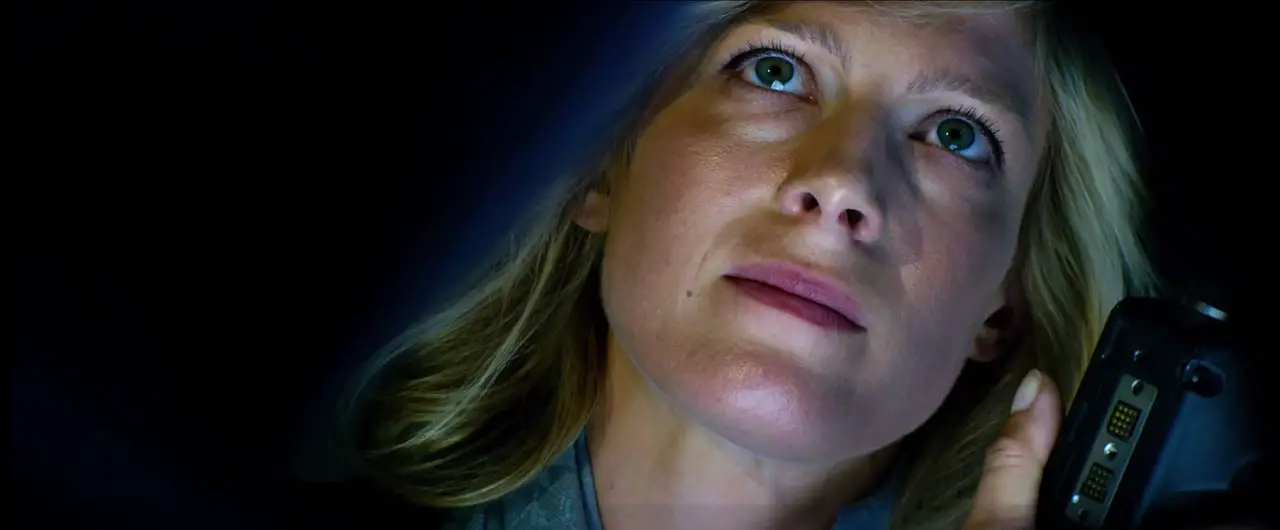 Audio
Nominated for Best Achievement in Sound Mixing, 13 Hours on 4k Blu-ray features Dolby Atmos object-based audio on top of a Dolby TrueHD 7.1 channel mix. The audio isn't an upgrade as the previous Blu-ray Disc release featured the immersive sound capabilities, but it's still worth noting this is a well-mixed soundtrack with plenty of action in the low-decibel subwoofer range to vibrate your house. The dialogue is clear and never overpowered by explosions and gunfire, which of course is unrealistic but completely necessary for final mixes. 
The battle at the embassy starting with a homemade Molotov cocktail thrown at 1 hour and 32 minutes will blow your socks off with immersive gunfire that spreads the soundstage and low-frequency effects that ground viewers in the scene. With surround sound, and even without Atmos enabled, this is a dynamic soundtrack that proves its Oscar-worthiness throughout every minute.
The audio stream ranged from 3.7 up to 4.7 Mbps during our viewing of 13 Hours. Of course, that's just what the source is providing as the actual sound output depends on the output device used. To get Dolby Atmos be sure to send the 4k Blu-ray player through a Dolby Atmos supporting receiver or sound bar.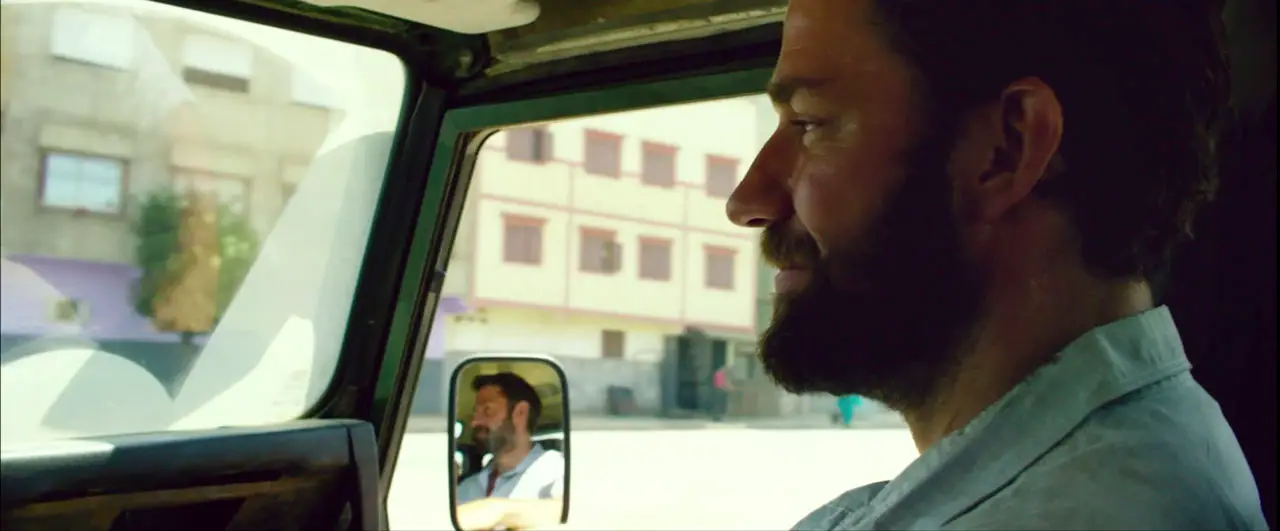 Summary
Fans of war films, home theater geeks, and anyone who hasn't seen 13 Hours yet should pick up the 4k Ultra HD Blu-ray edition that releases to stores on June 11. Sharpness is vastly improved on the 4k print, taking into consideration the shallow range of focus in most of this film. What's more, the inclusion of HDR broadens the range of brightness and as a result the movie doesn't have big clumps of dark areas that are maybe more suited to high contrast, black and white films. 
However, as noted with our review of Alien, we didn't see much of an advantage to the boost of color HDR can provide. The disc renditions of 13 Hours are already super-saturated, so much so that viewing the movie in anything but Film or Cinema mode is overkill. But on a 4k HDR TV that's been calibrated the Dolby Vision enhancements really provide a fresh and realistic experience.
Scores
Movie
4/5
Video
5/5
Audio
5/5
Bonus Features
5/5