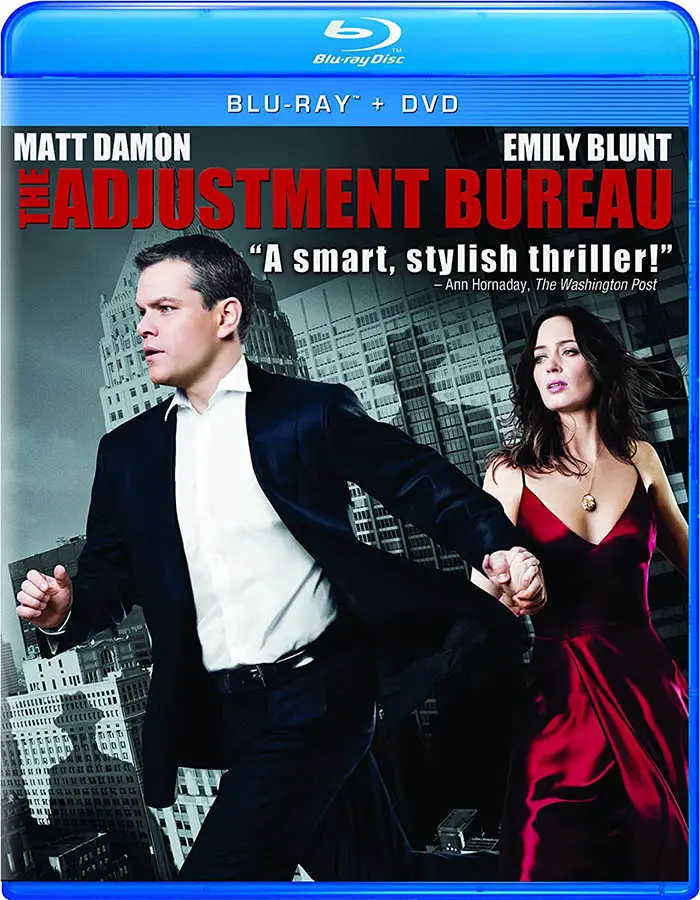 Title: The Adjustment Bureau (2011)
Release Date: June 21, 2011
Format: Blu-ray
List: $14.98 | Price: $10.93
Buy on Amazon
The Adjustment Bureau on Blu-ray Disc
BONUS FEATURES AVAILABLE EXCLUSIVELY ON BLU-RAY™ COMBO PACK :
THE LABYRINTH OF DOORS: INTERACTIVE MAP OF NEW YORK – Explore the bustling metropolis of New York City as only a member of the Bureau can: using the intricate network of portals to leap from location to location. Each location will trigger a short video pod, either with a behind-the-scenes look at that location with cast and crew or a scene from the film that took place there.
BD-LIVE™—Access the BD-Live™ Center through your Internet-connected player to get even more content, watch the latest trailers and more.
pocket BLU™: The groundbreaking pocket BLU™ app uses iPhone®, iPod® touch, Android™, PC and Macintosh to work seamlessly with a network-connected Blu-ray™ player. Also available on the iPad®, owners can enjoy a new, enhanced edition of pocket BLU™ made especially to take advantage of the tablet's larger screen and high resolution display. Consumers will be able to browse through a library of Blu-ray™ content and watch entertaining extras on-the-go in a way that's bigger and better than ever before. pocket BLU™ offers advanced features such as:

Advanced Remote Control: A sleek, elegant new way to operate your Blu-ray™ player. Users can navigate through menus, playback and BD-Live™ functions with ease.
Video Timeline: Users can easily bring up the video timeline, allowing them to instantly access any point in the film.
Mobile-To-Go: Users can unlock a selection of bonus content with their Blu-ray™ discs to save to their device or to stream from anywhere there is a Wi-Fi network, enabling them to enjoy content on the go, anytime, anywhere.
Browse Titles: Users will have access to a complete list of pocket BLU™-enabled titles available and coming to Blu-ray™ Hi-Def. They can view free previews and see what additional content is available to unlock on their device.
Keyboard: Entering data is fast and easy with your device's intuitive keyboard.
uHEAR™: Never miss another line of dialogue with this innovative feature that instantly skips back a few seconds on your Blu-ray™ disc and turns on the subtitles for the section you couldn't hear!
MY MOVIES ™: Consumers can rent a variety of Universal favorites such as Meet the Parents, Fast & Furious, Mamma Mia!, Coraline, Knocked Up, The 40-Year-Old-Virgin, Forgetting Sarah Marshall, or Role Models for $2.99 each, to instantly stream via BD-Live™, the pocket BLU™ app or on the web at UniversalHiDef.com
BONUS FEATURES AVAILABLE ON BOTH DVD AND BLU-RAY™ COMBO PACK:
DELETED AND EXTENDED SCENES
LEAPING THROUGH NEW YORK – An inside look at how the production team filmed David Norris' (Matt Damon) race to the courthouse, featuring interviews with Damon, director George Nolfi, special effects coordinator Mark Russell and producers Michael Hackett and Chris Moore.
DESTINED TO BE – The Adjustment Bureau provided Matt Damon with his first opportunity to play a true romantic lead in a feature film. Co-star Emily Blunt, director George Nolfi and Damon himself reflect on this new role for the star and the relationship between David Norris and Blunt's character, Elise Sellas.
BECOMING ELISE – A look at Emily Blunt's dance training for the role of Elise. Blunt, Matt Damon, George Nolfi and Blunt's dance choreographer discuss her transformation from slender actress to well-muscled athlete.
FEATURE COMMENTARY WITH WRITER AND DIRECTOR GEORGE NOLFI
SYNOPSIS
On the brink of winning a U.S. Senate seat, charismatic politician David Norris (Matt Damon) meets Elise Sellas (Emily Blunt), a woman unlike any he's ever known. As he realizes he's falling madly in love with the beautiful, contemporary ballet dancer, strangers conspire to keep the two apart. David learns he is up against the men of the Adjustment Bureau, who will do everything in their considerable power to prevent the pair from spending the rest of their lives together. In the face of overwhelming odds, he must decide whether to accept his predetermined path and let her go…or defy Fate and risk everything to be with the woman he loves.
CAST AND FILMMAKERS
Directed By : George Nolfi
Screenplay By: George Nolfi, based on a story by Philip K. Dick
Produced By : Michael Hackett, George Nolfi, Bill Carraro, Chris Moore
Executive Produced By : Isa Dick Hackett, Jonathan Gordon
Director of Photography: John Toll
Production Designer: Kevin Thompson
Editor: Jay Rabinowitz
Music By : Thomas Newman
Cast: Matt Damon, Emily Blunt, Anthony Mackie, John Slattery, Michael Kelly, Terence Stamp
TECHNICAL INFORMATION
BLU-RAY™ HI-DEF
Street Date: 6/21/2011
Copyright: 2011 Universal Studios. All Rights Reserved.
Selection Number: 61118962
Running Time: 1 hour 46 minutes
Layers : BD-50
Picture Format: Widescreen
Aspect Ratio : 1.85:1
Rating: PG-13 for brief strong language, some sexuality and a violent image
Language/Subtitles: English SDH , Spanish Subtitles, French Subtitles and DVS Audio: Descriptive Vide Service Narration track for the Blind
Sound: English DTS-HD Master Audio 5.1 , Spanish and French DTS Surround 5.1
DVD
Street Date: 6/21/2011
Copyright: 2011 Universal Studios. All Rights Reserved.
Selection Number: 61113683
Running Time: 1 hour 46 minutes
Layers : Dual Layer
Picture Format: Anamorphic Widescreen
Aspect Ratio : 1.85:1
Rating: PG-13 for brief strong language, some sexuality and a violent image
Language/Subtitles: English SDH , Spanish and French Subtitles
Sound: English 5.1, Spanish 5.1, French 5.1