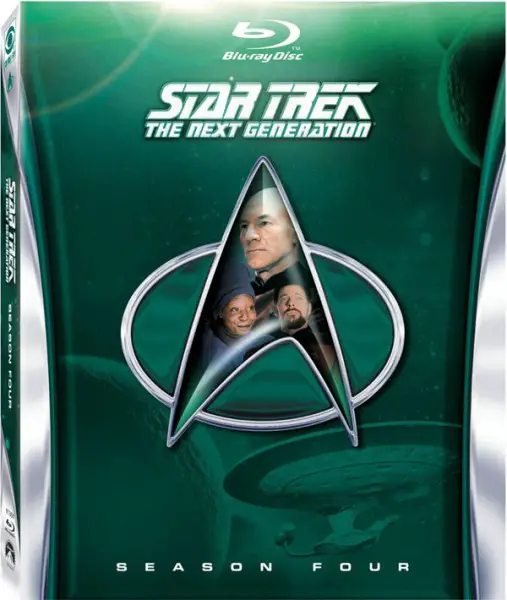 Star Trek: The Next Generation – Season 4
Format: Blu-ray Disc
List Price: $129.99 Pre-Order: $74.99

Blu-Ray Release Date: July 30, 2013
Star Trek: The Next Generation – Season 4 on Blu-ray Disc is a collection of "The Next Generation" television series which contains all 26 episodes of the fourth season (1990-91) on 6 Blu-ray discs, along with extra bonus material. Audio is provided in DTS-HD Master Audio 7.1 and video formatted in 1080p at 1.85:1 aspect ratio.
Specifications:
Format: Blu-ray
Rating: Not Rated
Number of Discs: 6
Run Time: 1180 Minutes
Region: A
Aspect Ratio: Fullscreen
Studio: Paramount
Featurettes:
Mission Overview: Year Four (reveals the challenges in resolving the cliffhanger episode "The Best of Both Worlds"; provides a whimsical look at the Robin Hood-themed "Q-Pid"; and celebrates the historic 100th episode with Gene Roddenberry)
Selected Crew Analysis: Year Four (an in-depth look at the departure of Wesley Crusher; cast members discuss their experiences performing stunts; and a profile of Jennifer Hetrick as "Vash")
Departmental Briefing, Year Four: Production (a behind-the-scenes look at directors Patrick Stewart, Jonathan Frakes, and David Livingston; includes a special makeup section featuring Brent Spiner)
New Life and New Civilizations (an inside look at creating alien landscapes and shooting on location; also explains the challenges of shooting the effects-packed episode "The Best of Both Worlds")
Chronicles from the Final Frontier (a discussion of Season Four's most extraordinary episodes and characters with preeminent writers Ronald D. Moore, Brannon Braga, and Jeri Taylor)
Description:
In the fourth season of Star Trek: The Next Generation, the crew of the Enterprise explores alien cultures in all-new ways. Captain Jean-Luc Picard (Patrick Stewart) struggles with the nightmarish horror of assimilation into the hive-mind of the Borg. The ruthless empire of the Cardassians emerges as an important nemesis for the Federation. Suspicion of Romulan sabotage aboard the ship leads to a paranoid power struggle. And political maneuvers within the Klingon Empire draw Worf (Michael Dorn) into an inevitable civil war.