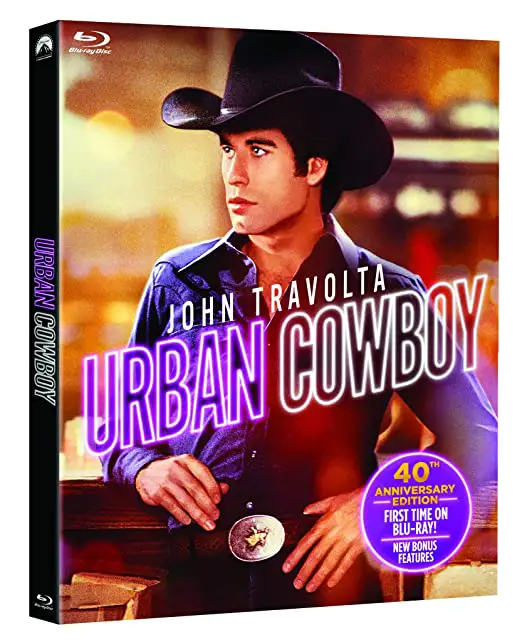 The honky-tonk classic is now available on Blu-ray with 5.1 DTS-HD Master Audio
Urban Cowboy is now available for the first time on Blu-ray as a 40th Anniversary Edition disc plus digital copy. The 1980 country-western classic was nominated for a Golden Globe (Best Actress in a Supporting Role, Debra Winger) and Grammy (Best Album). The original soundtrack produced Number One hits including Mickey Gilley's "Stand by Me" and Johnny Lee's "Lookin' for Love" as it went on to become certified triple-platinum in 2018.
The film stars John Travolta as Bud Davis, an oil refinery worker by day and mechanical bull-riding bar patron by night. Bud falls for fellow "Gilleyrat" Sissy (played by Winger) as they navigate a tumultuous relationship and frequent their favorite western bar in Pasadena, Texas. The story is based on an Esquire Magazine article by Aaron Latham about cowboy culture at a real honky-tonk saloon named Gilley's in the late 1970's. Latham also wrote the screenplay along with the film's director, James Bridges.
 Urban Cowboy is credited with helping to bring country-western music and fashion into the mainstream while also reigniting the career of singer and songwriter Mickey Gilley, who is one of the original bar's owners. The movie is also blamed for the eventual fall of Gilley's due to the national attention and commercialization that it brought for the business.
Dubbed as the country music version of Saturday Night Fever, full of bull-riding action and two-step dancing, the film wasn't as successful as other Travolta classics from the previous decade. Urban Cowboy did resurge Travolta's career, however, was generally well-received by critics, and is fondly remembered by many Travolta fans. The popularity of the original soundtrack has itself been long-lasting, leading to an "Urban Cowboy Reunion Tour" that was announced this year.


Video
It's always fun to see how Blu-rays can bring new life to our favorite films, especially cult classics with star power like Urban Cowboy has with Travolta. It's also interesting to see how the new technology can make technical flubs and imperfections more noticeable. For instance, in the first several minutes of Cowboy, there appears to be scratches or artifacts in the lens or film of the camera, which can be seen in road and sky shots during the opening montage.
Comparing a streaming version of Urban Cowboy with the Blu-ray release reveals the same types of vintage imperfections. Floating artifacts are visible when viewing the movie in either format, so it doesn't seem that the 40thAnniversary Edition has improved this aspect of the film. What is noticeably improved in the Blu-ray format versus streaming options is color quality and dynamic range.
In 1080p, the nightclub shots retain much of the natural grain and film feel of the original movie. Although a lot of detail is lost in the shadows, it does (intentionally or not) add some authenticity to the saloon mystique. The first shots of Debra Winger in her Stetson and tank top seem as crisp and classic as you would expect a forty-year-old saloon movie to look. But to anyone who isn't accustomed to watching older movies in all their grain and Vaseline-lens glory, the murky dance floor sequences might feel a bit too dated for them.
Many modern TVs (like the LG UH6150 used in this instance) have noise reduction capabilities that really minimize the imperfections and smooth the muddy images of older movies like Urban Cowboy. In fact, enabling the noise reduction and motion smoothing for parts of this review nearly erased all of the noted issues from the image. However, while this may give the film a fresh, polished look, it doesn't change the fact that the artifacts are there and isn't an acceptable solution for many film enthusiasts who prefer as authentic a picture as possible.
Audio
When people talk about Urban Cowboy they inevitably talk about its soundtrack. With multiple number one hits and a memorable score, some still argue that it should have been nominated for an additional award. It's a movie that's definitely hard to watch without feeling the need to bob your head and tap your foot a little.
The 5.1 DTS-HD Master Audio format of this Blu-ray makes for an enveloping experience, especially when we get out onto the dance floor with the movie's stars. Honky-tonk rhythms bounce with resonance and clarity. Cowboy whistles and hollers will make you feel like you've got a room full of rascals right in your living room.
Perhaps the best advantage of the DTS-HD is found in the film's dialogue. There's a real authenticity that can be heard in the depth of Travolta's angst-filled lines and Winger's husky retorts. Voices are well-separated from the music and ambiance, making this a bit more three-dimensional than other options. Considering the age of the movie, the improved quality of sound advertised by this edition delivers as promised here.
Bonus Material
Included in the bonus materials is a retrospective look at the film called "Good Times with Gilley: Looking Back at Urban Cowboy." Mickey Gilley, singer and co-owner of Gilley's Dance & Night Club, talks about how he followed in the footsteps of his cousin Jerry Lee Lewis with the music business. He also explains how he originally took issue with the Esquire article that the story is based on because he thought the writer Aaron Latham was "making fun of country music." But when Gilley learned that John Travolta was being considered to play the main part in a movie about the bar, "he didn't say anything bad about the article anymore." He loved it in fact! The interview and clips are actually quite interesting in providing some background to the film.
Extra features also include deleted scenes, outtakes and some rehearsal footage. The rehearsal footage is pretty entertaining as it shows the movie's main stars, Travolta and Winger, in bonus footage learning the ropes on the bar's mechanical bull. Ultimately, the bonus features do seem a bit thin but are propped up by the "Good Times" bit.
Summary
The 40th Anniversary Edition of Urban Cowboy on Blu-ray would be an interesting library addition for country-western fans or film enthusiasts who can appreciate a gritty saloon flick. The beloved soundtrack rings true in 5.1 DTS-HD Master Audio and elevates the bar room and mechanical bull-riding spectacle to another level. Despite the presence of film imperfections and a general "murky" feel to the dark scenes, this Urban Cowboy is perhaps the best one to enjoy for a close-to-original experience.
Buy
The 40th Anniversary Edition of Urban Cowboy sells for $14.96 on Amazon.
Scores
Movie
3/5
Video
3/5
Audio
4/5
Bonus Material
3/5