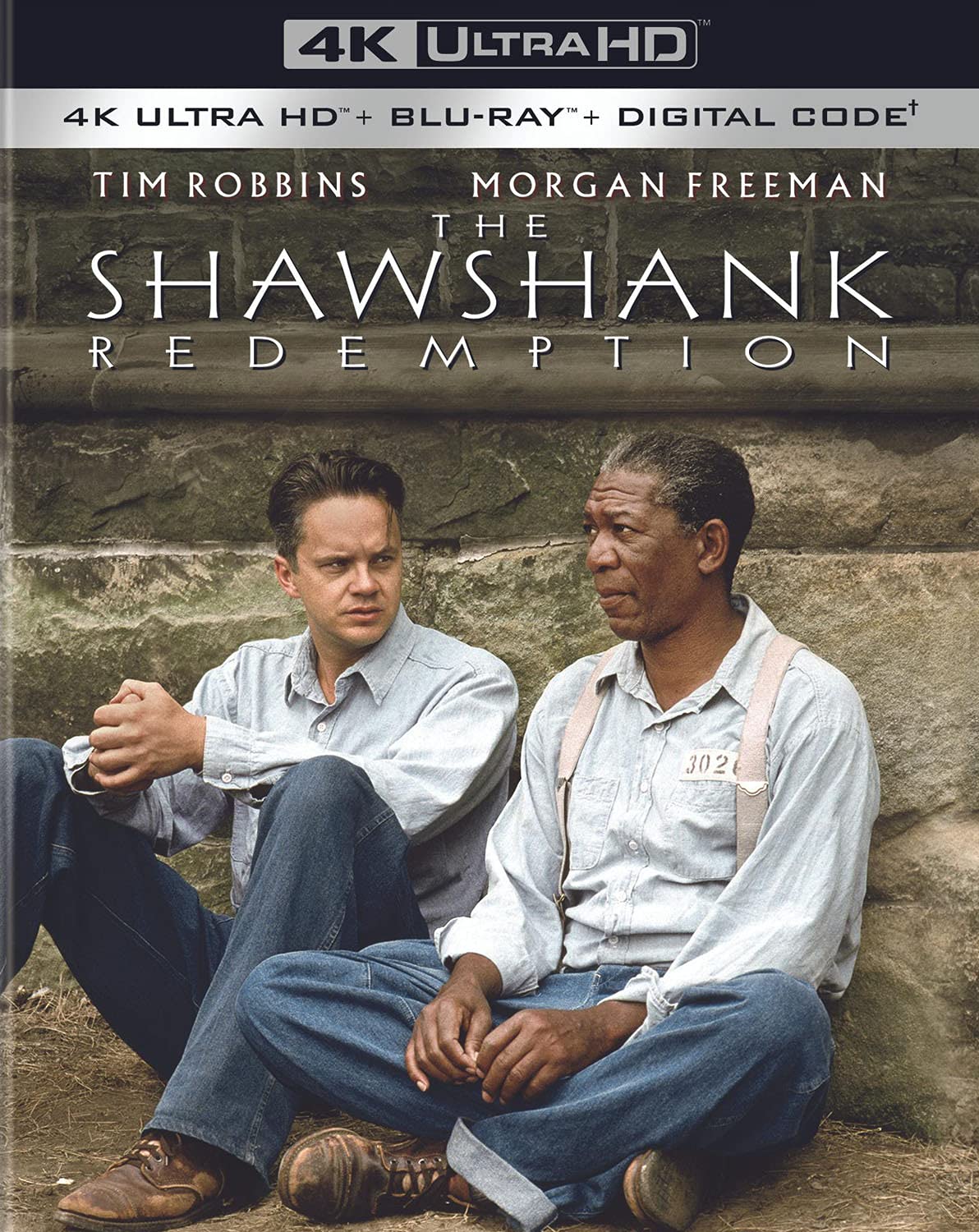 The newly-released 4k Blu-ray edition of The Shawshank Redemption from SDS (Studio Distribution Services) presents the film for viewing at home in 4k (2160p) resolution for the first time. Color range is expanded with the HDR10 specification, improving range from 8-bit (Blu-ray) to 10-bit (Ultra HD Blu-ray). A Blu-ray Disc copy is included in the combo edition and a Digital Copy is redeemable through Movies Anywhere partners with a code. The Digital Copy will play in 4k UHD where available.
The Movie
Get busy livin', or get busy dyin'.
The Shawshank Redemption has long been regarded as one the best movies of all time when ranked by viewers (No. 1 on IMDb's user-generated Top 250 since 2008). There are so many emotions in the film, the most powerful of all being hope – the hope Andy Dufresne has when he is mistakenly given two life sentences for the murder of his wife and her lover. But it's not only the hope Andy has about finally being exonerated, it's the hope that exists within other prisoners that is drawn out by Dufresne's optimism even in the direst circumstances.
The Shawshank Redemption was written and directed by Frank Darabont based on Stephen King's novella "Rita Hayworth and Shawshank Redemption." The film was nominated for seven Academy Awards including Best Picture and Best Actor (Morgan Freeman) but surprisingly did not win one.
The movie also received Golden Globe Award nominations for Best Performance by an Actor in a Motion Picture (Freeman), and Best Screenplay (Darabont). Almost twenty years after its release, The Shawshank Redemption was selected for preservation in the National Film Registry by the Library of Congress.
Video
This is a decent transfer to 4k, although we've seen better from early 90s films. In many of the scenes the black levels sat in the low mid-key range, resulting in an image that doesn't have a ton of upper mid-range values but rather on the darker side. Other 4k discs have used HDR to expand the low-key range while still maintaining wide contrast and true black. The brights are good though, which helps to add contrast to the image. The video bitrates stayed in the 40-50Mbps range for most of the film.
Sharpness is just OK. For a film shot on 35mm you'd expect the transfer to have more sharpness overall. Even some of the closeups of Andy and Red don't seem as razor-sharp as they could be. There is a ton of texture in the shots though, especially of Morgan Freeman who has such distinct features.
High Dynamic Range is provided via the HDR10 BT.2020 spec for 10-bit color, although the back 4k Blu-ray insert does not indicate HDR, only Ultra HD Premium which is supposed to represent an increase of color depth using an HDR specification – either HDR10, HDR10+, or Dolby Vision. Seeing as though HDR10 is not proprietary technology, there is not a logo like there is Dolby Vision, although we're starting to see a logo for HDR10+ on more and more 4k Blu-ray cases.
Although flesh tones look on-target, there is a lot of blue tone in this 4k edition – much more than the previous Blu-ray color delivered, notably in scenes outside the prison walls. Maybe it's just the color boost from the HDR that makes it seem cooler than previous Blu-rays. Regardless, Cinematographer Roger Deakins purposes shot and developed the film to be a cooler temperature.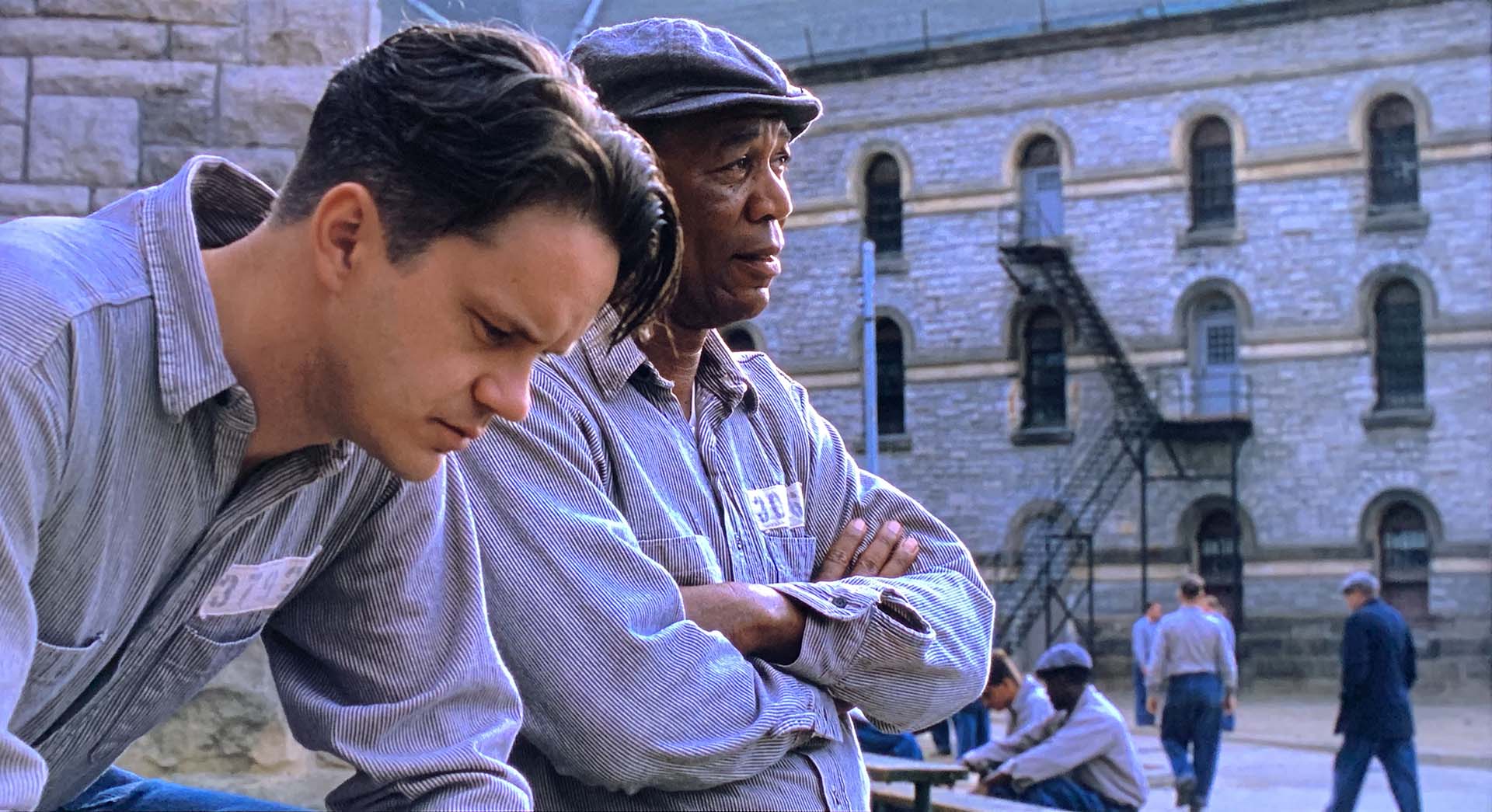 Audio
The film's score was composed by Thomas Newman (nominated for the Academy Award for Best Original Score) who also scored other blockbusters such as American Beauty, The Green Mile, 1917, and two Bond films Skyfall and Spectre, to name a few.
It's been said that Newman found the film so powerful that he did not want to interfere with many of the scenes by adding music. But the minimal composition he did compose no doubt helped to elevate the scenes. Take note of the music accompanying Andy's escape from prison and Andy's eventual release, two of the more memorable moments from the score.
The DTS-HD Master Audio 5.1 audio (on both the UHD BD and BD) was not really upgraded from earlier Blu-ray releases (formatted in Dolby TrueHD), but the mix on the Ultra HD disc does seem to add some volume especially in the low-frequency range. This may not be a reason not to buy the Ultra HD edition though, as the 5.1 channel mix provides a good audio experience and streams at 48 kHz and around 4-5 Mbps. Sometimes with drama, and a film of this quality, surround sound can be perceived as cheapening the experience.
French and Spanish audio is provided in Dolby Digital 5.1. And, subtitles are provided in English SDH, French, and Spanish.
Menu
The bottom menu on the home screen has low resolution, jagged text for some reason. And this is yet another boring still image to represent the DVD. It would seem SDS could come up with a better design or possibly even a moving image to get folks excited about this disc again. It's not a good way to start off a 4K DVD that costs about $20-$30.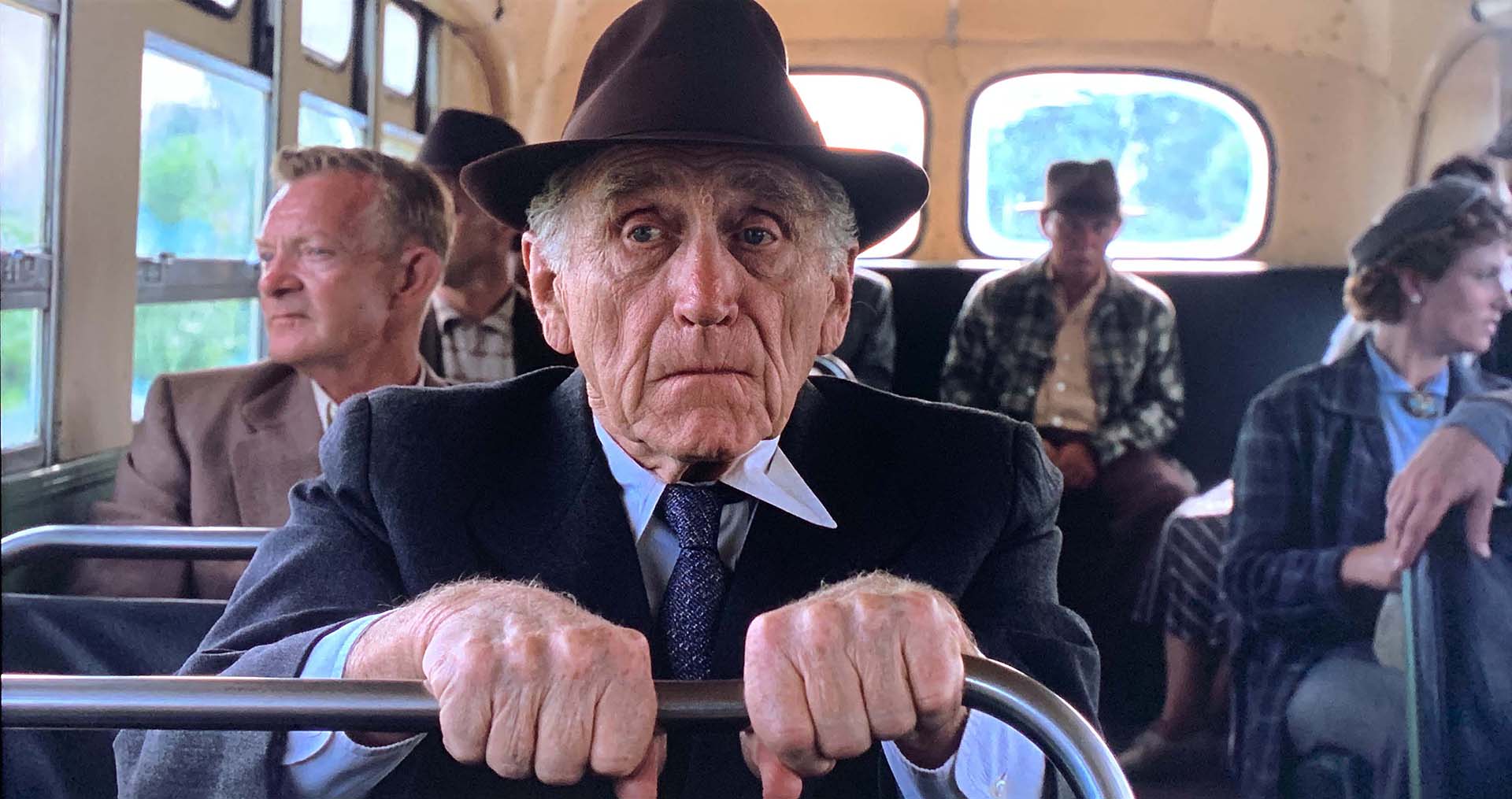 Bonus Material
Bonus features were previously released but provide plenty of insight into the film, notably the commentary from Director/Writer Frank Darabont that is included on the Ultra HD disc. The Blu-ray offers more extras such as the two documentaries: Hope Springs Eternal and Shawshank: The Redeeming Feature. Two storyboards are included as well as photo galleries.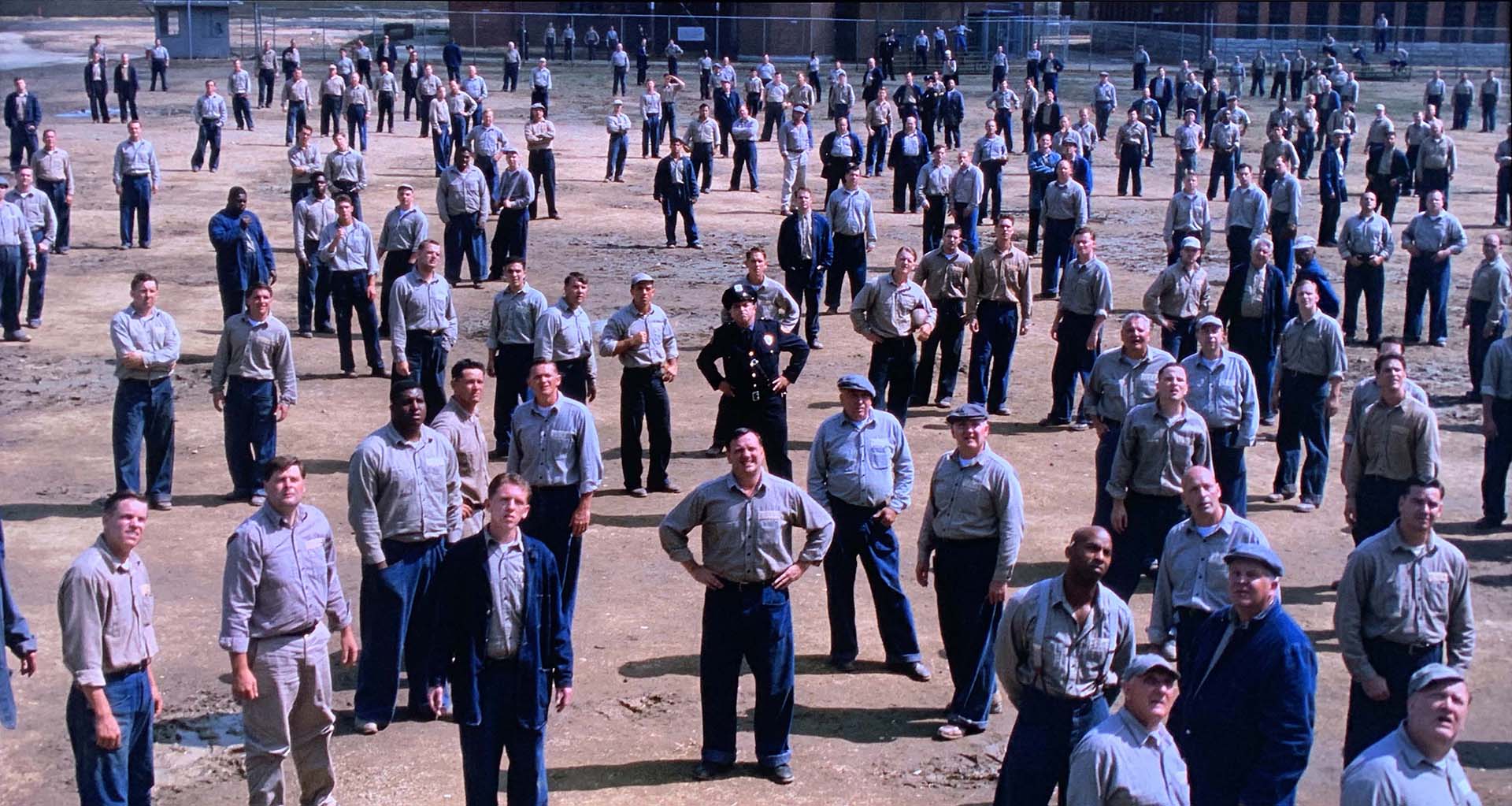 Summary
The Shawshank Redemption on 4k Blu-ray is not as sharp as we would have hoped (although some closeups do look incredible) and as mentioned above the black levels are too crushed near the low end. We don't know if this 4k presentation was derived from a new scan of the negatives and new 4k digital intermediate, or from a previous 4k master from past scans. Our guess (since the promo materials did not mention it) is that this edition is from an older DI. It doesn't matter so much though. Anyone who watches this 4k edition should be happy enough with the higher quality presentation on Ultra HD Blu-ray.
Scores
Movie
5/5
Video
4/5
Audio
4/5
Bonus
4/5