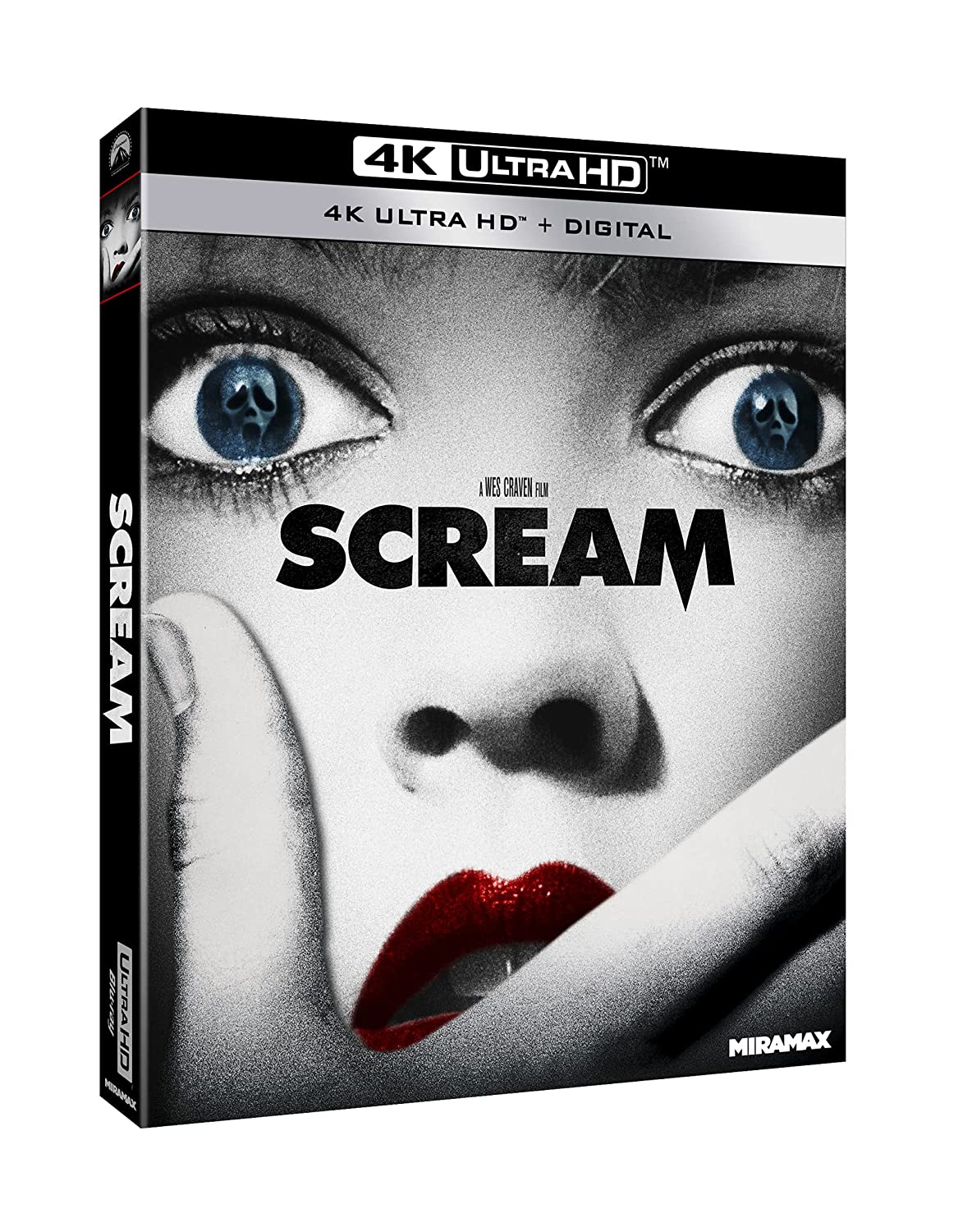 The 90s satirical horror film Scream was remastered in 4k to celebrate 25 years since its theatrical debut in 1996. The 2-disc edition from Paramount includes a 4k Blu-ray and 1080p Blu-ray with the remastered presentation, as well as a code to redeem a Digital Copy. The 4k Blu-ray, along with a 4k SteelBook edition, were released on Oct. 19, 2021. 
The Movie
Scream is known for revitalizing the slasher/horror genre during a time that was filled with sequels. The movie had an ensemble cast that included Drew Barrymore, Courteney Cox, David Arquette, and of course the uncredited Henry Winkler from Happy Days fame. The film helped catapult the careers of Neve Cambell and Rose McGowan, among others.
Scream is a hilarious play on the genre. The main villain referred to as Ghostface could be the clumsiest slasher character ever — sliding around as if wearing socks on ice and missing easy stabs at his victims.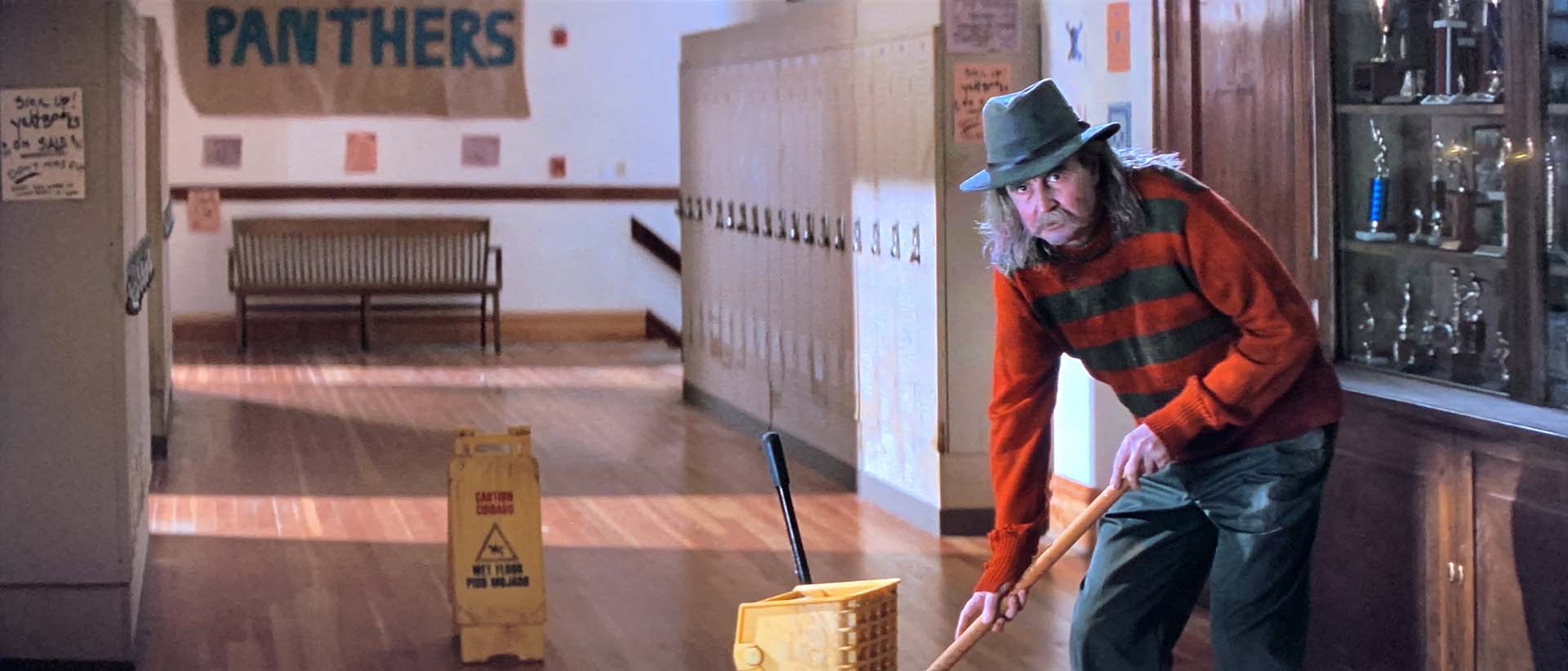 Scream helped the genre by making classic slasher/horror films part of the script — a genius move by Wes Craven who was well known for creating the 'Nightmare on Elm Street' franchise as well as classics such as The Hills Have Eyes (1977). 
There are so many horror movie references made in Scream but one of the most hilarious is Wes Kraven making a cameo at 52:00 as the high school janitor dressed like Freddie Kruger. It's also a really nice-looking shot in 4k.
Scream was a financial success, earning $173M at the worldwide box office on a $15M budget. So, it's fitting this 90s film gets a reboot with a video upgrade around Halloween. Here's a review of the 4k Blu-ray presentation with HDR10 and DTS-HD Master Audio 5.1 channel surround sound.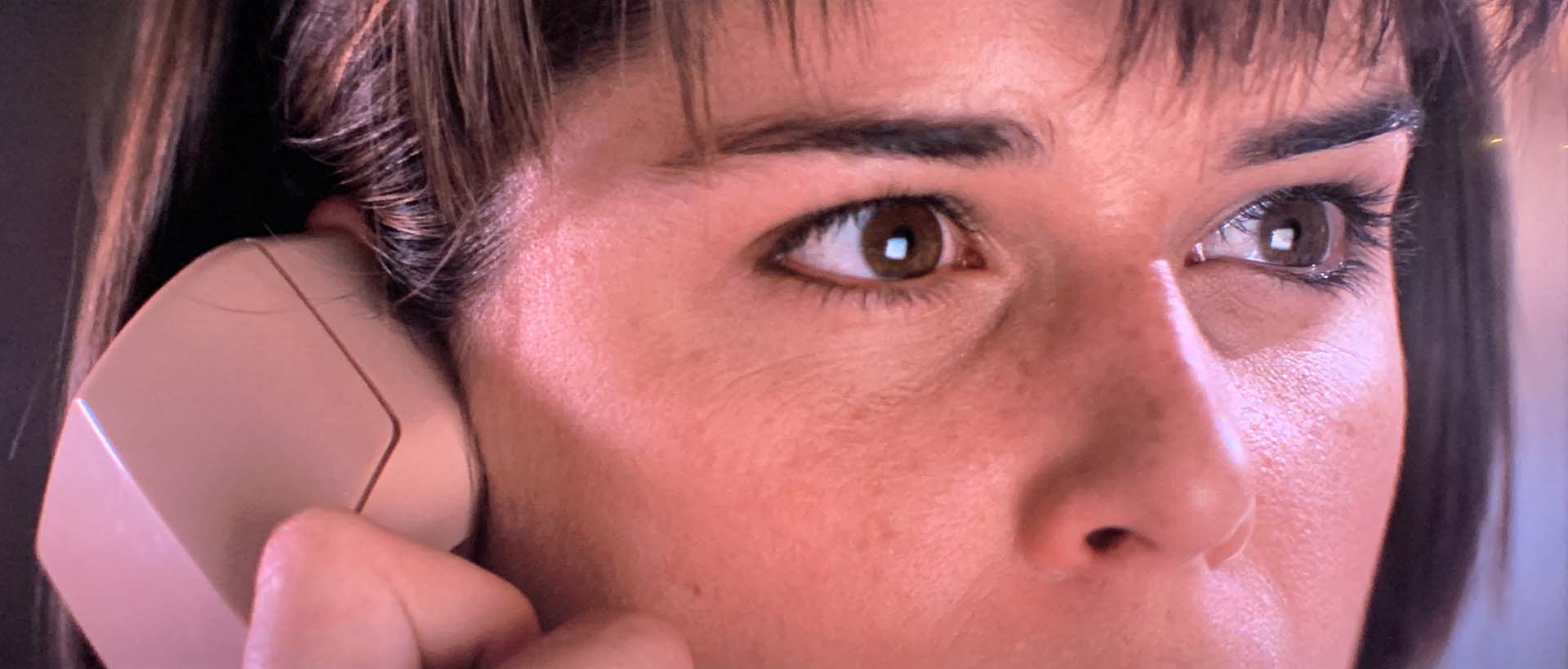 Video
Scream on 4k Blu-ray plays at 24 frames-per-second with 10-bit color using HDR10. The bitrate of the HEVC video averaged in the mid-50s — not quite as high as some 4k discs but not any lower than most titles we review. 
It's a fairly consistent transfer with a wide range of values although flat at times. For example, the scene in Sidney's bedroom around 15:00 has less contrast than other indoor scenes. 
The daytime scenes have good contrast and color (some of it enhanced with HDR), although there is some ringing in the brighter highlights that were noticeable. 
Sharpness is pretty good although as we tend to look at eyes to compare 4k discs not all shots are as sharp one might hope. The extreme closeup of Sidney at 38:00, however, is very impressive in terms of sharpness and color — so much so you can see the softbox lights clearly in her eyes.
We wish some of the shots of Tatum Riley in the basement at 1:06 were better, but that's likely the source material and not a result of the new digital transfer.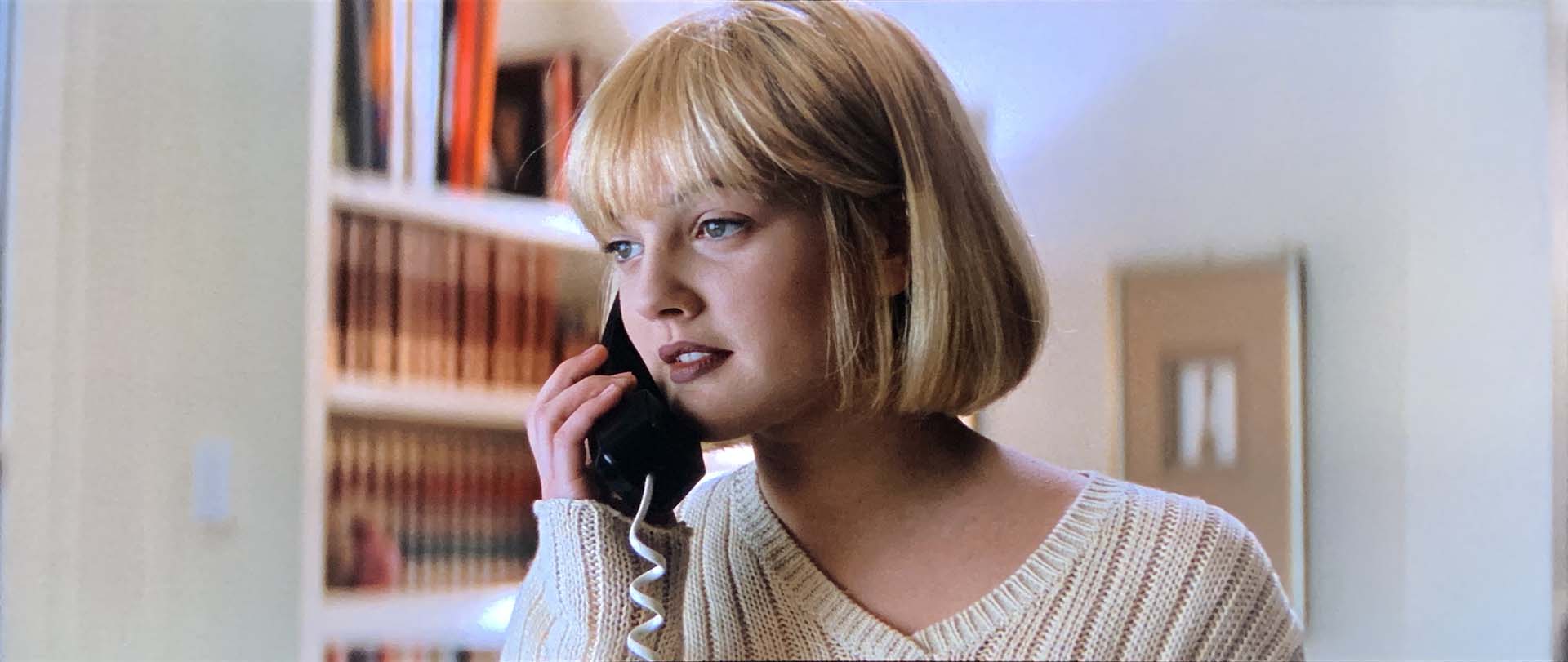 Audio
The soundtrack to Scream is provided in English DTS-HD Master Audio 5.1 with bitrates in the 3.5 Mbps range. This isn't an upgrade to previous Blu-ray editions. However, the acclaimed soundtrack to Scream by Marco Beltrami never gets old and nevertheless enhances the improved video image. 
Sound effects are crisp (like breaking glass and knife stabs) and dialogue is distinct and clear for just about every character. The subwoofer low frequencies don't kick in too often but do at the right times. 
The final gunshot to Billy Loomis in the head at 1:42:30 has a cool tinged sound to it that reverberates along with a scream from Courteney Cox's character Gale Weathers, which is then followed by Sidney's father crashing into the room. It's a good audio sequence with excellent sound design that enhances a key moment, if not the climax, of the film.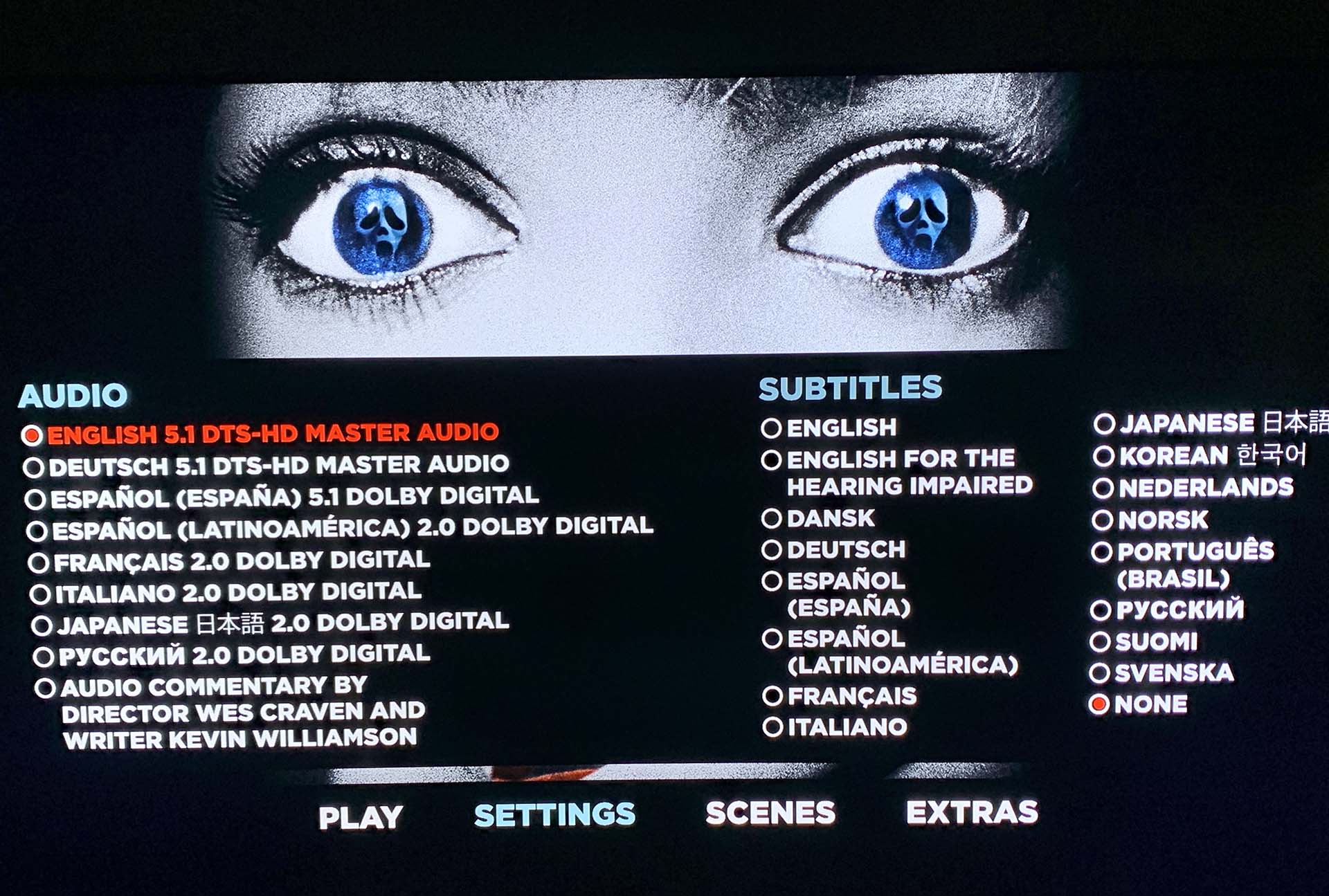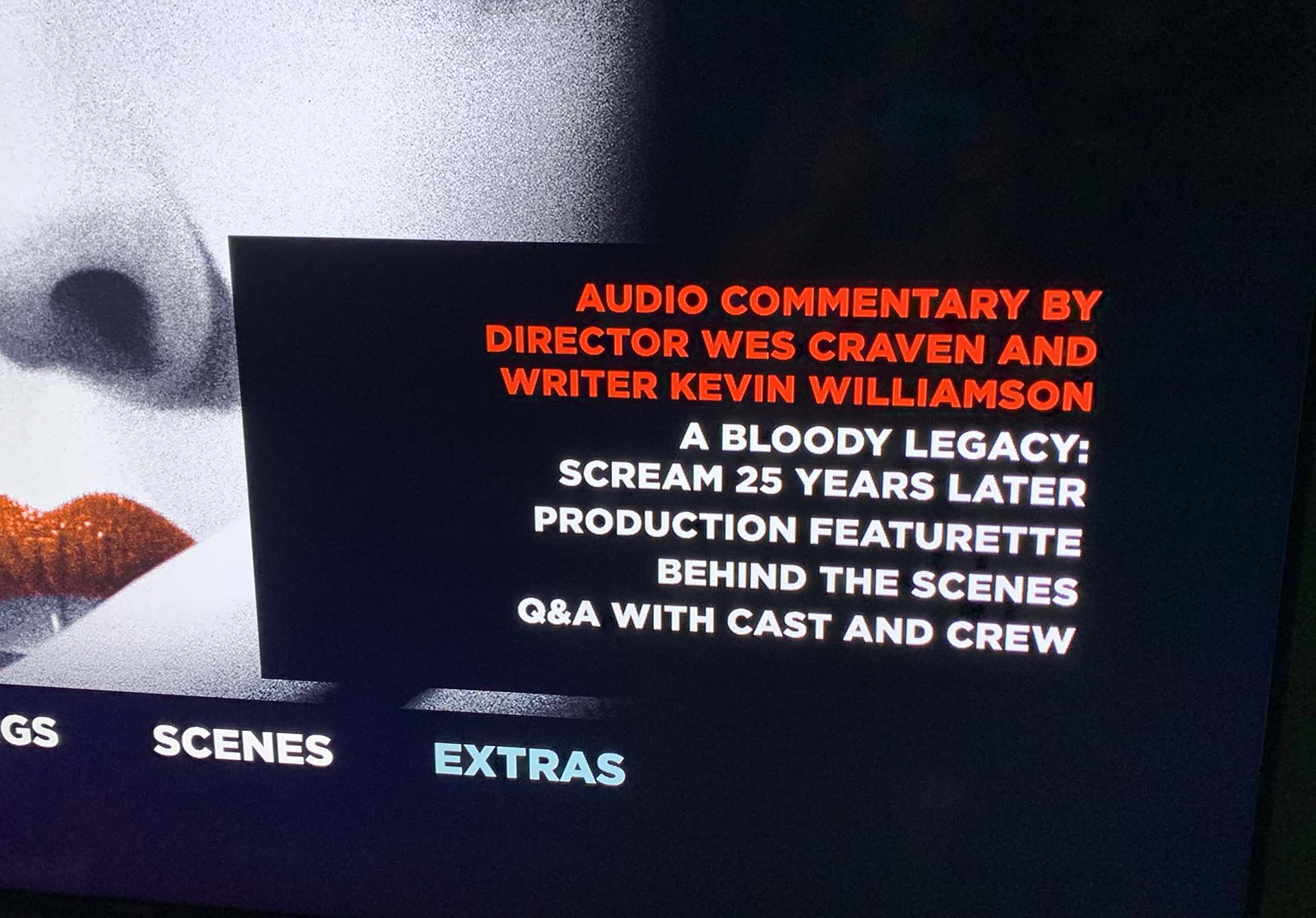 Bonus Material
We love it when the 4k Blu-ray contains bonus material even if only in HD (1080p) or lower resolution. It means you don't have to swap out the disc to see extras! Best of all, the edition includes a new bonus "A Bloody Legacy: Scream 25 Years Later" with a look back at the film and director Wes Craven. It features archival behind-the-scenes footage and new interviews with stars Neve Campbell, Courteney Cox, David Arquette, screenwriter Kevin Williamson, and others.
The Scream UHD BD features the following content: 
A Bloody Legacy: Scream 25 Years Later
Audio Commentary by Director Wes Craven and Writer Kevin Williamson
Production Featurette
Behind the Scenes
Q & A with Cast and Crew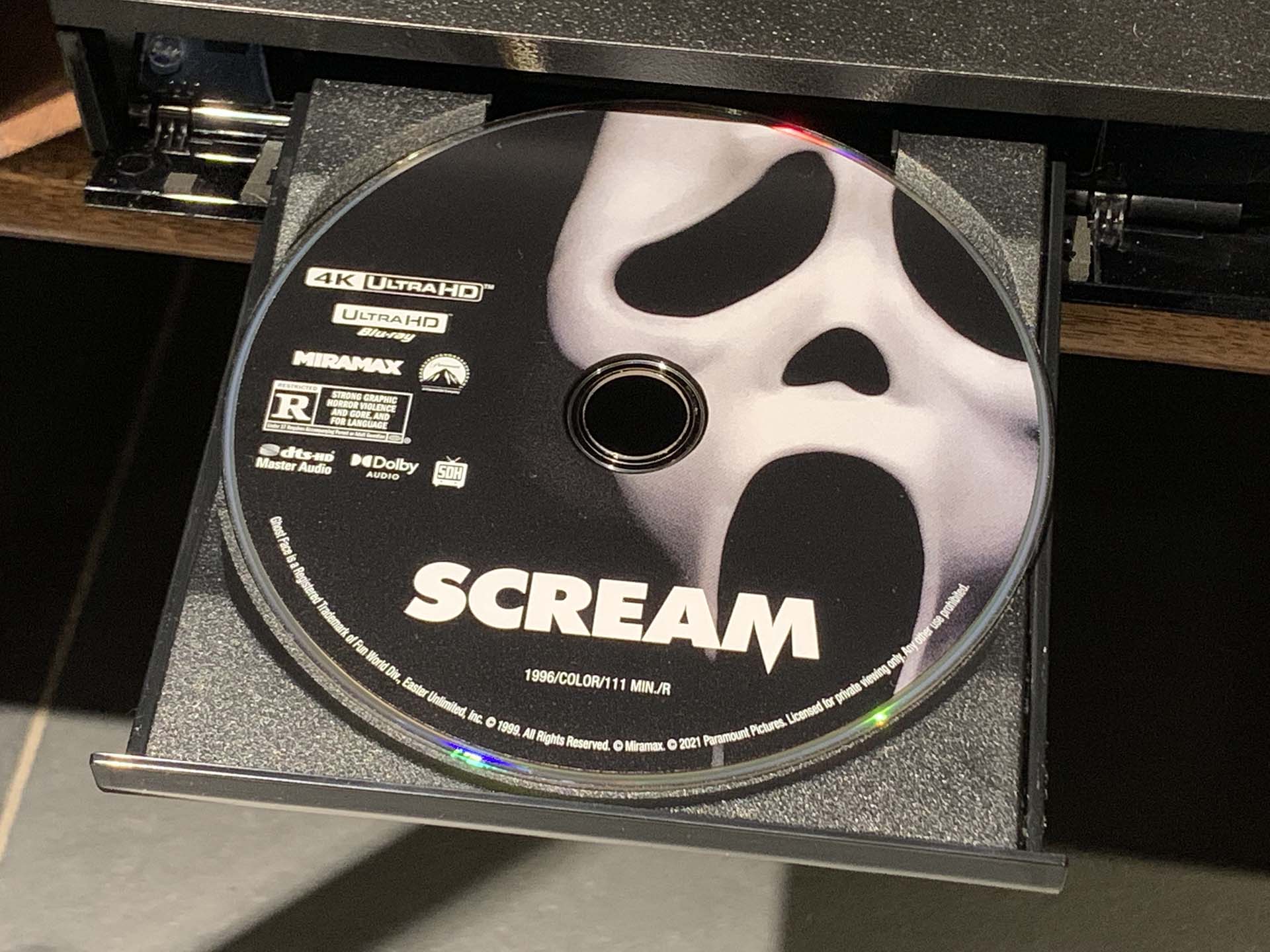 Scores
Movie
4/5
Video
3/5
Audio
3/5
Bonus Material
4/5