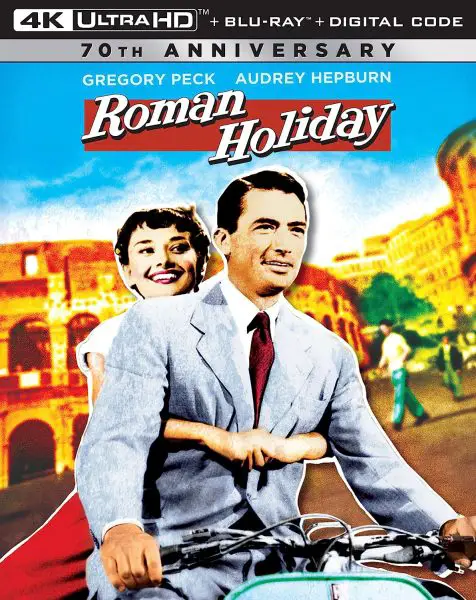 Paramount Home Media has packaged the classic William Wyler film Roman Holiday (1953) on Ultra HD Blu-ray for the first time. The 2-disc combo edition includes the remastered film (previously released on Blu-ray in the Paramount Presents edition) on 4k Blu-ray, 1080p Blu-ray, and in Digital 4k via a redeemable code. The 4k packaged edition hits stores on August 15, 2015 celebrating the film's 70th anniversary.
Movie
Roman Holiday stars Audrey Hepburn and Gregory Peck in this timeless romantic comedy from 1953. It's the classic "fish out of water" story, as Princess Ann (Hepburn) leaves her comfortable castle to see the real city of Rome. Peck stars as the reporter Joe Bradley who accidentally meets the princess and promises his newspaper an exclusive interview with her. The movie won two Oscars: one for Best Actress (Audrey Hepburn) and the other Best Costume Design. It was nominated for an additional eight Oscars including Best Picture and Best Director. 
Video
On 4k Blu-ray and in Digital UHD, Roman Holiday is presented in 2160p in the traditional squarish 1.37:1 aspect ratio. That means a lot of black matte on the sides of a 16×9 TV, but seeing a movie in this format can be refreshing amidst the mainly 16×9 and wider contemporary TV shows and movies.   
Bitrates from the 4k Blu-ray ranged from the low 20 Mbps to high 40 Mbps range, but averaged around 45 Mbps. We saw a peak bitrate hit 60.1Mbps. The grain is fairly consistent although somewhat blocky at times. Resolution is sharp enough for a film of this age. 
With Dolby Vision & HDR10 on this 4k disc the color depth can be improved to 10-bit in home media applications (but only if your screen supports HDR). The movie is in black and white so it's harder to notice an increase in color depth, but in the skies and bright areas more detail can be observed. There are still some black levels getting crushed, but those qualities lend to the film haven't a look more like vintage 35mm film. Don't get turned off by the vertical lines in the vintage newsreel footage in the beginning of the film, as it was left there purposely. 
Audio 
The soundtrack to Roman Holiday on 4k Blu-ray is in Dolby TrueHD 2.0, as well as Dutch, French, and Japanese in mono Dolby Digital. Subtitles are provided in English, English SDH, French, Ceksy, Deutch, Francais, Japanese, and Korean.
The 2-channel English audio played around 480 Kbps to 575 Kbps with peaks up to 1.1Kbps. Subtitles are offered in English SDH and French. There isn't much to talk about in terms of spatial audio experience, with the exception of some sirens and music that pan a bit. However, the dialogue and soundtrack are cleanly presented as they were in the Paramount Presents Blu-ray presentation of Roman Holiday. 
Bonus material 
Legacy bonus material is included on the HD Blu-ray Disc such as a Filmmaker Focus with film critic and historian Leonard Maltin, a look at Audrey Hepburn in the Paramount years, Dalton Trumbo: From A-List to Blacklist, a "Behind the Gates" look a the costumes used in Roman Holiday, and more.
Filmmaker Focus: Leonard Maltin on Roman Holiday              
Behind the Gates: Costumes
Rome with a Princess
Audrey Hepburn: The Paramount Years 
Dalton Trumbo: From A-List to Blacklist 
Paramount in the '50s: Remembering Audrey
Theatrical Trailers
Four Photo Galleries:  Production, The Movie, Publicity, The Premiere
Scores
Movie
5/5
Video
3.5/5
Audio
4/5
Bonus Material
4/5
Summary
Roman Holiday is one of those movies that is great to have in your collection. Is the 4k Blu-ray Disc worth buying? We think so, not only because of the HDR improvement but because the combo also includes a Blu-ray and Digital Copy. However, if you've already purchased the Paramount Presents remastered HD edition and don't own an HDR 4k TV you might consider holding off on this one. There isn't a huge gain in sharpness from a movie this old, and, grain renders about the same in both formats. The Paramount Presents edition is not easy to purchase from retailers anymore though, so this 4k Blu-ray edition is currently the best option for watching Roman Holiday in the highest quality available.