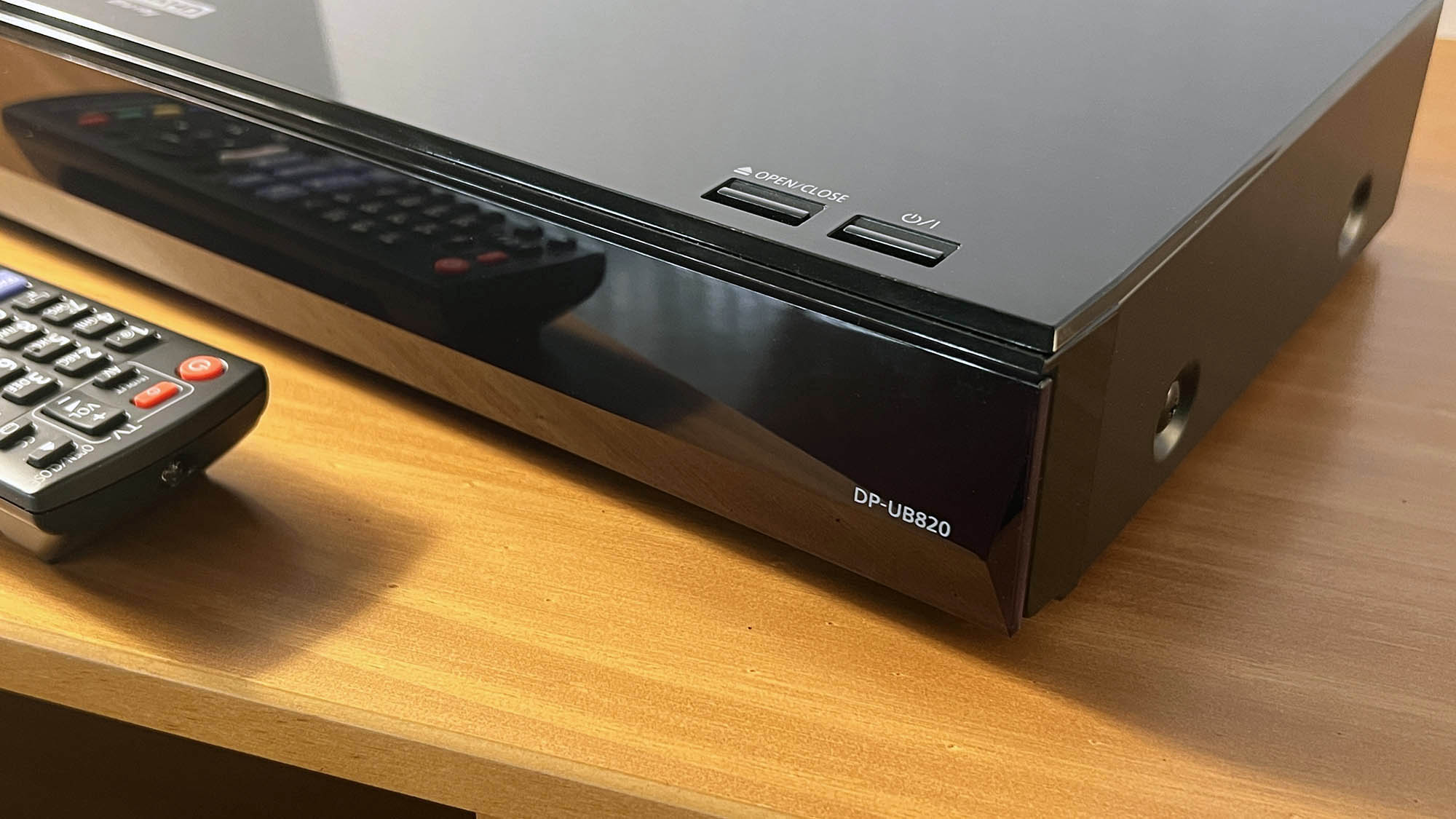 Overview
The Panasonic DP-UB820-K is what you could call Panasonic's mid-range 4k Ultra HD Blu-ray Disc player. Released in the US in June 2019, the UB820 sits between the flagship DP-UB9000 that sells for about $1k (List: $1099.00) and the lower-priced UB420 that sells for around $220 (List: $249.99). The player utilizes Panasonic's Hollywood Cinema Experience processor for precise chroma and HDR processing, where 4K image color signals (4:2:0) are integrated into 4K (4:4:4) by a multi-tap chroma process. Let's take a look at the features of the DP-UB820-K and take it for a test drive.
Video/HDR Support 
The Panasonic UB820 supports all three of the most-used HDR formats including Dolby Vision, HDR10/HDR10+, and HLG. A firmware update (Ver 1.10) in 2018 delivered HDR10+ support to the player, followed by Dolby Vision (Ver 1.21) that same year. Firmware updates also added support for Netflix, YouTube, and Prime Video. Most of the updates since then improve support for playback of both Ultra HD and Blu-ray Discs. You have to make sure Dolby Vision is turned on in the settings otherwise it will play in HDR10. In terms of regions, the player supports region-free 4k BD, Region A for BD and Region 1 for DVD. Good news for 3D TV owners as the UB820 playback 3D Blu-ray Discs.
Audio Support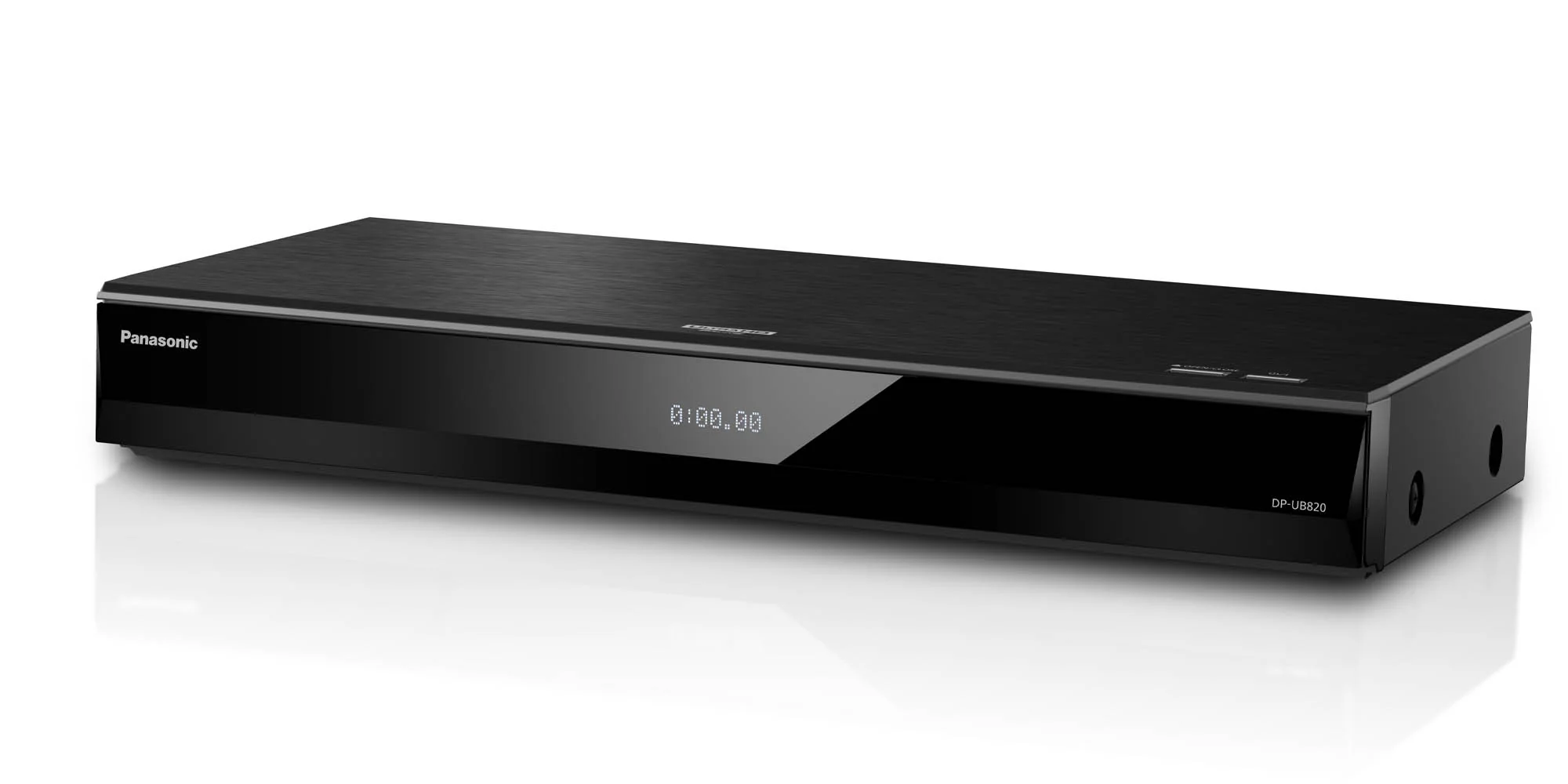 The Panasonic UB820 supports decoding of state-of-the-art Dolby Atmos and DTS:X audio formats, as well as DTS-HD, Dolby TrueHD, Dolby Digital+, Surround Sound and High Resolution Audio. The player's 192-kHz/32-bit 4-DAC supports high-resolution audio. Unfortunately, the player does not support Bluetooth headphones. (if this is something you want try the Sony UBP-X800M2 UHD BD player).
Design
The Panasonic  DP-UB820-K has a smaller depth footprint measuring only 8" deep. But the height (2.4") and width (16.9") make it a standard rack mount size. The design is very clean with no buttons on the sleek front that opens for the disc drawer to slide out and also reveal a 5V 500mA USB port (although the HDD should be accessed through the rear USB. The top of the unit is super glossy with only the Ultra HD Blu-ray logo and Open/Close and Power buttons on the right. 
Service
Service ports in the back include HDMI out, HDMI Audio out, USB (HDD), Ethernet, RCA L/R Front/Surround/Back + mono Center/Subwoofer, and Optical out. A Java Powered cooling fan and AC In sit on the left.
Set-Up
Upon first start, the UB820 asks you to select the language and whether or not you want to use voice guidance. We don't suggest this though, because audio output is changed to PCM automatically, and PCM can restrict some audio functions including Dolby Atmos, DTSX, and over 7.1-channel formats.
The player then adjusts to your TV for the best settings. In our case, the unit detected a Dolby  Vision TV (it's a Sony Bravia) and this is where you can make sure that the Dolby Vision is enabled. Next, you set up your network to either wired or Wi-Fi. This is important to get any firmware updates.
The first thing you might want to do is check out the player settings. The good thing is HDR10+ is automatically set to on so there is no need to toggle any settings (even though the number of 4k Blu-rays with HDR10+ is very limited).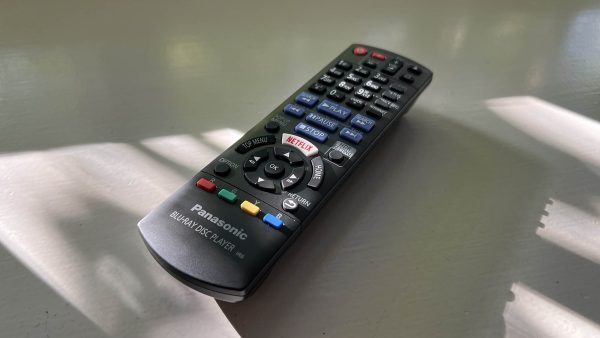 Remote & Settings 
The remote control certainly has a lot of buttons on it and it's a little wider than most 4K player. remotes. There is an interesting HDR setting button that lets you know it can be effective especially in bright viewing environments. Standard is recommended to enjoy the originally intended image, but you can try other settings to improve the HDR visual effect. 
Test Drive
We messed around with the different HDR settings, standard seem to be the best, although natural environment tended to add a little more brightness. In a darkened room. Light environment increase the brightness of the image and bright environment increase it even more. Essentially, we recommend keeping it in Standard for a home theater environment while possibly changing to light or bright in a more lit environment, especially with daylight. 
By pressing and holding the HDR setting button there are other features like the HDR Optimizer, Dynamic Range Adjustment, Brightness, Tone Curve (White), Tone, Curve (Black), and System Gamma. These should be considered advanced settings and are recommended to keep to a default of zero.
The Options button brings up three different menus including Operation, Video Settings (of which there are two sets with options such as Noise Reduction and Luminance), and Audio Settings.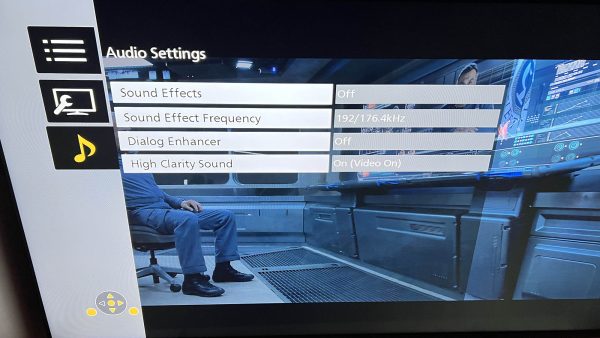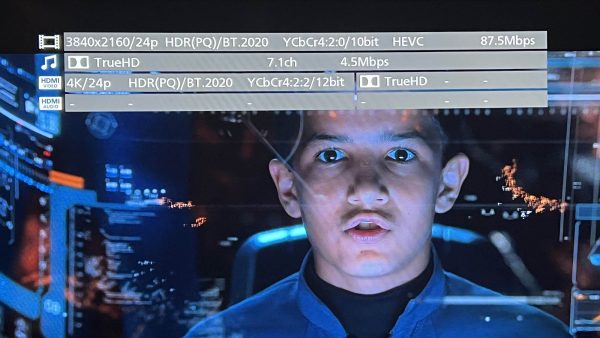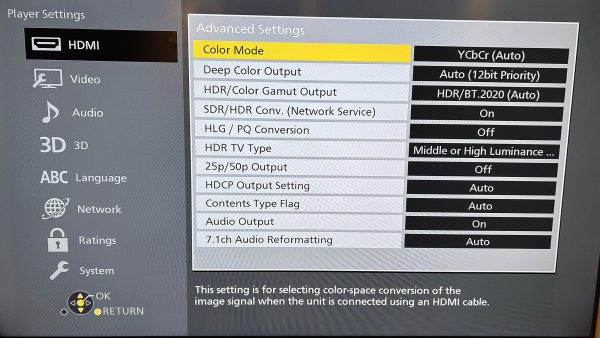 The Audio button on the remote lets you go through different audio sources available on the disc. The Status button displays what type of content is currently playing. And if you press it twice you can see the chapter, time, codec type, output, and total run time.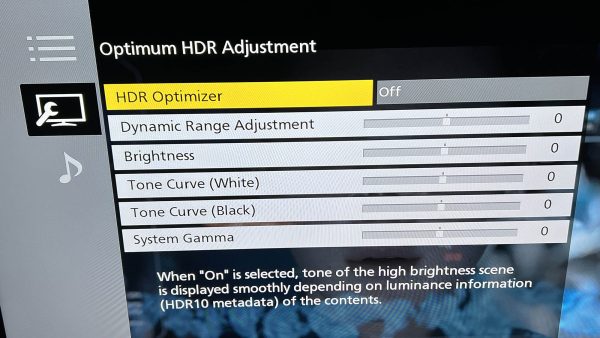 The Playback Info is our favorite button as it displays resolution, frame rate, color spec, codec, and current video bit rate. By the way, pressing the playback info twice will display the HDR meta-data information. In addition, the audio format is displayed and the bitrate at which it's playing back. The third line shows the output to the video display. And, if you have an audio device connected to the player it will display that as well. 
Comparison 
One of the most notable differences between the UB9000P1K and UB820 is the THX Certification in the higher-end model. The UB9000 also adds analog audio circuits including a high-performance D/A converter with a balanced XLR and dedicated power supply. Those reasons plus the heavy-duty construction (it's 17.2 pounds!) make the Panasonic UB9000 the model of choice for reference quality home theaters. 
As far as the UB420, the lower-priced model does not support Dolby Vision (which is very unfortunate), but it does support HDR10 and HDR10+ with updated firmware. The design of the UB420 is also much smaller in comparison and not standard rack mount size like the UB820 and UB9000. 
Product Features
Ultra HD Blu-ray Playback (4K/HDR)
Hi Res Audio Playback
High Clarity Premium Sound / TWIN HDMI PURE AV
Full HD 3D Playback
4K Streaming Video on Demand (Netflix, Prime Video, YouTube) / Apps
Voice Assistant (Alexa, Google Assistant)
Wireless LAN Built-in
Dolby Vision Playback
Screen Mirroring
Conclusion
We can't recommend Panasonic DP-UB820-K 4k Blu-ray player more as one of the most robust players out there under $500. As mentioned above, if you want a reference quality player with THX certification and heavy-duty construction (which helps with vibration) the UB9000P1K (Amazon) is the better model. However, the Panasonic DP-UB820-K is fully capable and well worth the $400 to $499 it sells for (Amazon), especially if you own an HDR10 TV capable of displaying HDR10+. Just be sure to get the firmware updated right away for total HDR support.
Updated: Article has been updated with additional information on firmware and pricing.