The Movie
It's the eve of D-Day in 1944 and a plane full of American soldiers are tasked with disabling a German-controlled radio tower in a French castle. The opening scene of Overlord captures a dramatic parachute mission into enemy territory in which the cinematography, audio, and thunderous soundtrack keep you on the edge of your seat (or couch!).
The plane doesn't quite make its destination after being shot up, and when the cabin becomes a fiery hell the survivors abandon it in any way they can. The images of the film's protagonist, Private Boyce, tumbling through the sky before opening his parachute and plunging into the English Channel are some of the most memorable in the movie.
It would seem hard for the film to maintain its level of intensity after that opener, but it does, albeit slowly, as the real enemy eventually emerges. The pace of Overlord is one that builds up over the one-hour, fifty-minute runtime, and as it does so does the horror aspect that stems from Nazi scientific experiments on prisoners that have gone wrong.
The movie slows to a crawl when the small troop holds up in French residence near their destination, but when Boyce revives a dying soldier with a special injection stolen from the nearby Nazi laboratory, the movie takes a quick turn to the gore and horror genre of filmmaking recalling movies like Re-Animator (1985) based on the H. P. Lovecraft novel, the Norwegian splatter film Dead Snow (2009), and other B movies featuring mutant zombies. But at times it also has the feel of an epic war movie like Saving Private Ryan (1998) and Dunkirk (2017).
With an estimated $28 billion budget Overlord isn't exactly a B movie, but a rather expensive film under the supervision of J. J. Abrams that aspires to elevate the genre. Could Overlord have been made on a $5 million budget? Probably, but it wouldn't have looked as good.
The Acting
The main actor in this film is Jovan Adepo (Boyce) who starred in Fences and The Leftovers. You'll also see him in the upcoming season of Tom Clancy's Jack Ryan on Amazon Prime as Marcus. Adepo is well-cast as the inexperienced and skittish American soldier who doesn't seem to have a purpose on the squad until he starts speaking French. When alone in scenes or with supporting-star Mathilde Ollivier, Adepo's performance stands out, but when paired with supporting actor Wyatt Russell his presence tends to be overshadowed.
Wyatt Russell plays the stereotypical "outsider" in the squad, an explosives expert with a beard (a rarity for the 1940's!) who takes charge when their commanding officer is executed by the Germans. Russell's performance as Colonel Ford gets better as the movie progresses, and we find his character is more complex than the others.
The main villain in Overlord is played by Danish actor Pilou Asbæk who you might recognize as Batou from Ghost in the Shell (2017) but more likely as Euron Greyjoy from Game of Thrones. In this film, which almost diminishes his performance in GOT, his character is less circuitous although he plays both parts with equal snarl.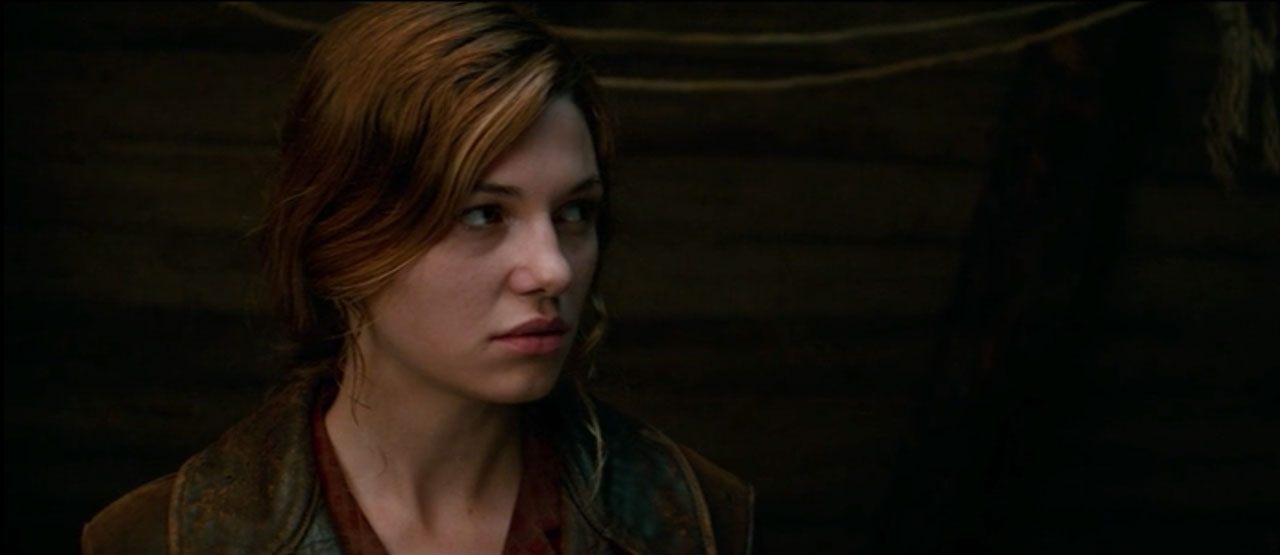 Mathilde Ollivier, another Danish actor, stars as Chloe — a French woman whose parents were taken by the Nazis and either killed or experimented on. She is fairly stiff in the beginning of the film as the quiet but vengeful young woman in a Nazi-occupied town. When her little brother is kidnapped her emotions don't seem that genuine, but when it comes time for killing mutants her character definitely improves on screen.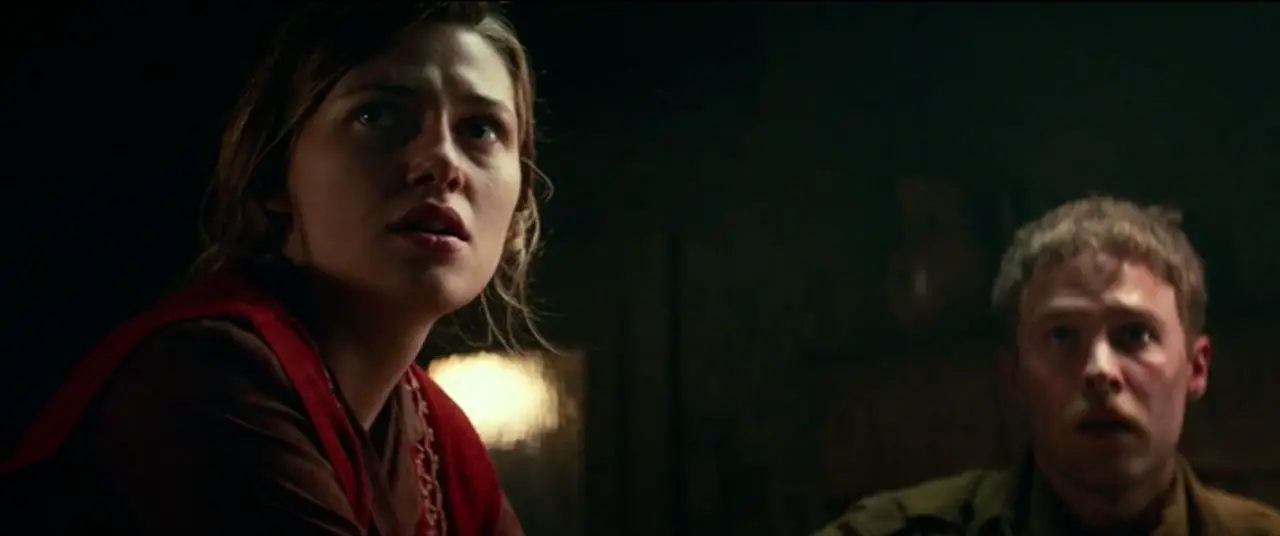 The Picture
We reviewed the film in both 1080p and 2160p to see the difference, and yes there is plenty more sharpness in the 4k version. But Overlord isn't as sharp as other Ultra HD Blu-ray films such as Dunkirk, but the Dolby Vision HDR is really where you'll see a difference with a wider range of color and more detail in shadow areas (of which there are many given this film's dramatic lighting style). After watching the 4k version in HDR, the Blu-ray edition just seems like a bad transfer that has no virtually no detail or range of values in the shadow areas.
The Audio
Overlord features Dolby Atmos audio (also used in the theatrical version) and what's interesting about this disc title is that it will play with Dolby Atmos as the default audio format. With other Blu-rays you have to go into the disc's Settings and select Dolby Atmos to enable it.
Atmos is recommended if you have it. There are times in the film when the audio is really immersive like when Boyce enters the Nazi science laboratory. The sound seems to envelop you (even with a just a sound bar Atmos system) with effects that seem to have a 3-dimensional quality. Sound bars have speakers that can point sound to bounce of the ceiling above your head, but real multi-speaker surround systems can take immersion to another level in home theater setups.
A subwoofer also adds another level to the audio experience. There's a certain point when the American soldiers hit a land mine that will scare the hell out of you the first time, maybe even second time, especially if you've got a subwoofer hooked up.
In addition to English language (sometimes with English dubs for German dialogue), there are literally a couple dozen variations of subtitles that can be viewed in languages from Hindi to Polish, as well as the traditional French and Spanish (both Latin and Spain).
The Extras
Bonus content from Overlord is included on the Blu-ray Disc only (not the 4k version) and features include the "The Horrors of War" featurettes: Creation, Death Above, Death on the Ground, Death Below, Death No More and Brothers in Arms. There is plenty of behind-the-camera footage for anyone curious about how the film was made, and one can really see how much post-production color grading is done on the raw material.
The Interface
The interface for the Blu-ray and 4k Blu-ray editions of Overlord don't look like anything special. There aren't any video loops or cool graphics to speak of, just a simple graphic with some splattered blood and a few buttons for Play, Settings, and Scenes. The interface falls in line with the quality of the Blu-ray case itself which is flimsy and cheap-feeling. For a Bad Robot production (distributed by Paramount) this seems a bit low budget although maybe purposeful given its genre.
Summary
If you like war films, but more specifically horror movies, Overlord is a well-crafted tale directed by Julius Avery that relies on many stereotypes but brings enough originality to keep it fresh. Good performances by the cast members, seamless special effects, and a quality soundtrack make Overlord a must-have in your 4k Blu-ray collection.