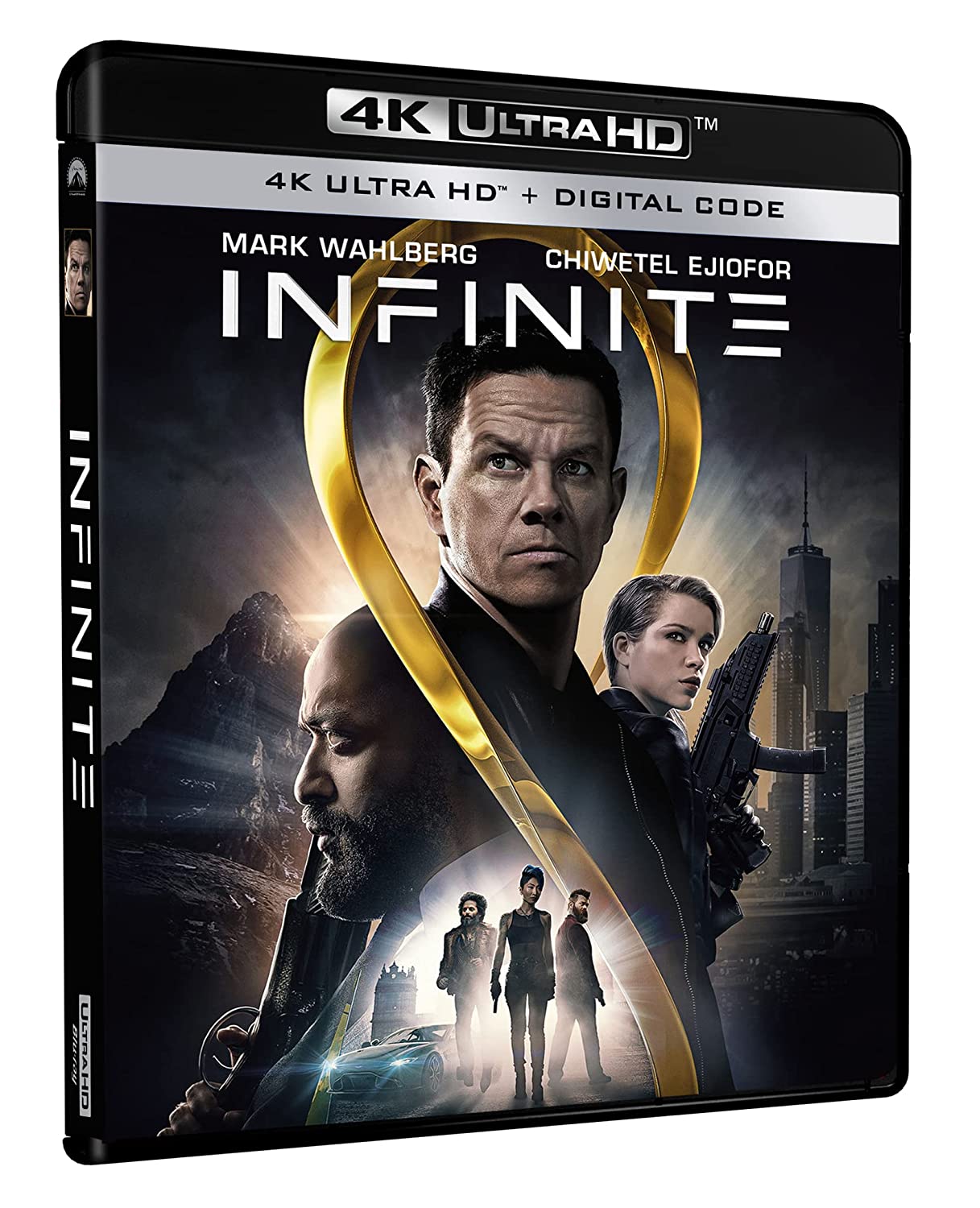 Antoine Fuqua's 2021 sci-fi action film Infinite was released on the streaming service Paramount+ in the summer of 2021, a year after it was supposed to debut in theaters but was postponed (twice) due to the Covid-19 pandemic. The movie stars Mark Wahlberg, Chiwetel Ejiofor, and Sophie Cookson, written by Ian Shorr based on the novel "The Reincarnationist Papers" by D. Eric Maikranz. 
This is a seemingly expensive film (budget numbers are hard to find) that did not receive favorable critic reviews. While there are some memorable scenes and decent action, the plot falls apart (as if it was ever put together) and relies on too many rehashed concepts from other films such as The Matrix to rack up the minutes. 
The protagonist of the story is Evan McCauley (Wahlberg) who attempts to regain all the memories and skills he acquired as a reincarnation of Treadway, an "infinite" warrior who was killed in 1985 while attempting to steal the egg that is supposedly "the end of all things." McCauley is hampered by the "nihilist" Bathurst (Ejiofor) who is set on ending reincarnation, although himself a reincarnation. 
Speaking earlier of The Matrix, Infinite definitely gets weird at about 1-hour and 28-minutes when, while airborne, McCauley seems to take on superhuman capabilities to fight Bathurst. He jumps a motorcycle off a cliff (sort of Fast & Furious style) to land on the wing of a military plane, and subsequently discovers his "Neo" powers to withstand the laws of gravity and motion. Then, he rises after being shot in the back of the head because, he explains, a metal plate stopped the bullet. Infinite is a film that just didn't seem to define its own space or successfully stick within a genre, which may have given the script bit more authenticity.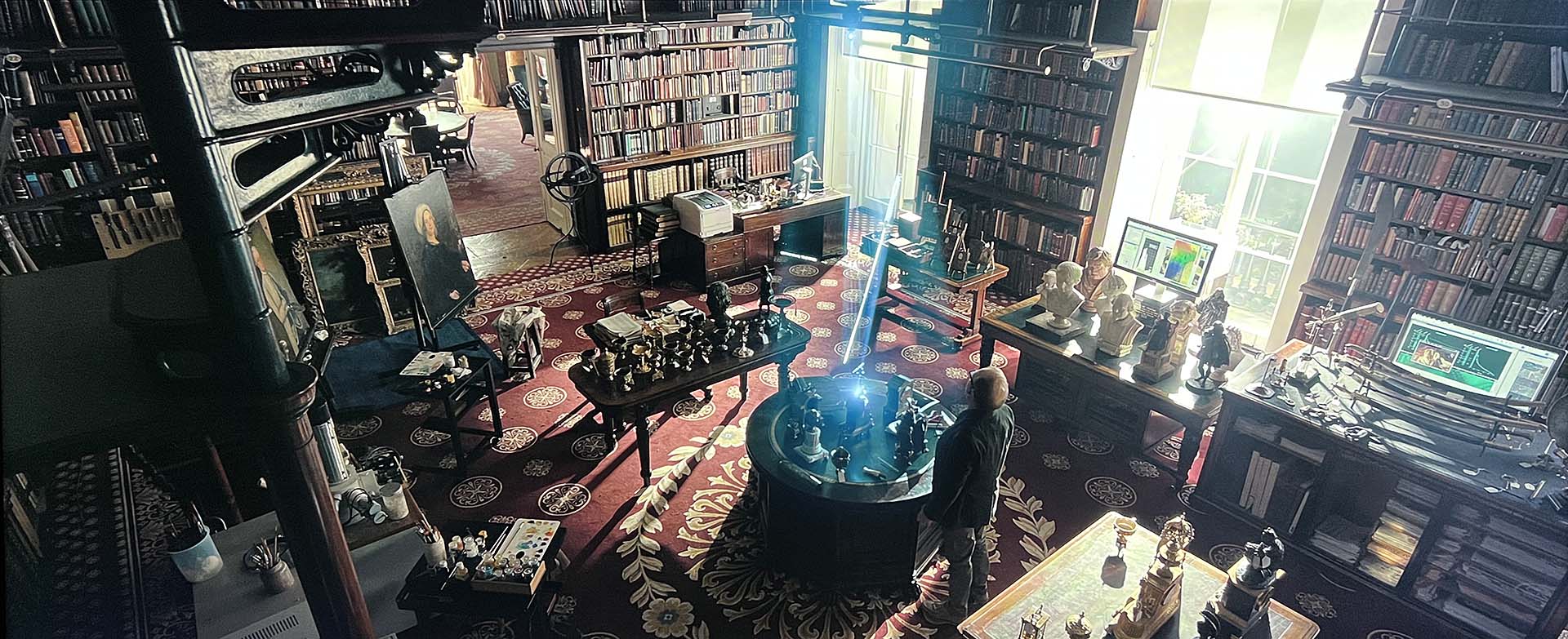 Video
Video on the 4k Blu-ray (and Digital 4k UHD version) is presented in 2160p with Dolby Vision HDR. The imagery is impressive, having been sourced from ARRIRAW 4.5k material to create a 4k Digital Intermediate from which the 4k disc data was generated.
Car chases make up some of the best action sequences in the film, rendering convincing video and audio effects. The opening scene with the 1985 Treadway character is a good watch and sounds great, albeit with an ending that hard to suspend disbelief. 
The egg designed to kill everything on Earth is definitely a cool digital creation that looks good in 4K resolution and HDR, as are the interactive computer projections that may have been made popular in the 2002 movie Minority Report. 
Sometimes the best way to determine quality of video is in wide shots like Porter (Toby Jones) in his library (see the screen photo above) that is rich with detail and color, or in close-ups like the shot of Wahlberg below. HDR effectiveness can be measured in black levels, where an HDR TV screen should be able to expand the color depth even in shadows and black tones. Take for example the image of Agent Shin (Wallis Day) below where there is definition in the lower end, although the screen photo does not do the HDR justice.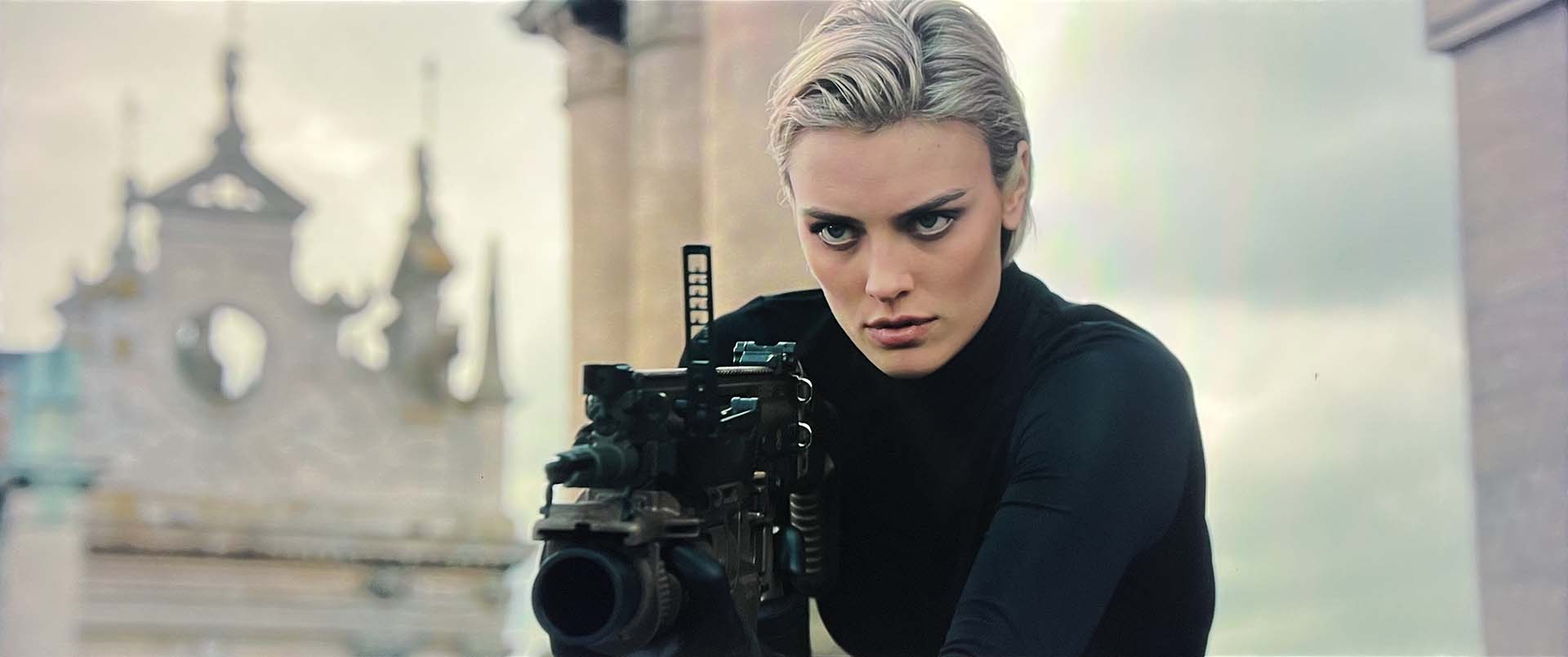 Audio
The soundtrack to Infinite on 4k Blu-ray (and Digital 4k UHD) offers Dolby Atmos for immersive capabilities. That means with the right speaker setup you can get audio effects behind and above you, as well as through front, left, and right channels.  
There's an impressive subwoofer moment at 25:30 when a futurist car blasts through a train station. A chase ensues and at 27:12 a swooping effect jumps out at you as the car crashes through a glass wall.
In the airplane hanger at 30 minutes you can get a bit of immersive and realistic sound as the voices of Evan McCauley (Heinrich Treadway) and Nora Brightman (Sophie Cookson) echo in the wide open space.
But while the sound design is good, the music composition by Harry Gregson-Williams (Mulan, The Martian) doesn't really reverberate in Infinite as memorable.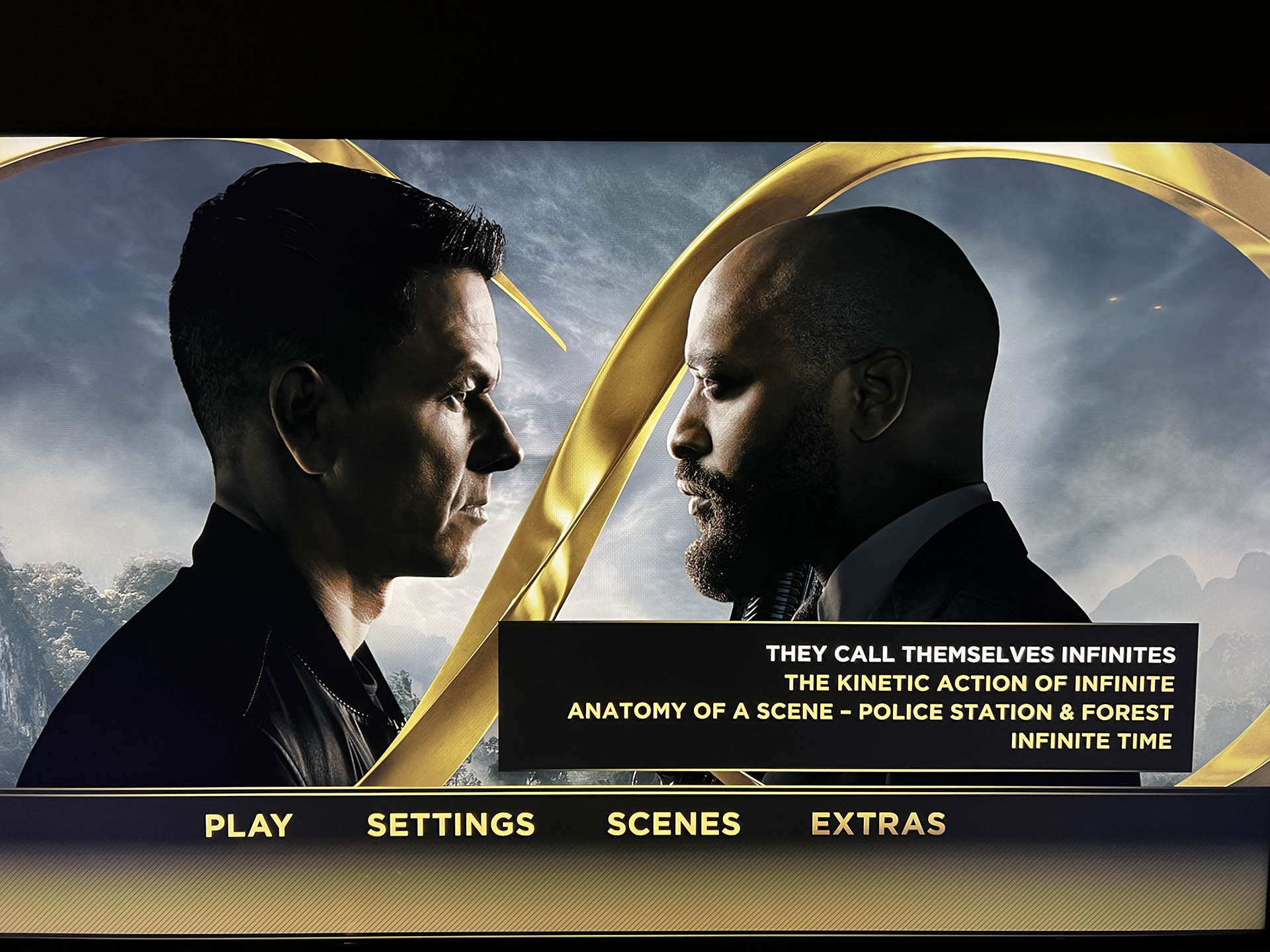 Bonus Material
Hey, we've got bonus material on the 4k disc! That's already is a plus, because we don't have to take out the disc to insert a Blu-ray just to watch extras. The bonus content includes "They Call Themselves Infinites," "The Kinetic Action of Infinite," "Anatomy of a Scene – Police Statio & Forest," and "Infinite Time." The extras include clips from producers, cast (including Wahlberg) and crew talking about the concepts and making of the film. 
Summary
Infinite is a good looking film that is, unfortunately, all over the place in terms of script continuity. It's also not very original, borrowing from films of all different genre types such as the Bourne and Matrix franchises, as well as single titles like The Old Guard. Still though, if you can get your hands on a 4k disc or have a Paramount+ subscription there are some entertaining action scenes, just don't invest too much in the story as you might regret spending 106 minutes trying to find some value.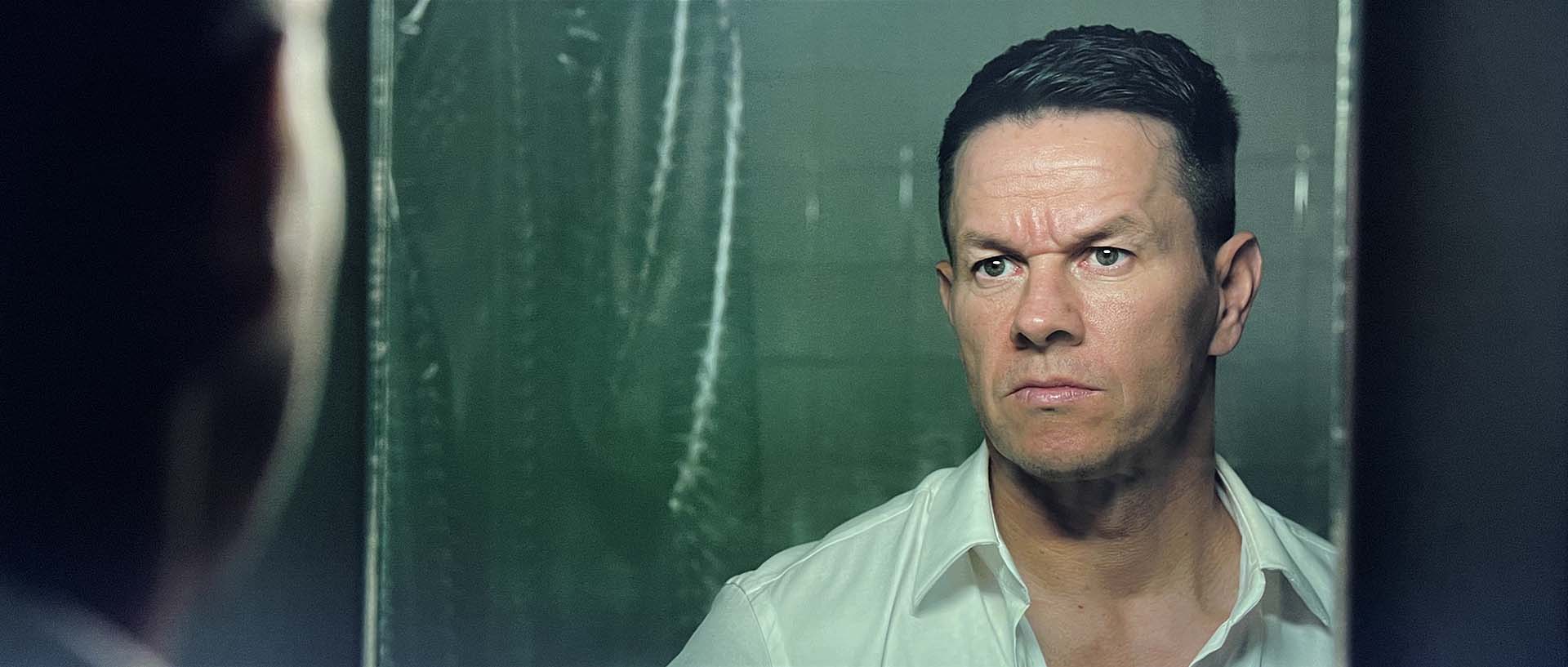 Scores
Movie
3/5
Video
4/5
Audio
3/5