Here's a review of the 2-time Oscar-winning feature film Green Book on 4k Ultra HD Blu-ray from Universal Pictures Home Entertainment. The movie was directed by Peter Farrelly and stars Viggo Mortensen and Mahershala Ali. Green Book released to theaters in the US on Nov. 16, 2018.
The Movie
Green Book is based on the true story of musician Don Shirley (Mahershala Ali) and his driver Tony Vallelonga (Viggo Mortensen) who toured the south during the early 1960s when segregation was still the established norm. The movie was named after The Negro Motorist Green Book, a guide for blacks and people of color looking for safe and welcome places to find services while traveling in the US.
Viggo Mortensen was nominated for "Best Performance by an Actor in a Leading Role" (his third Oscar nomination in the category) and Ali won an Oscar for "Best Performance by an Actor in a Supporting Role." Director Peter Farrelly raked in two Oscars for Green Book — one for "Best Motion Picture of the Year" and the other for "Best Original Screenplay."
While Green Book takes on serious topics such as racism, stereotypes, and violence towards minority groups, it does so from a Hollywood perspective and has been criticized extensively for this reason. It's a story about a black person told by white people (both Vallelonga's son and Farrelly), and about a very painful past that should not be taken lightly.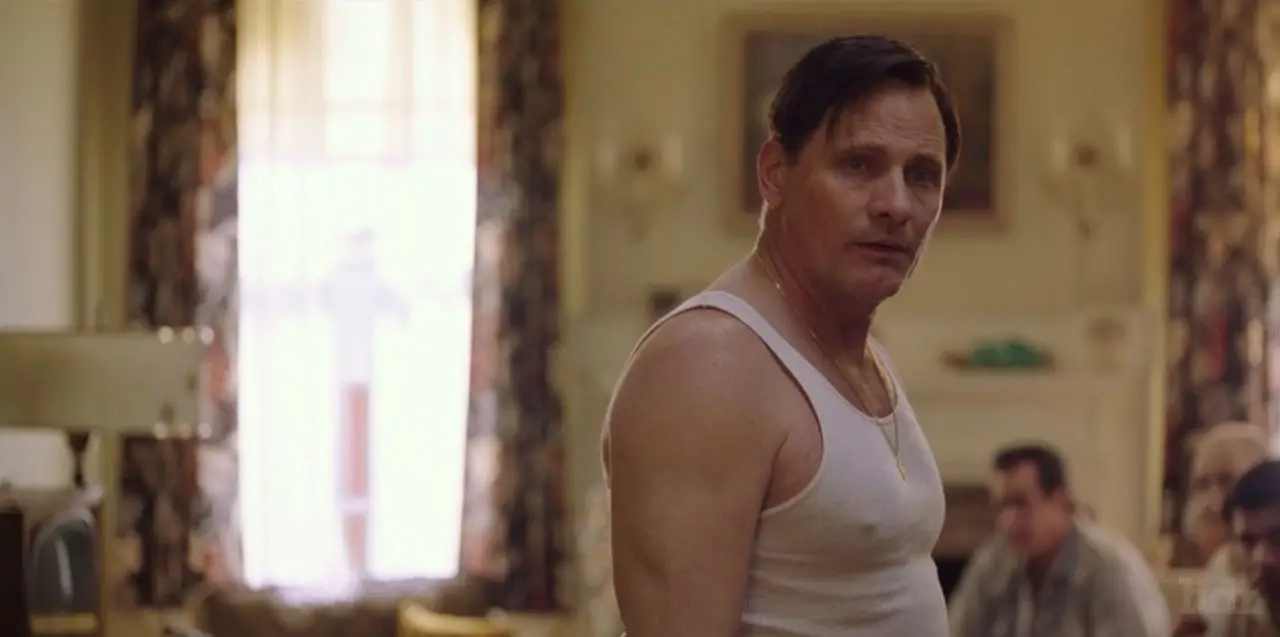 Nevertheless, Farrelly brings his experience in the comedy genre to Green Book and there are some very funny moments. Ali portrays the pianist and academic Doctor Shirley as someone with a dry sense of humor who is often misunderstood. Mortensen plays the role of Tony as an uneducated but street wise Italian American. Eventually, the two (at least in the movie) find common ground and laugh at their differences. Farrelly said when he heard the story it "gave me hope, and I wanted to share this hope with you."
Green Book isn't a film that aims to stir things up, but rather an optimistic and "comfortable" look at race relations in America. You might even call it Dumb and Dumber meets Driving Miss Daisy. But even with the film's often templated storyline and predictable outcome there is still joy in its delivery.
The Picture
The 4k Blu-ray version offers a wider range of light to dark (when viewed with a TV that supports HDR10), and in general provides a much brighter picture than the standard Blu-ray edition. And, whether you like it or not the color is definitely more vibrant on the 4k Blu-ray than on the 1080p Blu-ray. This also has to do with the High Dynamic Range spec that increases color bit depth from 8-bit to 10-bit. But be warned, the color sometimes looks unnatural given the increase in luminosity HDR provides, so we definitely don't recommend watching this in anything but "Film Mode" on your TV.
The 4k Blu-ray is, of course, is a lot sharper than the standard Blu-ray. The increase in resolution is most evident in close-ups (where you can see details in eyes, hair, clothing patterns, etc.) as well as wide and mid-range shots during daylight when higher aperture settings can be used. That basically means the brighter the light the more range of focus. When you watch Green Book you'll see what we're talking about – outside shots are really sharp.
But without HDR (which only available on the 4k disc), Green Book looks just fine in 1080p on the standard Blu-ray. The movie is more or less shot in mid-key lighting, so there isn't as much demand for detail in shadow areas as there might be in a science fiction film where the lighting is more dramatic. However, you will notice some benefits to HDR in the night club, concert hall and bar scenes where there are more shadow areas that can potentially lose detail.
The Audio
Both the Blu-ray and 4k Blu-ray editions feature Dolby Atmos audio that provides a more immersive environment.  Atmos treats audio as objects and assigns them spaces rather than channels within an audio environment. There are a couple of moments in the film where the audio does make you feel as if you are there, like when Shirley is playing piano in an intimate setting and the ambient sounds of the room are clearly heard.
The film has a great soundtrack by Kris Bowers with music from The Don Shirley Trio, The Orange Bird Blues Band and other R&B and jazz artists from the time. Whether you're a fan of the music or new to the genre the Green Book might just reel you in.
If you don't have Atmos, don't worry, the audio will still play in surround sound depending on your setup. Audio is also provided in French DTS Digital Surround 5.1 and English DVS 2.0.
Extras
There is bonus material with this release that can be watched on the 4k Blu-ray Disc (in 4k!) as well as Blu-ray Disc. (The exclamation point is because typically extras are provided on the Blu-ray Disc only.)
The featurettes include "Virtuoso Performances (4:10)" – an inside look at casting Mortenson and Ali for Green Book; "An Unforgettable Friendship (5:09)" – producers tell us about the friendship between Tony and Don Shirley as told by Tony's son; and "Going Beyond the Green Book (4:20)" – an exploration into "The Negro Motorist Green Book" first published in 1936.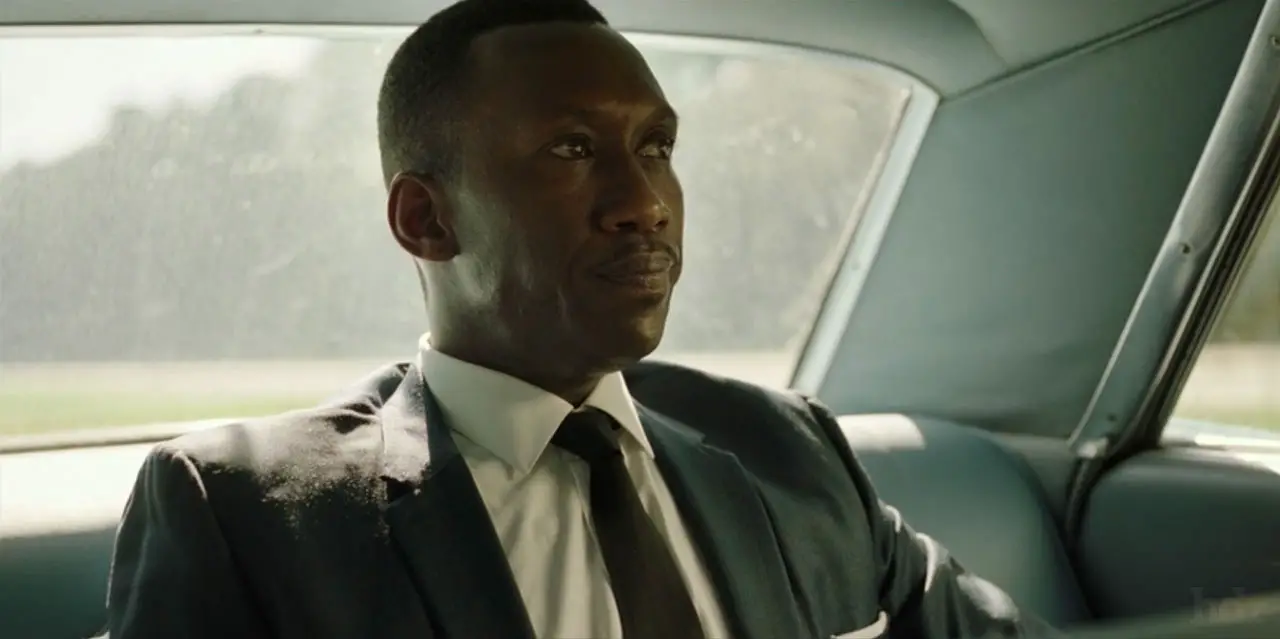 Summary
Green Book is a great movie for your Blu-ray collection regardless of whether or not you buy the Blu-ray or Ultra HD Blu-ray edition. It's the script, acting and general pace of the film that's the star and not so much the picture. This film would probably be good even in black and white, and that might be worth testing by turning down the color saturation on your TV to try it.
So should you buy the 4k Blu-ray or Blu-ray version? If you're thinking about picking up the Blu-ray combo edition so you can get a DVD copy for your car or laptop, go ahead, you won't be missing much. But if you've got a 4k Blu-ray player and 4k TV (one that supports HDR10), the extra few bucks will provide an improved home viewing experience.
If you liked this review and want to buy Green Book, use any of the links or ads on our web site to help keep us in business.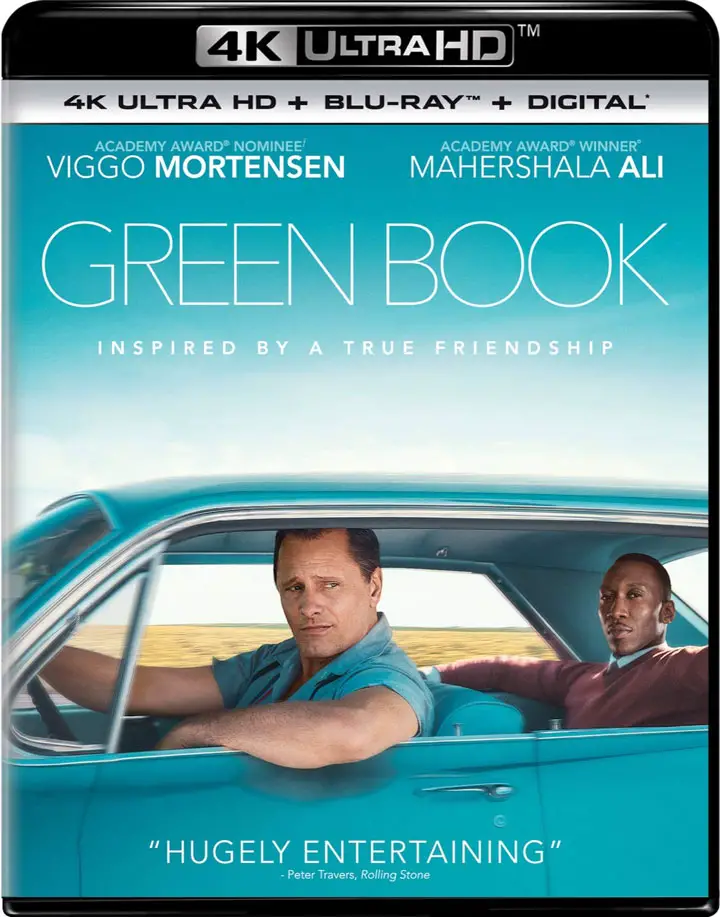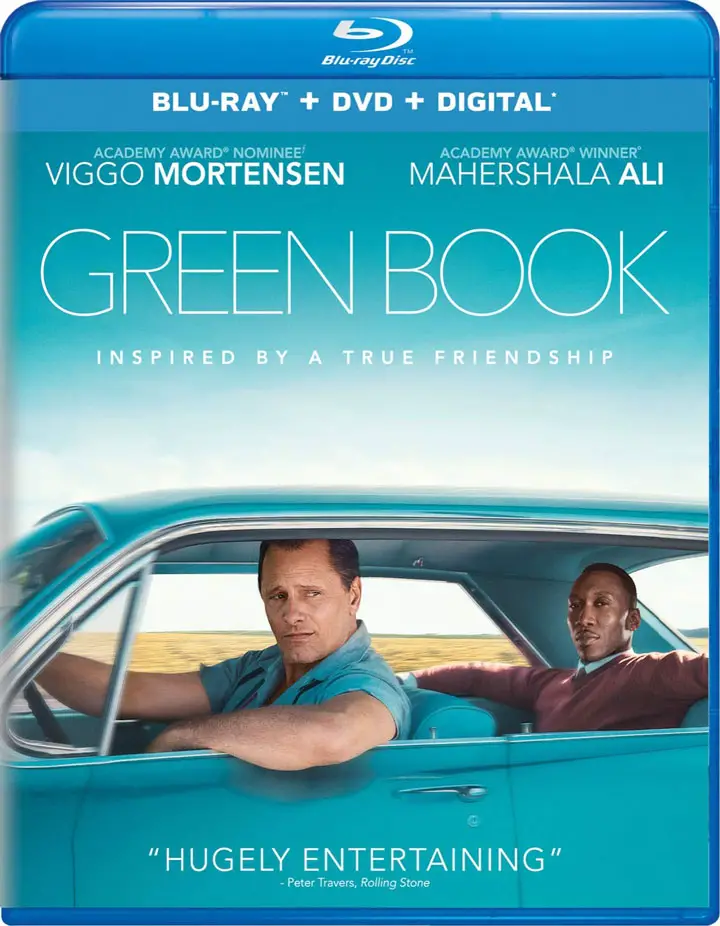 [amazon_link asins='B07KBRYZJL,B07KBRZ7C1,B07KBTKCFZ' template='ProductGrid' store='hdrep-20′ marketplace='US' link_id='4fa6592d-2d6f-43ef-9d01-82b74a28cd3c']