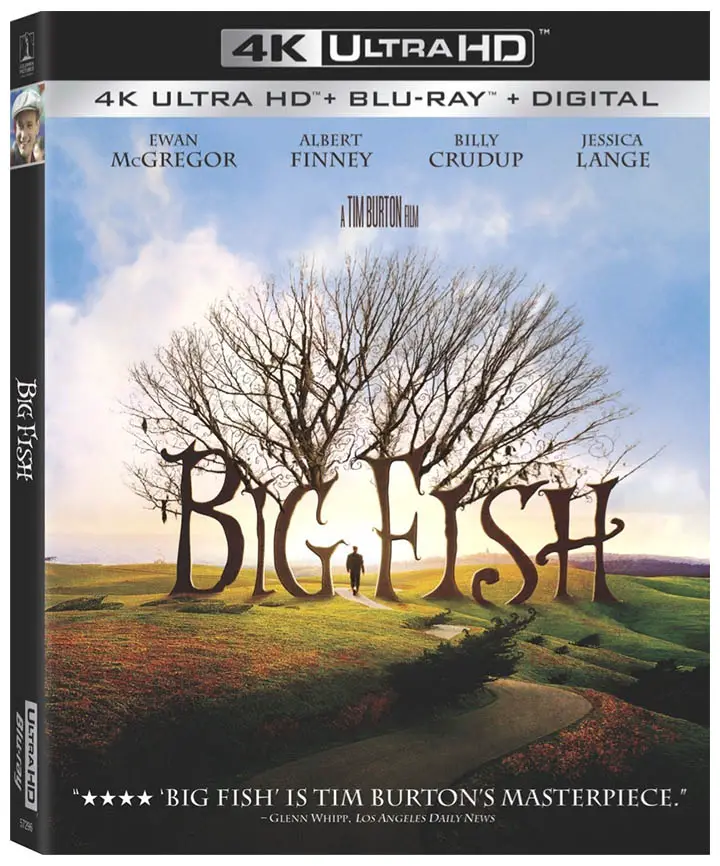 Title: Big Fish (2003)
Studio: (Sony)
Format: Blu-ray, 4k Blu-ray
Buy: Amazon
Director: Tim Burton
Featuring: Ewan McGregor, Albert Finney, Billy Crudup, Danny DeVito and Jessica Lange
I remember seeing Big Fish at the ArcLight theater in Hollywood and remember being blown away by the sun-dappled color that cinematographer Philippe Rousselot achieved, and at the time it seemed like I had never seen such golden imagery in a Tim Burton film before.
While not completely abandoning the typical gothic look of so many of his films (not counting a certain Big Adventure and the shots of color within the Easter door during Nightmare Before Christmas), Burton's gothic vision is tempered, but not muted, by Rousselot's wondrous fantasy images, giving it mix of the Roccoco and lighter Southern Gothic look. Since he's not tied to his usual funereal tropes and somber palate, Burton seems freed to express a different side of his personality and really let the characters of Big Fish drive the story forward like a good page-turner. Burton's actors seem to inherently trust him, and the flights of fancy and tall tales spun by Edward Bloom (Ewan McGregor and Albert Finney playing the young and old Bloom) seem to gain believability through their telling before the imagery even hits the screen.
The film is remarkable for being different than Burton's previous work, but maintaining many of the same sympathies for a host of unusual characters… it's a cinematic departure that works for Burton, much like The Straight Story worked for David Lynch, and it's completely re-watchable.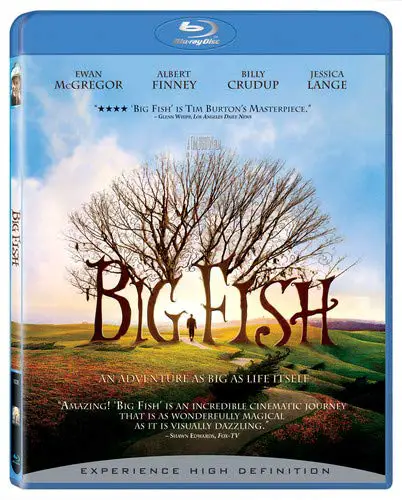 Blu-ray
The disc is a very high-quality transfer in 1.85 Widescreen at 1080p. It features a very refined PCM (English) or Dolby Digital 5.1 mix (English/French). Subtitles are multi-lingual: English, Spanish, French, Portuguese, Chinese, Korean, Thai… But guess what!? No features 'cept an audio commentary by Mr. Burton himself. Bummer. Get it for the showcase look it will give your hi-def home theater, and hope that soon they'll release a 2-disc edition with an emphasis on features that give insight into the making of this richly detailed film.
4k Blu-ray
Review coming soon.