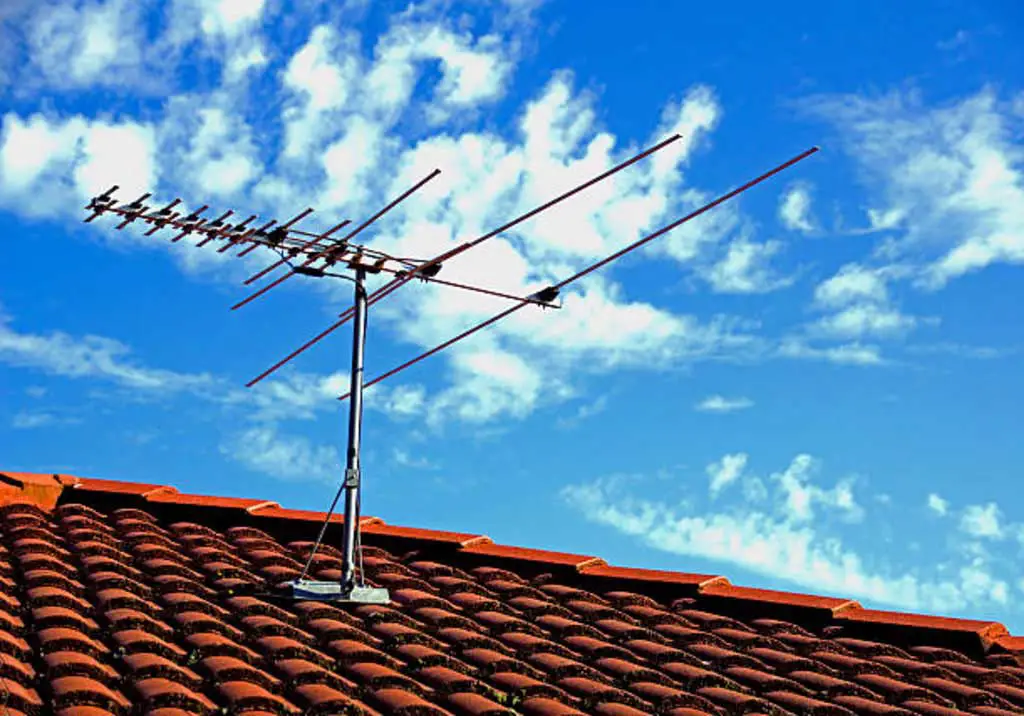 Here is how to get free digital HD channels without cable or satellite TV service — no cable box needed!
Are you thinking about getting a streaming service like Netflix or Hulu and setting up an antenna for local channels? It's easy to get SD (Standard Definition), HD (High Definition) and soon 4k channels without a cable box if you have the right equipment and decent reception at your home or office. It's often referred to as "cord cutting" (cancelling cable or satellite service). To get free TV channels you just need a TV and antenna (and it doesn't have to look the rooftop type above!)! Read on for more details!
How To Get Free HD Channels With An Antenna
Using Built-In Digital Tuners
Most 4k TVs and HDTVs these days have built-in digital tuners, so you probably don't need a DTV converter box (see below for more info on external boxes). You simply plug-in your antenna using a coaxial cable into the back of your TV or break out box and start scanning for channels. Your TV might ask you to automatically scan, or you may need to go into the settings and choose auto or manual scan for channels. Keep in mind, the input on the TV must be set to Antenna or TV (most TVs have multiple input sources such as HDMI1, HDMI2, USB, etc. so be sure to choose Antenna or TV). Once the input is selected, your TV should ask you to automatically scan for channels.
Using Digital Converter (if needed)
If you are using an older analog tube TV, rear-projection, or flat panel monitor without a built-in digital tuner you'll need a DTV (Digital TV) converter to translate the digital signals for your television. This box usually costs about $30-$40 and doesn't require a monthly service fee like a cable provider. You can find a list of affordable DTV Converters and HD Antennas at Amazon. The DTV converter will let you watch both standard-definition (SD) and high-definition (HD) programming from local networks.
Scanning for Channels
Once your antenna is hooked up to the back of your TV or converter box, you can start scanning for available local networks. If you're not having much luck try repositioning your antenna and scan again. Obstacles, weather, and distance from broadcast facilities can all play a factor in the quality (and quantity) if the digital signals you can receive. You can also use the FCC's DTV Reception map to final local broadcast facilities by entering your zip code. Your built-in digital tuner should allow you to save the channels with good reception.
That's It!
Remember, you won't get cable and premium channels like ESPN, HBO, or Discovery Channel over-the-air, but major networks such as ABC, CBS, FOX, and NBC are usually available if close enough to a broadcast station (and in HD!), as well as local channels such as PBS, The CW, and Telemundo.
See more How To articles including How To Stream Netflix in 4k and How To Improve Internet Speed.