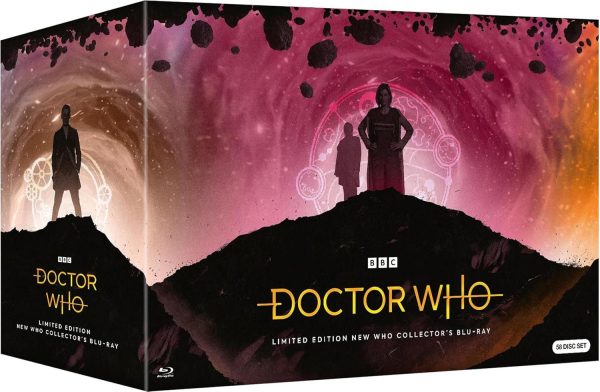 Title: Doctor Who: Limited Edition New Who Collector's Blu-ray
Format: Blu-ray Disc
Release Date: Nov. 21, 2023
MSRP: $219.99 Buy on Amazon
BBC's Doctor Who: Limited Edition New Who Collector's Blu-ray contains 13 seasons of the long-running television series in a 58-disc set. Along with over 144 hours of content plus extras, specials, and exclusives, bonus features include "Doctor Who Recollections" with Russell T Davies and David Tennant, as well as a numbered certificate of authenticity and a 5-figure collectible Titan set.
Limited Edition Features
Over 144 Hours of Content
Collectors Set includes all thirteen seasons and specials
Doctor Who Recollections with Russell & David
Russell T Davies and David Tennant reminisce about their time with Doctor Who from past to present, including favorite moments on and off screen
Exclusive 60th Anniversary Five-Figure Titan Set
Numbered Certificate of Authenticity
Make the Collectors Set truly yours with the individually numbered Certificate of Authenticity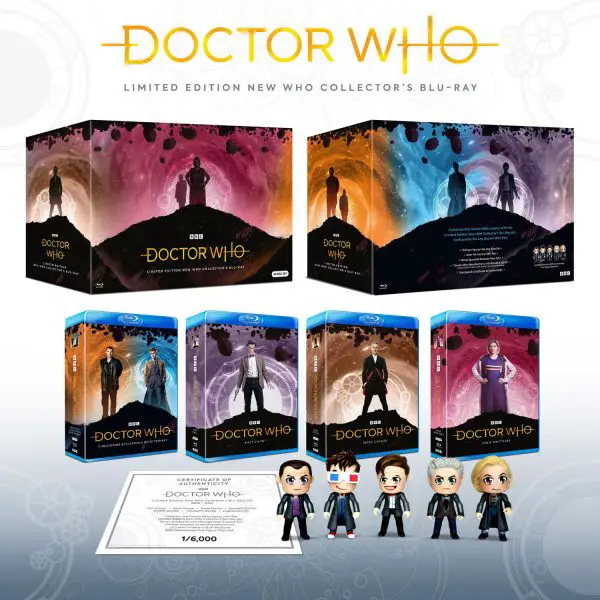 The Dr. Who Generations
The Ninth Doctor
A northern accent. Big smile. Bouts of melancholy and mixed with manic excitement and an offbeat sense of humour… The Ninth Doctor is the bruised but brilliant 'last of the Time Lords'.
The Tenth Doctor
The Tenth Doctor is a fascinating combination of bonhomie and loneliness. He felt the loss of Rose Tyler very keenly but approaches all his adventures with a life-affirming gusto!
The Eleventh Doctor
The Doctor, in his eleventh incarnation, is an excited explorer of the universe, with a keen intelligence that means he often notices what everyone else has missed.
The Twelfth Doctor
The Twelfth Doctor may not be big on hugs but he's still brave, heroic and drawn to danger… But there is a dark side. When Clara light-heartedly called herself his carer he agreed with his companion, adding 'She cares so I don't have to…'
The Thirteenth Doctor
This Doctor loves to be surrounded by friends – in fact she treats her travelling companions Yaz, Ryan and Graham more like family, often boosting their confidence by telling them how great they are.
The War Doctor and The Fugitive Doctor
The 'War Doctor' was a choice made by the Eighth Doctor. Who or what did he wish to become? The Doctor made his decision quickly… 'Warrior!'
Living a happy domestic life on Earth, the 'Fugitive Doctor,' Ruth Clayton was one day shocked to discover that actually she was a Time Lord from the planet Gallifrey living under a false identity to hide from extraterrestrial pursuit.