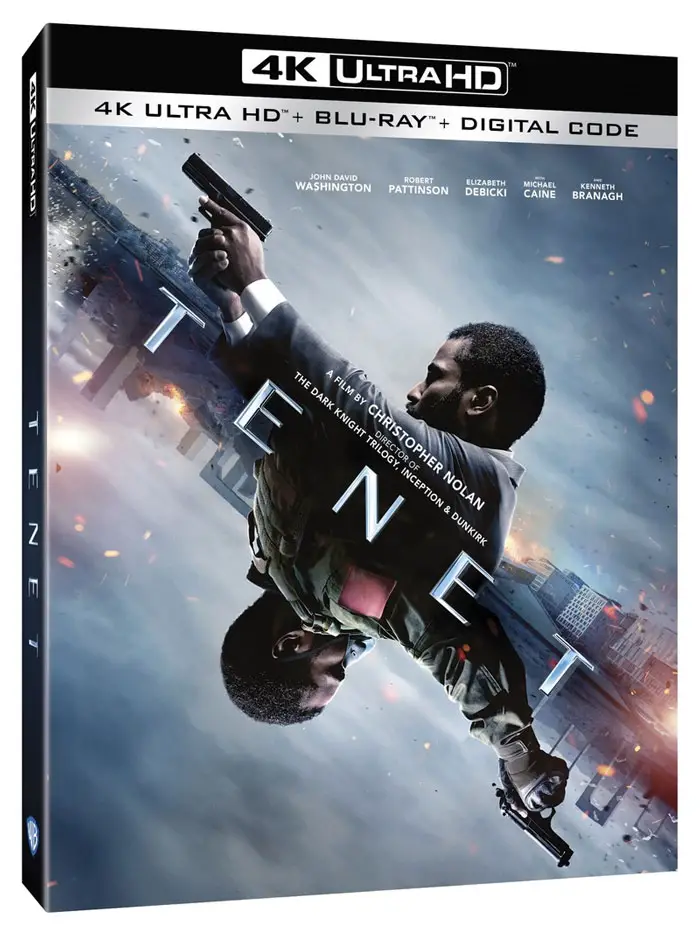 Title: Tenet
Release Date: Dec. 15, 2020
Format: 4k Blu-ray, Blu-ray
Price (4k Blu-ray): $44.95 Now $19.99 Order on Amazon
Price (Blu-ray): $35.99 Now: $9.96 Order on Amazon
Christopher Nolan's Tenet on Blu-ray and 4k Blu-ray is packaged in "combo packs" with a second disc and code to redeem a Digital Copy. And, each edition includes an hour-long bonus feature titled "Looking at the World in a New Way: The Making of Tenet" that includes interviews with the cast and crew.
Tenet on 4k Blu-ray is presented in 2160p at 1.78:1 and 2.20:1 aspect ratios with a DTS-HD Master Audio 5.1 soundtrack. Subtitles are provided in English SDH, French, Portuguese, Spanish. Bonus materials are included (see details below). The film is available in a 2-disc combo edition with Digital Code from Warner Bros.
Bonus Material
Looking at the World in a New Way: The Making of Tenet

I. The Principle of Belief
II. Mobilizing the Troupe
III. The Approach
IV. The Proving Window
IX. The Dress Code
V. The Roadmap
VI. Entropy in Action
VII. Traversing the Globe
VIII. How Big a Plane?
X. Constructing the Twilight World
XI. The Final Battle
XII. Cohesion
XIII. Doesn't Us Being Here Now Mean it Never Happened?

Tenet Teaser
Tenet Trailer 2
Tenet Trailer 3
Tenet Trailer 4