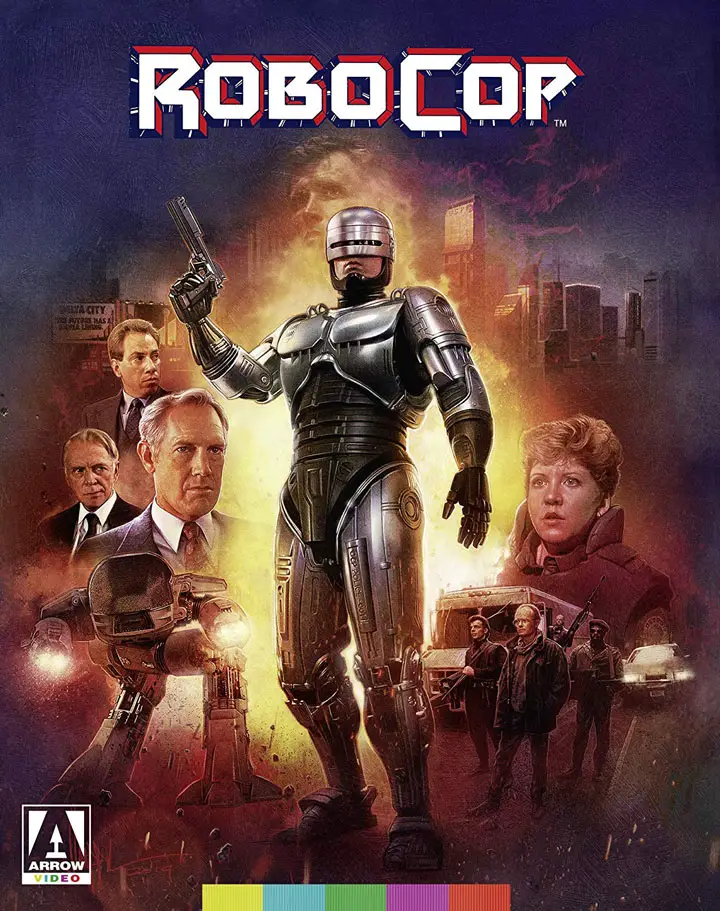 Arrow Video's Robocop 2-Disc Limited Edition Blu-ray Collector's Set contains a Blu-ray print from a 4k restoration of Robocop by MGM which was transferred in 2013 and approved by Director Paul Verhoeven. The new edition features newly commissioned artwork by Paul Shipper, Director's Cut & Theatrical Cut of the film on two 1080p Blu-ray discs, original lossless stereo & four-channel mixes, and DTS-HD MA 5.1 surround sound option on both cuts.
Release Date
November 26, 2019
Description
PART MAN, PART MACHINE, ALL COP.
RoboCop, from Orion Pictures, marked director Paul Verhoeven's (Flesh + Blood) Hollywood debut & now the future of law enforcement is back in a definitive Blu-ray presentation packed with hours of brand new bonus features & exclusive collectible packaging.
Price
RoboCop 2-Disc Limited Edition Collector's Set is list priced $35.49 (List: $49.95). Order from Amazon
Features
LIMITED EDITION SPECS
4K restoration of the film from the original camera negative by MGM, transferred in 2013 & approved by director Paul Verhoeven
Newly commissioned artwork by Paul Shipper
Director's Cut & Theatrical Cut of the film on two High Definition (1080p) Blu-rayTM discs
Original lossless stereo & four-channel mixes plus DTS-HD MA 5.1 surround sound option on both cuts
Optional English subtitles on both cuts
LIMITED EDITION FEATURES
Six collector's postcards (Limited Edition exclusive)
Double-sided, fold-out poster (Limited Edition exclusive)
Reversible sleeve featuring original & newly commissioned artwork
Limited edition collector's booklet featuring new writing on the film by Omar Ahmed, Christopher Griffiths & Henry Blyth, a 1987 Fangoria interview with Rob Bottin, & archive publicity materials (some contents exclusive to Limited Edition
DISC ONE DIRECTOR'S CUT
Archive commentary by director Paul Verhoeven, executive producer Jon Davison & co-writer Ed Neumeier
New commentary by film historian Paul M. Sammon
New commentary by fans Christopher Griffiths, Gary Smart & Eastwood Allen
The Future of Law Enforcement: Creating RoboCop, a newly filmed interview with co-writer Michael Miner
RoboTalk, a newly filmed conversation between co-writer Ed Neumeier & filmmakers David Birke & Nick McCarthy
Truth of Character, a newly filmed interview with Nancy Allen
Casting Old Detroit, a newly filmed interview with casting director Julie Selzer
Connecting the Shots, a newly filmed interview with second unit director & frequent Verhoeven collaborator Mark Goldblatt
Composing RoboCop, a new tribute to composer Basil Poledouris featuring film music experts Jeff Bond, Lukas Kendall, Daniel Schweiger & Robert Townson
RoboProps, a newly filmed tour of super-fan Julien Dumont's collection of original props & memorabilia
2012 Q&A with the Filmmakers, a panel discussion featuring Verhoeven, Davison, Neumeier, Miner, Allen, star Peter Weller & animator Phil Tippett
RoboCop: Creating a Legend, Villains of Old Detroit & Special Effects: Then & Now, three archive featurettes from 2007 featuring interviews with cast & crew
Four deleted scenes
The Boardroom: Storyboard with Commentary by Phil Tippett
Director s Cut Production Footage, raw dailies from the filming of the unrated gore scenes
Two theatrical trailers & three TV spots
Extensive image galleries
DISC TWO THEATRICAL CUT
Archive commentary by director Paul Verhoeven, executive producer Jon Davison & co-writer Ed Neumeier
Two Isolated Score tracks (Composer's Original Mix & Final Theatrical Mix) in lossless stereo
Edited-for-television version of the film, featuring alternate dubs, takes & edits of several scenes (95 mins, SD only)
Split screen comparison of Theatrical & Director's Cuts
RoboCop: Edited For Television, a compilation of alternate scenes from two edited-for-television versions, newly transferred in HD from recently-unearthed 35mm elements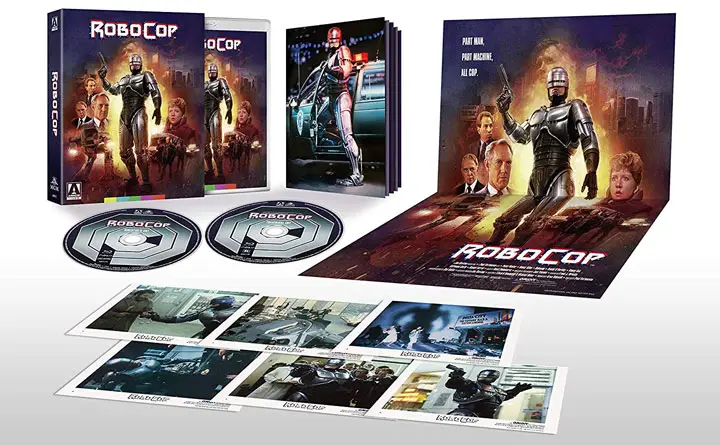 [amazon_link asins='B07X6CWFRD' template='ProductGrid' store='hdrep-20′ marketplace='US' link_id='6affadd8-4d38-4e0f-8799-f6a049992358′]