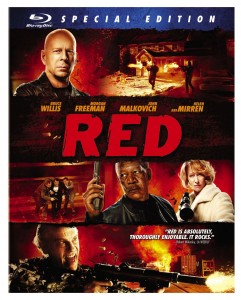 Red, now available on Blu-ray Disc from Summit Entertainment. Order Red (Special Edition) from Amazon and get $5 worth of eligible movies and TV shows from Amazon Video On Demand after you order your item.

DVD Release Date: January 25, 2011
Aspect Ratio: 2.35:1
Audio: DTS Surround Sound
Number of discs: 1
DVD Release Date: January 25, 2011
Rating: PG-13
Product Description
Frank (Willis) is a former black-ops CIA agent living a quiet life alone… until the day a hit squad shows up to kill him. With his identity compromised, Frank reassembles his old team Joe (Freeman), Marvin (Malkovich) and Victoria (Mirren) and sets out to prove that they still have a few tricks up their sleeves. Stand back and watch the bullets fly in this explosive action-comedy that critics call a rip-roaring good time.