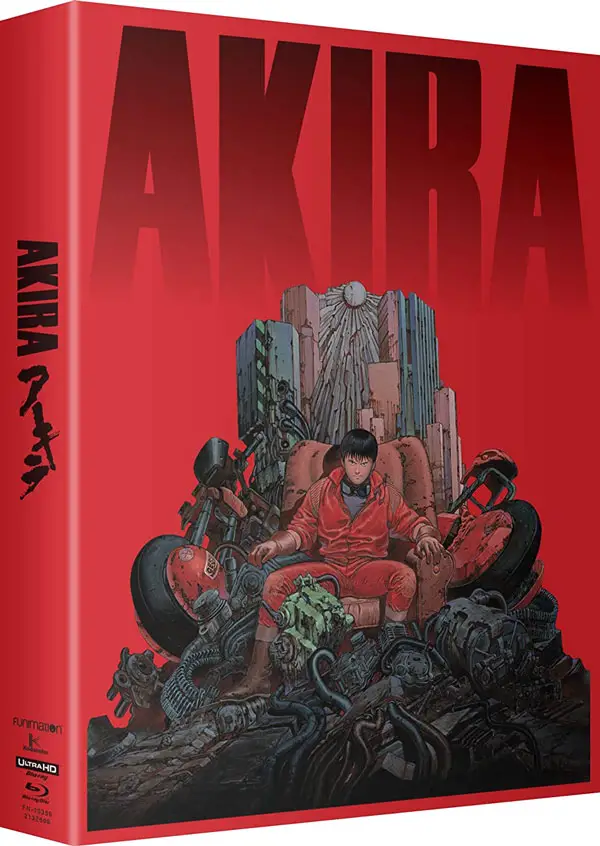 Title: Akira (1988)
Format: 4k Blu-ray
Release Date: Dec. 22, 2020
MSRP: $59.99 | Price: $37.99 Order from Amazon
Katsuhiro Ôtomo's classic Japanese animated feature Akira (1988) has been remastered in 4k for release on Ultra HD Blu-ray. The 2-disc edition from Funimation includes the bonus materiall AKIRA Sound Making 2019, AKIRA Sound Clip by Geinoh Yamashirogumi, End Credits (From The Original 1988 Theatrical Release), Theatrical Preview —Trailer Collection (with English Subtitles), and Storyboard Collection.
On 4k Blu-ray, Akira is presented at 1.85:1 aspect ratio in 2160p resolution with HDR10 High Dynamic Range. Audio is provided in 24-bit Japanese Dolby TrueHD 5.1, Japanese  Dolby Digital 5.1, English Dolby TrueHD 2.0, and English Dolby TrueHD 5.1.
Synopsis: On July 16, 1988, Tokyo was destroyed by what was believed to be a new type of bomb, triggering World War III. Thirty-one years later, in 2019, Neo-Tokyo has arisen from ashes under Japan's new political system; but the glittering city is built on foundations of poverty, ignorance and despair. Kaneda and his friends, a bunch of juvenile delinquents, rumble with a rival group of bikers. While the police attempt to disperse a riot with tear gas, the rumble continues. Tetsuo takes the lead and, after disposing of his opponents, nearly runs down what looks to be a 100-year-old baby. Tetsuo's bike suddenly explodes and he is taken prisoner by the top-secret Akira Project where he is subjected to a series of tests which unleash his latent psycho-kinetic powers. But he is really more powerful than anyone imagined and breaks out, creating a swathe of destruction across the city as he mutates into another life form.
Special Features
AKIRA Sound Making 2019
AKIRA Sound Clip by Geinoh Yamashirogumi
End Credits (From The Original 1988 Theatrical Release)
Theatrical Preview —Trailer Collection (with English Subtitles)
Storyboard Collection