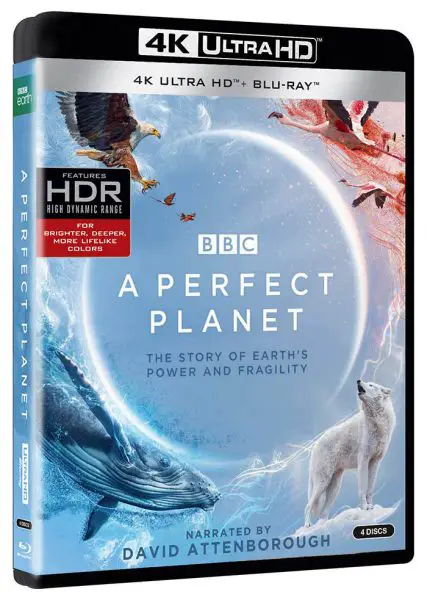 Title: A Perfect Planet
Format: 4k Blu-ray/Blu-ray Combo
Release Date: Mar. 30, 2021
List: $49.99 | Price: $41.99 Buy on Amazon
A Perfect Planet on 4k Ultra HD Blu-ray is a 4-disc edition that presents all five episodes of the BBC series in 2160p resolution with HDR10 High Dynamic Range.
Description: Marvel at nature's epic and powerful forces as this stunning series reveals how perfectly our planet is set up to nurture life! Planet Earth is perfect. It orbits at the perfect distance from the sun; it tilts at just the right angle; and it has a moon just large enough to hold it in place. On top of that, the day-to-day workings of the planet naturally serve to nurture its plants and animals. This five-part series will show how the forces of nature – weather, ocean currents, solar energy, and volcanoes – drive, shape, and support Earth's great diversity of life. But what happens when nature's epic forces are knocked off course? As human activity impacts Earth's perfectly balanced ecosystems, what can we do to protect the fragility of life on our unique and precious planet?