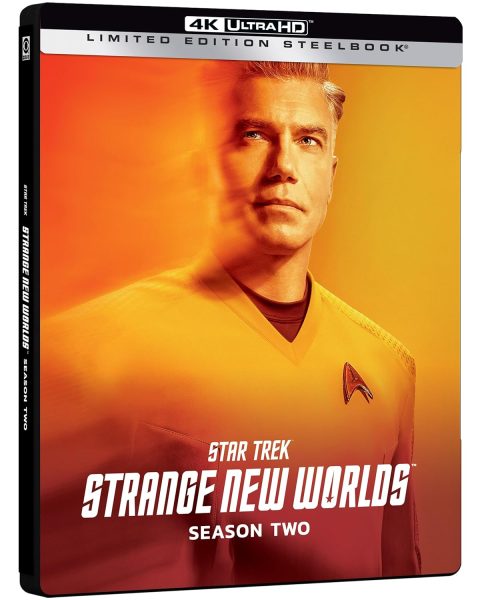 Like the first season, Paramount+ Original Series Star Trek: Strange New Worlds – Season Two will release in physical media editions including Blu-ray, Blu-ray SteelBook, and 4k UHD SteelBook.
Only this time, the 4k UHD version will be available simultaneously with 1080p Blu-ray and DVD instead of months later. In effect, all disc editions will arrive in stores on December 5, 2023.
On 4k Blu-ray Disc, episodes of 'Strange New Worlds' are presented in 2160p with Dolby Vision HDR. The audio is offered in DTS-HD Master Audio 5.1 as well as French in Dolby Digital 5.1. Subtitles are provided in English SDH and French.
Special Features
Producing Props (Featurette)
The Costumes Closet (Featurette)
The Gorn (Featurette)
Singing In Space (Featurette)
Exploring New Worlds (Featurette)
Deleted/Extended/Alternate Scenes
Star Trek: Strange New Worlds – Season Two 4k Blu-ray SteelBook is priced $59.99, 2k Blu-ray SteelBook $51.99, Blu-ray $38.99, and DVD $33.99.
Synopsis: In season two of STAR TREK: STRANGE NEW WORLDS, the crew of the U.S.S. Enterprise, under the command of Captain Christopher Pike, confronts increasingly dangerous stakes, explores uncharted territories and encounters new life and civilizations. The crew will also embark on personal journeys that will continue to test their resolve and redefine their destinies. Facing friends and enemies both new and familiar, their adventures will unfold in surprising ways never seen before on any "Star Trek" series.