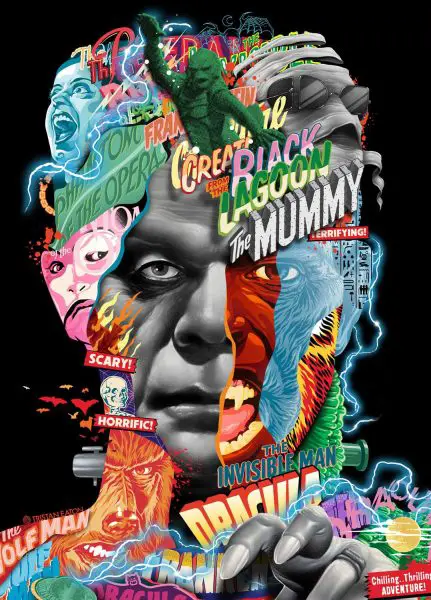 Universal Pictures Home Entertainment has compiled eight classic monster films on 4k Blu-ray in a limited physical media edition. The 8-disc collection arrives Oct. 3, 2023
The edition is limited to 5,500 copies only, and includes a code to redeem digital copies of the films via https://www.universalredeem.com/.
The collection includes Dracula (1931), Frankenstein (1931), The Mummy (1932), The Invisible Man (1933), The Bride of Frankenstein, The Wolf Man (1941), Phantom of the Opera (1943), and Creature From the Black Lagoon (1954).
On 4k Blu-ray, the Universal Pictures movies are presented in 4k (2160p) with HDR10 High Dynamic Range. Aspect ratios vary according to the film. English audio is offered in DTS-HD Master Audio 2.0 Mono as well as dubs in multiple languages (vary by film).
The Universal Monsters 8-Disc Limited Edition Collection is list-priced $129.99 US. View on Amazon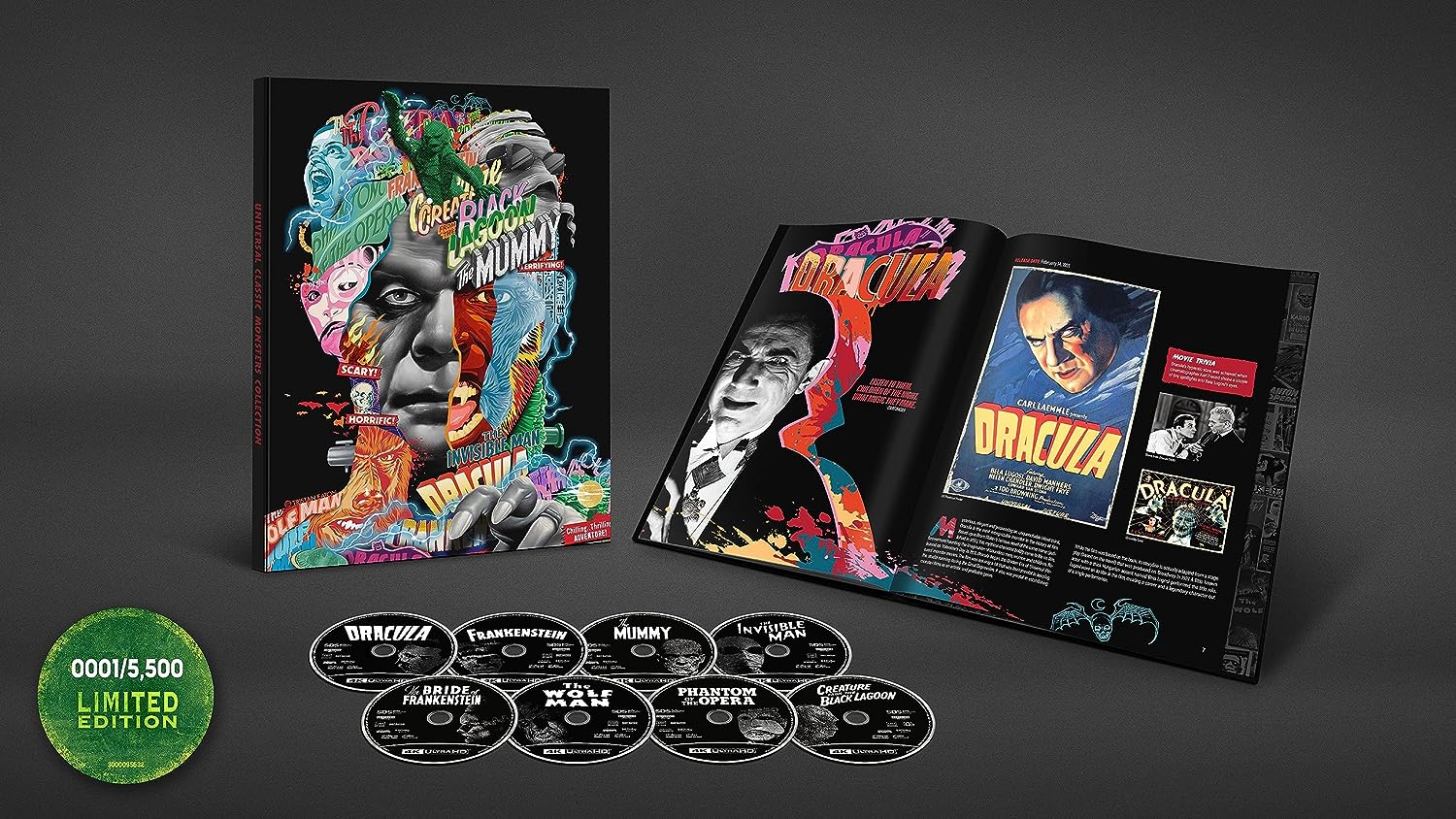 Limited Edition Details
Disc 1 – Dracula (1931):
Includes 4K UHD, Blu-ray and a digital copy of Dracula (1931) (Subject to expiration. Go to NBCUCodes.com for details.)
4x Sharper than Full HD with High Dynamic Range (HDR10)
Dracula (1931) Spanish Version
The Road to Dracula
Lugosi: The Dark Prince
Dracula: The Restoration
Dracula Archives
Trailer Gallery
Monster Tracks
Play Movie with Alternate Philip Glass Score
Disc 2 – Frankenstein (1931):
Includes 4K UHD, Blu-ray and a digital copy of Frankenstein (Subject to expiration. Go to NBCUCodes.com for details.)
4x Sharper than Full HD with High Dynamic Range (HDR10)
The Frankenstein Files: How Hollywood Made A Monster
Karloff: The Gentle Monster
Universal Horror
Frankenstein Archives
Boo!: A Short Film
Trailer Gallery
100 Years of Universal: Restoring the Classics
Monster Tracks
Feature Commentary with Film Historian Rudy Behlmer
Feature Commentary with Historian Sir Christopher Frayling
Disc 3 – The Mummy (1932):
Includes 4K UHD, Blu-ray and a digital copy of The Mummy (1932) (Subject to expiration. Go to NBCUCodes.com for details.)
4x Sharper than Full HD with High Dynamic Range (HDR10)
Mummy Dearest: A Horror Tradition Unearthed
He Who Made Monsters: The Life and Art of Jack Pierce
Unraveling the Legacy of The Mummy
The Mummy Archives
100 Years of Universal: The Carl Laemmle Era
Trailer Gallery
Feature Commentary with Rick Baker, Scott Essman, Steve Haberman, Bob Burns, and Brent Armstrong
Feature Commentary with Film Historian Paul M. Jensen
Disc 4 – The Invisible Man (1933):
Includes 4K UHD, Blu-ray and a digital copy of The Invisible Man (Subject to expiration. Go to NBCUCodes.com for details.)
4x Sharper than Full HD with High Dynamic Range (HDR10)
Now You See Him: The Invisible Man Revealed!
Production Photographs
Trailer Gallery
100 Years of Universal: Unforgettable Characters
Feature Commentary with Film Historian Rudy Behlmer
Disc 5 – The Bride of Frankenstein:
Includes 4K UHD, Blu-ray and a digital copy of The Bride of Frankenstein (Subject to expiration. Go to NBCUCodes.com for details.)
4x Sharper than Full HD with High Dynamic Range (HDR10)
She's Alive! Creating The Bride of Frankenstein
The Bride of Frankenstein Archive
100 Years of Universal: Restoring the Classics
Trailer Gallery
Feature Commentary with Scott MacQueen
Disc 6 – The Wolf Man (1941):
Includes 4K UHD, Blu-ray and a digital copy of The Wolf Man (Subject to expiration. Go to NBCUCodes.com for details.)
4x Sharper than Full HD with High Dynamic Range (HDR10)
Monster by Moonlight
The Wolf Man: From Ancient Curse to Modern Myth
Pure in Heart: The Life and Legacy of Lon Chaney Jr.
He Who Made Monsters: The Life and Art of Jack Pierce
The Wolf Man Archives
Trailer Gallery
100 Years of Universal: The Lot
Feature Commentary with Film Historian Tom Weaver
Disc 7 – Phantom of the Opera (1943):
Includes 4K UHD, Blu-ray and a digital copy of Phantom of the Opera (1943) (Subject to expiration. Go to NBCUCodes.com for details.)
Features High Dynamic Range (HDR10) for Brighter, Deeper, More Lifelike Color
The Opera Ghost: A Phantom Unmasked
Production Photographs
100 Years of Universal: The Lot
Theatrical Trailer
Feature Commentary with Film Historian Scott MacQueen
Disc 8 – Creature From the Black Lagoon (1954):
Includes 4K UHD, Blu-ray and a digital copy of Creature from the Black Lagoon (Subject to expiration. Go to NBCUCodes.com for details.)
4x Sharper than Full HD with High Dynamic Range (HDR10)
Back to the Black Lagoon
Production Photographs
100 Years of Universal: The Lot
Trailer Gallery
Feature Commentary with Film Historian Tom Weaver